Visit Stand LU-7164 to view diverse product range for food and beverage
Watson-Marlow Fluid Technology Solutions (WMFTS) is showcasing its diverse product range for food and beverage applications at PACK EXPO 2022, the packaging and processing show. PACK EXPO 2022 will be held at McCormick Place, Chicago, Illinois from October 23-26, 2022. Visit Stand LU-7164 to see WMFTS' Certa Sine pump and Aflex FaBLINE hose and meet specialist engineers who will be able to share insight and product performance data.

Used in many stages of food and beverage processing; from unloading raw material to a storage tank, through transfer to a mixer/agitator/reactor/cooking vessel, to final transfer to the filling line, Certa pumps maintain yield and increase output.
This advanced innovation in food pump technology delivers high suction capability to handle viscous products, offering significant advantages over alternative technologies. Unlike traditional pumps with rotors that cut through the fluid, Certa's sinusoidal rotor gently carries fluid through the pump to dramatically reduce shear, while cutting power consumption by up to 50 percent with high viscosity fluids. With 3A certification as standard, users can be assured that chocolate, cheese curd, soft fruit, sauces and pie fillings are pumped without degradation.
The Aflex FaBLINE hose, also on display, is a food-grade flexible hose developed to meet the latest hygiene standards. The patented PTFE-lined hose with standard 316 stainless steel braid ensures efficient product transfer and handling while simultaneously offering longer life than rubber hose alternatives.
In addition to the benefits such as increased service life, reduced maintenance, less CIP downtime and lower processing costs, FaBLINE offers excellent liner flexibility in a kink-resistant design that requires less force to bend than competitor smooth bore products. Furthermore, the product carries up to twice the flow of similar-sized convoluted delivery hoses, providing a faster, more efficient processing solution.
###
Notes to Editors
About Watson-Marlow Fluid Technology Solutions
Watson-Marlow Fluid Technology Solutions is an award-winning, global leader in fluid management technology and for over 60 years has engineered components and systems for customers in the food processing and handling, pharmaceutical and industrial markets. The company is part of Spirax-Sarco Engineering plc, a FTSE 100 company. Learn more at www.wmfts.com or @WMFTS_news.
Featured Product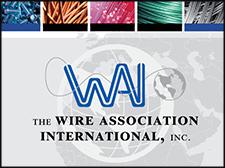 The Wire Association International (WAI), Inc., founded in 1930, is a worldwide technical society for wire and cable industry professionals. Based in Madison, Connecticut, USA, WAI collects and shares technical, manufacturing, and general business information to the ferrous, nonferrous, electrical, fiber optic, and fastener segments of the wire and cable industry. WAI hosts trade expositions, technical conferences, and educational programs.