The new algorithm built into AI automation software, inVia Logic increases picking rates by anticipating and avoiding overlap of people working in eCommerce fulfillment centers
Westlake Village, CA (July 6, 2022) - inVia Robotics — a leader in eCommerce fulfillment and warehouse automation systems — today has announced the launch of Traffic Quality Index (TQI), a new algorithm of the AI-powered warehouse execution system (WES) software, inVia Logic. The latest software update speeds up eCommerce order fulfillment by anticipating and mitigating the congestion of pickers in warehouse aisles. TQI will be added to inVia Logic software versions 7.2 and later.

TQI enhances the existing inVia Logic optimization algorithms that calculate the most efficient routes for pickers to retrieve ordered goods and assign orders based on SKU proximity (limiting the number of trips pickers make to the same aisle). The new algorithm intelligently anticipates the movements required to fulfill orders in real-time, throughout the day. When the paths of individual pickers are predicted to overlap and slow down the process, inVia Logic dynamically recalculates those paths to avoid aisle congestion and slowdowns.
"At a time when consumer demands are intensifying for faster online order delivery, every second added to the fulfillment process is costly," says Lior Elazary, CEO and Co-Founder of inVia. "As we continue to innovate and look at new ways we can leverage our AI technology, the Traffic Quality Index algorithm became a key solution to eliminating idle time and allowing for a swift flow of products. We are driven to continuously create leading-edge tools that help our customers better serve their customers."
Avoiding overlap in the picking process is a core component of how inVia Picker robots are directed to navigate the warehouse, reducing the number of stops and idle time created throughout the day as one robot waits for another to pass by or finish a pick. Now that same guidance is available to workers using inVia PickMate, the productivity tool used to intelligently direct people on paths to pick, replenish and put away inventory.
inVia's true robotics-as-a-service (RaaS) model provides retailers and 3PLs with a flexible, cost-effective solution that dramatically increases productivity in existing facilities. The RaaS system allows customers to pay for the productivity delivered by inVia Picker robots versus competitors who lease or sell robots. The subscription service includes all system updates and 24/7 monitoring and support through inVia's Robotics Operation Center (ROC). inVia subscribers automatically receive inVia Logic system updates and improvements to stay ahead of the technology curve.
For more information on inVia Robotics and its unique eCommerce fulfillment automation system, please visit www.inviarobotics.com.
About inVia Robotics
inVia Robotics is an award-winning automation company that provides the next generation of warehouse optimization solutions. Our system leverages autonomous mobile robots and AI-driven warehouse orchestration software to help eCommerce businesses and 3PLs automate and optimize material flow across fulfillment centers. We deliver our comprehensive automation services as a subscription, and our systems are built to deploy quickly and without disruption to existing operations. The results are a 4-5X increase in productivity and accuracy rates of 99.9% - at a fraction of the cost of traditional automation. Learn more about how we can optimize your operations at www.inviarobotics.com.
Featured Product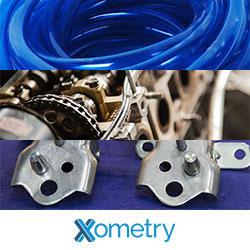 Xometry is your source for custom parts. Now, in addition to getting instant quotes on 3D Printing, CNC Machining, Sheet Metal, and Injection Molding, customers can create and send RFQs for die casting, stamping, and extrusion work to our nationwide network of pre-vetted manufacturers with just a 2D drawing. You will receive and be able to review responses from qualified shops within 7 days on an advanced web-based RFQ management platform. To learn more go directly to our site to issue and RFQ today. Stop wasting time managing RFQs through email and by phone, and start issuing RFQs at scale and in the cloud.