Powerful test stand adds motor control and communication versatility
SAKOR Technologies Inc., a recognized leader in the area of high-performance dynamometer systems, announces that it recently upgraded an existing electric variable cam timing (eVCT) durability test system for a major international provider of powertrain components. Custom designed for use with cam phasers driven by an electric motor, the powerful and versatile test stand will be used for running long term durability tests on new electric cam phaser designs. SAKOR's industry-leading DynoLAB™ data acquisition and control system will replace the existing controller for test cell and other subsystems control and data acquisition.

SAKOR upgraded the existing eVCT durability test system by adding torque transducers and additional data acquisition channels, as well as enhancing the mechanical driveline topology. The final system also adds enhanced motor control and communications network versatility.
The new DynoLAB data acquisition and control system offers complete automation of all types of test cycles used in performance, durability, and quality control testing. It provides reliable fully automated test procedures for all customer testing protocols. The system enables the customer to create their own tests and testing protocols and make changes without requiring assistance.
"With this upgraded system our customer has significantly added to their testing capabilities" said Randal Beattie, president of SAKOR. "They are now able to perform durability testing on a much broader array of their products, and over a much wider range of conditions, all in a clean laboratory environment.
About SAKOR Technologies Inc.
SAKOR Technologies Inc. is a recognized leader in the manufacture and development of reliable and cost-effective automated test instrumentation systems for a wide range of applications. For over 30 years, the company has been providing quality products and superior customer service to a variety of markets including automotive, hybrid and electric vehicle, military, aerospace, marine, heavy equipment, performance racing, electric motor, consumer appliance and more.
For more information, contact us at 989-720-2700, via e-mail at: info@SAKOR.com, or visit SAKOR's website at www.sakor.com.
Product or service trademarks mentioned herein are the trademarks of their respective owners
Featured Product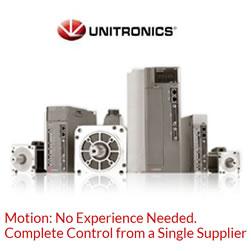 Unitronics' new line of AC Servo Drives & Motors changes the traditional approach to motion control. They are simple to set up and painless to program. Unitronics Servos simplify implementation of motion applications while minimizing complexity and reducing development time. Some of the easy-to-use features in this new line include implementing motion control easily with ready-made motion code, embedded diagnostic tools, and automatic communication setup.