Easy entry into the aseptic market for rapid prototyping and new product launches
Raleigh, NC: SinnovaTek, a leading developer and integrator of advanced food processing

equipment and technology, announces aseptic processing and filling capabilities at its new
FirstWave copacking facility featuring state of the art technology to fit a range of unique food
production needs. With no minimum order quantities required, SinnovaTek provides an easy
entry point into the aseptic market for rapid prototyping and new product launches.
FirstWave is powered by SinnovaTek's microwave processing technology which produces high
quality products with improved nutrient, flavor, and color retention. The FirstWave aseptic
processing and filling platform can run low acid and high acid products to shelf stability in a
pouch format ready for retail. It is ideal for a wide range of pumpable products, including fruit
and vegetable products, coffee, smooth soups, and smoothies.
This precision-scale operation is an FDA registered facility containing everything needed for
safe commercial food production, including cold rooms, freezers, and a quality assurance lab.
SinnovaTek can run kosher, organic, and non-GMO certified products, enabling customers to
add appropriate certifications to package labels.
Featuring flexible packaging that results in lower materials usage, processed products are
available for filling into 3.2 oz, 4 oz and 8 oz spouted pouches. Small batch sizes reduce raw
material requirements, resulting in less expensive market entry and ultimately a more rapid
commercialization process. Our team of experts can help with formulation, label compliance,
and other regulatory needs to help make any product retail ready at an affordable price.
To learn more or schedule a trial, contact us at https://www.sinnovatek.com/contact.html.
###
About SinnovaTek
SinnovaTek is a leading developer and integrator of advanced food processing equipment and
technology through its family of companies including SinnoVita and FirstWave. As a certified B
corporation, SinnovaTek's mission is to promote worldwide health and wellness by fostering the
delivery of high quality, healthy foods through sustainable methods.
The SinnovaTek family of companies provides several pathways to service its customers' needs:
● SinnovaTek. Provides high-quality continuous flow microwave processing systems and
pumps to food manufacturers along with the engineering and R&D support to make them
successful.
● SinnoVita: Provides science-backed VITERO ingredient technologies to reduce food
waste and increase nutrient delivery.
● FirstWave. Provides a platform for companies to test and launch new products in a high
quality aseptic format without the minimum order quantities that are normally required
for a launch, enabling SinnovaTek to service customer production needs before they are
ready to move to a larger scale.
SinnovaTek is passionate about finding the best solution for its customers. Learn more at
www.sinnovatek.com.
Featured Product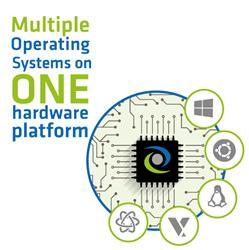 The RTS Hypervisor enables work-load consolidation of both real-time and non-real-time operating systems on a single x86 based platform. Unlike traditional virtualization, we partition and allocate the hardware for each work-load and provide a "privileged" mode for real-time operating systems that guarantee zero impact to determinism while adding zero jitter. This is instrumental for work-loads such as robotic controllers managing motion control where minimum jitter is required. And, our hypervisor is designed for easy setup and configuration for any work-load consolidation scenario. This equates to deterministic real-time applications taking advantage of all the benefits of virtualization immediately, without costly implementation projects.