NORD will be exhibiting at the 93rd Annual AAAE Conference and Exposition in Las Vegas, Nevada from July 11th – 13th. Located at Booth 813, they will be highlighting their airport technology solutions including drive systems for check-in, sorting, high-speed transport, baggage handling, and more.
NORD will be exhibiting at the 93rd Annual AAAE Conference and Exposition in Las Vegas, Nevada from July 11th - 13th. Located at Booth 813, they will be highlighting their airport technology solutions including drive systems for check-in, sorting, high-speed transport, baggage handling, and more.

NORD will exhibit new, innovative airport drive solutions at the 93rd Annual American Association of Airport Executives Conference and Exposition. With airports constantly reinventing and updating to meet the needs of today, NORD is ready support them with reliable, flexible, and highly customizable solutions that focus on energy efficiency, reduction of variants, and reducing Total Cost of Ownership. At AAAE, registered attendees can see what NORD has to offer firsthand and speak directly with NORD experts to find the drives and controls that best meet their needs.
IE5+ Synchronous Motors - The newest generation of NORD motor technology offers the highest operational efficiency available on the market today. IE5+ motors are focused on maximizing efficiency, with a compact footprint that can be installed quicky and easily, even in small spaces. With these motors in place, operators can experience energy savings, reduce system variants, and minimize operating costs for their applications, especially for applications where operation at partial loads and low speeds is required.
When IE5+ synchronous motors are utilized as a part of the LogiDrive complete drive system solution they create an energy efficient, maintenance-friendly solution consisting of an efficient gearbox, permanent magnet synchronous motor (PMSM), and a decentralized variable frequency drive. Plug-and-play decentralized technology makes installation and maintenance extremely easy and the LogiDrive system also maintains operational efficiency at partial load and low speeds, making it the ideal solution for high-volume baggage systems and other conveyor systems.
Key Advantages:
-Highest operational efficiency available, even at partial load and low speed ranges
-Reduced Total Cost of Ownership and fast Return on Investment
-Reduction of variants through constant torque over a wide speed range
-Fully matched NORD modular system solution with gear unit, motor and variable frequency drive
-Compact size at 9'' and 15.4 lbs. providing 0.5 - 1.5 HP in a single motor frame
-Compatible with all gear units and cabinet or wall mounted VFDs from the NORD modular system
-Flexible mounting options: Direct, NEMA, IEC
-Non-ventilated variant (N-Design) for hygienic wash-down areas
-Ventilated variant (F-Design) with a high overload capacity
-U.S. Availability
-71 frame N design available now
-90 frame N and F designs Q1 2022
-71 frame F design scheduled Q3 2022
DuoDrive - NORD's new DuoDrive is a revolutionary integrated gear unit/motor concept that combines a high-efficiency IE5+ motor with a single-stage helical gear unit in one housing. Due to its optimized system efficiency, high power density, and quiet operation, it is extremely well-suited for airport baggage handling systems. Together with its simple Plug-and-Play commissioning, DuoDrive solution can provide a significant reduction in Total Cost of Ownership (TCO) compared to other drive systems.
Key Advantages:
-Extremely high system efficiency of up to 92%
-Reduced TCO and fast ROI via utilization of IE5+ motor technology
-Compact, smooth design for easy installation and optimized space utilization
-Industry-standard mounting dimensions
-U.S. availability Q4 2021
NORDAC ON/ON+ - The new NORDAC ON/ON+ variable frequency drives were developed to meet the special requirements of horizontal conveyor technology and for use with the new IE5+ synchronous motor (NORDAC ON+). They are characterized by an integrated Ethernet interface, full Plug-and-Play capabilities, and a compact, space-saving design. NORDAC ON/ON+ variable frequency drives are a reliable, economic solution for IIoT environments.
Key Advantages:
-Future-ready with IIoT capability, firmware update via Ethernet, and integrated PLC
-Standardized design with Plug-and-Play for fast commissioning
-Can be used with asynchronous and synchronous motors
-Integrated industrial Ethernet interfaces switchable by parameters (PROFINET, EtherCAT, EtherNet/IP)
-Usable over a wide frequency range
-Compact footprint
-U.S. availability Q1 2022
Condition Monitoring for Predictive Maintenance - NORD's new Condition Monitoring solution helps maintain machines and plants proactively to reduce downtimes and increase overall efficiency. It provides real- or near-real-time drive and status data which is recorded and analyzed periodically or continuously to optimize operational performance and safety. This drive status data is stored on a local industrial PC which can then be transferred and summarized on a remote dashboard.
Key Advantages:
-Early detection and avoidance of undesired operating conditions
-Time-based maintenance is replaced by status-based maintenance
-Machinery and plant downtimes can be planned based on drive and process data
-Reduction of service and material costs
-Longer service life of components and machinery
-Increase in system availability
-Avoidance of unplanned downtime
-Predictable and cost-optimized repairs
-Now available in the U.S.
NORD manufactures a wide selection of gear units, electric motors, and drive electronics in various sizes and configurations for use within the airport industry and other demanding markets. The modular design of NORD products offers nearly unlimited versatility with more than 20,000,000 unique combinations of gearmotors and speed reducers that are available as inline or right-angle, mounted by foot or flange, solid or hollow shafts, and more - giving customers complete freedom to specify a drive solution that's perfect for the job. Visit https://info.nord.com/en-us/aaae-2021 to request additional information about NORD's drive solutions tailored specifically for airport applications.
About NORD DRIVESYSTEMS®
With more than 4,000 employees, NORD DRIVESYSTEMS has been developing, producing and selling drive technology for more than 50 years, and is one of the global leaders of full-service providers in the industry. In addition to standard drives, NORD delivers application-specific concepts and solutions for special requirements such as energy-saving drives or explosion-protected systems. In financial year 2017, annual sales amounted to $781 million. NORD now has subsidiaries and sales partners in 98 countries worldwide. The dense sales and service network guarantees optimal availability, enabling short delivery times and customer-oriented service. NORD produces a very diverse range of drives for torques from 88 to more than 2.2 million lb-in, provides electric motors in the power range of 0.16 to 1,341 HP, and manufactures frequency inverters with the required power electronics of up to 215 HP. Inverter solutions are available for conventional control cabinet installations as well as for decentralized, fully-integrated drive units.
Featured Product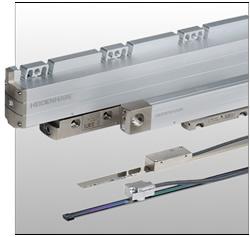 Nothing beats the positioning accuracy of linear encoders from HEIDENHAIN. Available in absolute and incremental versions and ideal for a variety of applications-including machine tools, semiconductor machines and medical machines-these measuring solutions combat a variety of issues that erode precision.