Heavy-duty slurry and solids pumps with cast iron and stainless steel construction for corrosive environments
Q.E.D. Environmental Systems, Inc., a leading manufacturer of innovative environmental products and subsidiary of Graco Inc., announces its Torpedo™ G1275 pumps, a series of large-body pumps designed for aggressive pumping applications. These pumps work by means of a powerful stirring motion in the influent stream to allow slurries and solids to pass through. These pumps are designed for use in applications including landfill liquid management and remediation pumping applications.

The Torpedo G1275 pumps handle pumping conditions that would cause many other types of pumps to fail. To prevent failure, the pumps are constructed of cast iron and stainless steel, and fitted with heavy-duty bearings and seals. The hardened, high-chrome impeller assembly can pass solids that would stall using most pumps available on the market.
Torpedo G1275 pumps feature hardened impellers which resist abrasion and wear, preventing wear and tear. This ensures a long pump life in aggressive situations. The pumps resist corrosion by means of an HDPE-encapsulated body, stainless steel water jacket and polymer power cable. The pumps boast a five-horsepower motor to provide the torque required for pumping silt, slurry and solid contaminants.
For more information, visit QED online at www.qedenv.com.
About Q.E.D. Environmental Systems, Inc.
Q.E.D. Environmental Systems, Inc., a subsidiary of Graco Inc., is a leading manufacturer of innovative environmental pumping systems, landfill products, landfill gas products, and air strippers for use at landfills, mines, oil refineries and other industrial sites, as well as hazardous waste cleanup sites. Our products are used around the world for a wide range of environmental applications, including groundwater sampling, groundwater remediation pumping, landfill leachate and condensate pumping, landfill gas collection and control, landfill and biogas analysis, air stripping and VOC removal, and wireless data acquisition. Based in Dexter, MI, QED serves customers from support centers in Michigan, California and England. For more information, call 734-995-2547 or contact us at info@qedenv.com.
###
Featured Product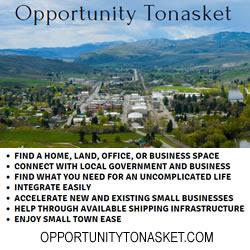 Our primary mission is to promote economic development and growth in the city of Tonasket, WA and surrounding area. This is a group of local citizens sharing a common goal. We wish to assist and promote existing businesses wishing to relocate, local businesses wishing to expand and local individuals wanting to startup a business. Preserving and enhancing the small town and rural lifestyle in a way which benefits everybody and maintains a healthy lifestyle. Opportunity Tonasket was created to be a hub for information and contacts with local city and county agencies, as well as local businesses and real estate connections. Their goal is to connect current and newly relocated individuals and businesses and "plug them in" with the best services, advice and experts in the area. Opportunity Tonasket is like a leg-up, as if one's already had a foothold in the community.