Complete Actuator Retrofit System is Compatible with All Horizontal Machine Door Types
NEW BERLIN, WI - February 18, 2020 - Dynatect offers a door actuator retrofit system for safely automating virtually any horizontal machine door type: single-door, bi-parting door, or doors with telescopic-leafed sections. The Safe Machine Door System (SMDS) is a flexible solution to support manual loading, robotic loading or other automation initiatives. The system offers switchable motion profiles supporting differing types of automatic loading that may occur on the same machine. The SMDS Retrofit System is available in three sizes - Small, Medium, and Large - for doors with opening widths up to 1750 mm (69 inches). It includes the door drive unit which contains all the mechanical components to operate a single or double-leafed door and can be easily installed within one shift. No additional control cabinet is required, nor are additional safety elements required such as bumper bars or light curtains. After connecting the power supply (115-400 VAC) and control signals, the drive can be commissioned in approximately 15 minutes with the intuitive SMDTuner software.

Per EU machinery directive 2006/42/EC, every machine manufacturer is obligated to conduct a risk assessment for every machine. There is a crushing hazard on every machine with movable guards and special safety measures must be considered for machines which are operated by a person. Protective machine door actuators supplied by Dynatect include the technology for implementing a safe force and speed limit for horizontal doors with door weights up to 750 kg. The door actuator's protective function triggers an immediate change of direction if an obstacle is encountered, thereby preventing accidents and damages to material and tools. The door actuator is certified by TÜV-SÜD and the maximum closing force and permissible kinetic energy are compliant with EN 14120 for automatic safety machine doors. This ensures a safe and ergonomic operation by the personnel, and compliance with EU machinery directive 2006/42/EC. Even with all these superior safety features, equipment productivity can be increased due to the short opening and closing times of the SMDS.
Within North America, Dynatect exclusively supplies a complete line of protective machine door actuators made by SERVAX, a division and registered trademark of Landert Group AG. The TORMAX Division of Landert Group developed the time-proven TÜV certified (EN-13849-1 PLd) iMotion® technology for personnel access featured in the SMDS. More information on Safe Machine Door Actuators (SMDA) and the Safe Machine Door System (SMDS) can be found online at www.dynatect.com.
About Dynatect
Dynatect delivers custom motion and protection for machines with deep application knowledge, diverse product offering, and a customer responsive sales philosophy. Dynatect provides engineering and manufacturing for custom applications which improve human-machine safety and machine uptime. Dynatect continues to build on its customer experience through improving service differentiation, expanding product portfolio, and reducing lead times. Visit www.dynatect.com.
Featured Product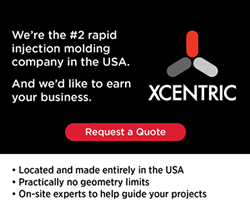 Xcentric plastic injection molding services focus on rapid delivery of prototype and low-volume production components. Our production processes are streamlined such that we typically deliver first articles in less than 15 business days, and for simple expedited projects in as little as five days. At the other end of the spectrum, we frequently produce components for customers needing a few hundred thousand components as a bridge to higher productivity molds. Over time, we have earned a reputation for being able to handle highly complex projects, overmolding, custom insert molding, and other complicated projects much faster than with traditional tooling, often helping our clients get to market weeks, if not months earlier. At Xcentric, every mold is designed and fabricated and all production is run in one of our two Michigan-based facilities.