PACK EXPO East offers ideal space to cultivate relationships
Herndon, Va.; Feb. 18, 2020 - Everchanging demands on future operational requirements for consumer packaged goods companies (CPGs) continue to grow in step with the rise in consumer power, according to the latest Vision 2025 report from PMMI, The Association for Packaging and Processing Technologies. An extended working partnership between CPGs and original equipment suppliers (OEMs) has evolved from an aspiration to a necessity, beginning at equipment selection, through installation and training.

PACK EXPO East (March 3-5, 2020; Pennsylvania Convention Center, Philadelphia) arrives at a time when the constant variability in equipment needs is driving CPGs to seek out multifunctional machinery from OEMs while also balancing flexibility, reliability and cost. The show features the cutting-edge packaging technologies CPGs need and provides a setting fit for extended dialogue and project planning.
"CPGs are actively seeking OEMs that will stand by them through the life of a machine and ideally, future purchases," says Jorge Izquierdo, vice president, market development, PMMI. "This aligns perfectly with attendees from previous PACK EXPO East shows who said the event's scale is ideal for fostering these types of relationships."
PACK EXPO East, produced by PMMI, brings together 400 suppliers of packaging innovations with 7,000 attendees looking to package food, beverage, pharmaceutical/medical device, CBD/cannabis, cosmetic/personal care, chemical/household and other goods. It is a valuable chance in between PACK EXPO Las Vegas and PACK EXPO International for the CPG-dense Northeastern U.S. to see the latest packaging technologies.
Hoong Su was a senior principal engineer for Shire biopharmaceuticals when he attended PACK EXPO East in 2018, looking for consultation and equipment. "At [PACK EXPO East], we are always able to identify some of the most innovative solutions in the marketplace that support our efforts to deliver the best products and services to our customers," says Su. "Since PACK EXPO East is a regional event, I can cover a lot of ground in one day and have quality discussions with current and potential suppliers."
Beyond equipment suppliers, the Contract Packaging Sourcing Center, hosted by CPA, The Association for Contract Packagers and Manufacturers, will help CPGs address current and future contract packaging needs and offer solutions to their most challenging problems.
Visit The RPA Center, hosted by The Reusable Packaging Association (RPA) to learn how reusable packaging systems can deliver for business operations and how RPA and its members support reusable packaging objectives.
Attendees and exhibitors alike will have access to free on the floor education via the Forum at PACK EXPO and the Innovation Stage. The Forum will feature 45-minute open sessions on the latest industry trends by the OpX Leadership Network, Institute of Packaging Professionals, Contract Packagers Association and PMMI Business Intelligence, followed by small group discussions and Q&A sessions. The Innovation Stage is a valuable opportunity to learn about breakthrough technologies, innovative applications and proven approaches from the experts themselves.
Another staple of PACK EXPO East is The Packaging & Processing Women's Leadership Network (PPWLN) regional meeting. Kweilin Ellingrud, a senior partner at McKinsey & Company, and Kelly Coyne, the vice president of Global Women's Strategies, Impax Asset Management LLC and Pax Ellevate Management LLC, will focus the March 4 PPWLN breakfast event on Financial Empowerment and Fixing the Broken Rung. With a deep dive into the McKinsey Global Institute's "Women in the Workplace 2019" report, Coyne and Ellingrud will explore inclusiveness and workplace diversity, which, when embraced, results in financial empowerment for individuals and the organization as a whole.
PACK EXPO East also addresses the training CPGs crave with PMMI U's Certified Trainer Workshop that gives participants the strategies and tactics needed to train well across all employee skill levels. An additional Fundamentals of Field Service Workshop will run during the show, open to PMMI Members only.
Also featured at PACK EXPO East is The Future Innovators Robotics Showcase, where students from the surrounding Philadelphia-area robotics teams will display their design, engineering and troubleshooting skills. Attendees can see sponsored teams' creations in action every day of the show in Booth 330.
To register or for more information on PACK EXPO East, visit packexpoeast.com. PACK EXPO East is taking place in Halls D&E of the Pennsylvania Convention Center. For direct access to the show, enter at the 13th and Arch Street entrance.
About PMMI
PMMI, The Association for Packaging and Processing Technologies, represents more than 900 North American manufacturers and suppliers of equipment, components and materials as well as providers of related equipment and services to the packaging and processing industry. We work to advance a variety of industries by connecting consumer goods companies with manufacturing solutions through the world-class PACK EXPO portfolio of trade shows, leading trade media and a wide range of resources to empower our members. The PACK EXPO trade shows unite the world of packaging and processing to advance the industries they serve: PACK EXPO International, PACK EXPO Las Vegas, Healthcare Packaging EXPO, PACK EXPO East, EXPO PACK México, EXPO PACK Guadalajara and ProFood Tech. PMMI Media Group connects manufacturers to the latest solutions, trends and innovations in packaging and processing year-round through brands including Packaging World, Automation World, Healthcare Packaging, Contract Packaging, ProFood World, Mundo PMMI and OEM. PMMI Business Drivers assist members in pursuing operational excellence through workforce development initiatives, deliver actionable business intelligence on economic, market and industry trends to support members' growth strategies and actively connect the supply chain throughout the year.
Learn more at pmmi.org and packexpo.com and pmmimediagroup.com.
Featured Product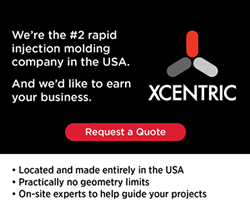 Xcentric plastic injection molding services focus on rapid delivery of prototype and low-volume production components. Our production processes are streamlined such that we typically deliver first articles in less than 15 business days, and for simple expedited projects in as little as five days. At the other end of the spectrum, we frequently produce components for customers needing a few hundred thousand components as a bridge to higher productivity molds. Over time, we have earned a reputation for being able to handle highly complex projects, overmolding, custom insert molding, and other complicated projects much faster than with traditional tooling, often helping our clients get to market weeks, if not months earlier. At Xcentric, every mold is designed and fabricated and all production is run in one of our two Michigan-based facilities.