See single solution that can help bring products to market faster at booth 2066
Watson-Marlow Fluid Technology Group, the world leader in peristaltic pumps and associated fluid path technologies, will be showcasing its range of 400RXMD panel mount pumps at Medical Design & Manufacturing (MD&M) West to be held February 11-13, 2020 at the Anaheim Convention Center in Anaheim, CA, Booth #2066.

Designed for use by medical device specialists serving the surgical ablation market, the 400RXMD DriveSure range provides a single source solution for OEMs requiring pumps, motors, gearboxes, and controls. DriveSure technology allows engineers to bring products to market faster and with less engineering cost by eliminating the time, design uncertainty, and risks associated with the separate specification of various pump components. Available in configurations that match customer flow, pressure and rotation direction requirements, DriveSure is highly adaptable and directly accepts market-standard analog control signals.
Visitors to the booth can learn how the 400RXMD DriveSure pumps deliver very low flows with high backpressure up to 87psi through catheters or needles, in cooling applications. The 400RXMD DriveSure pump also features a tube holder which ensures the tube locates in the right position every time the safety guard is closed, providing rapid, trouble-free tube loading.
Featured Product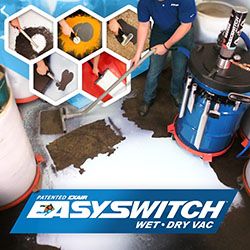 Convey parts, materials, waste - with no moving parts! A fast, low cost way to convey plastic pellets, scrap trim, textiles, bulk solids, food products, chips, paper, pills/tablets, small parts, shavings, sawdust and granules. The Heavy Duty Line Vac is EXAIR's most powerful conveyor, designed for rugged industrial applications. It has been engineered to convey more materials over longer vertical and horizontal distances in less time. The hardened alloy construction helps prevent premature wear. Line Vac conveyors are ideal for moving large volumes of material over long distances. A small amount of compressed air is injected through directed nozzles to produce a vacuum on one end and high output flows on the other, with instantaneous response. The material flow rate is easily controlled with a pressure regulator. No moving parts or electricity assures maintenance free operation. https://exair.co/184-hdlv-prod