Introducing nickel-based superalloys and titanium powders – and displaying innovative AM customer cases in a wide range of Osprey® materials at the world-leading additive event Formnext
Sandvik and BEAMIT join forces at Formnext 2019 in Frankfurt to showcase the strength of the two companies' combined offering in metal powder and additive manufacturing. Together, the companies have leading capabilities across the whole additive manufacturing value chain, from metal powders to finished components.

Earlier this year, Sandvik acquired a significant stake in BEAMIT - a leading European additive manufacturing (AM) service provider. The joint Sandvik-BEAMIT booth at Formnext (19-22 November 2019 in Frankfurt) features several industrial additive customer use-cases in a wide range of materials, produced via different additive processes - along with Sandvik's wide range of Osprey® metal powders, now also including nickel-based superalloys and titanium. These high-grade powders can be used to produce light but extremely durable components with some incredible internal geometries that maximize their performance characteristics, making them suitable for use in demanding industries such as aerospace, automotive and energy. With these additions to the material program, Sandvik now offers one of the widest alloy programs on the market for additive manufacturing. In addition, the company's additive machine park includes all relevant additive manufacturing processes for metals - meaning that Sandvik can tailor the powder to any printing process.
"By co-exhibiting at Formnext, our customers will have the opportunity to experience and discuss the complementary and combined power of Sandvik and BEAMIT," says Kristian Egeberg, President of Sandvik Additive Manufacturing. "The additive manufacturing sector is developing fast, and there is a need for AM-specialist-partners with the advanced skills and resources required to help industrial customers develop and launch their AM programs. Sandvik and BEAMIT have leading capabilities across the whole AM value-chain and can enable companies to accelerate this development."
Mauro Antolotti, Chairman and founder of BEAMIT says: "In Sandvik, we have an excellent owner and strategic partner who can provide us with leading materials expertise, development of high-quality metal powder suited for all AM processes, as well as world-leading post-processing know-how. Our partnership will benefit both current and future AM-customers going forward."
TWO SANDVIK FINALISTS IN THE 2019 PURMUNDUS CHALLENGE
The Sandvik - BEAMIT booth (Hall 11.0, Stand B11-B19) features some high-profile 3D-printed components which underline the tremendous pace of technological advancement in the additive manufacturing sector. These include the world's first 3D-printed diamond composite. This super-hard material is produced using an advanced proprietary Sandvik-process, printing in a slurry consisting of diamond powder and polymer using a method called stereolithography, where complex parts are produced, layer by layer, using ultraviolet light. A tailor-made, post-processing method then makes it possible to achieve the exacting properties of the super-hard diamond composite.
"Until now, the production of super-hard diamond materials has only allowed for a few simple geometric configurations to be formed. But the new process means it is now possible to 3D-print diamond composites into almost any shape, which can revolutionize the way industries use the hardest natural material on the planet", says Mikael Schuisky, VP and Head of R&D and Operations, Sandvik Additive Manufacturing.
Another innovation on display at Formnext 2019 is the world's first 3D-printed, smash-proof guitar (in titanium, of course), tested by rock legend Yngwie Malmsteen, and produced earlier this year as a means of showcasing the highly precise and amazingly durable nature of the additive manufacturing process - and the strength of titanium.
Both the smash-proof, 3D-printed guitar in titanium and the 3D-printed diamond composite are finalists in the 2019 Purmundus Challenge at Formnext, an international competition aiming to celebrate people, organizations, and institutions that through their ideas and innovations are breaking new ground in the field of product design for 3D printing, under the motto "Beyond 3D printing".
BEAMIT is, among other things, displaying the award-winning Lunar motorbike, with several 3D printed parts. The bike has a futuristic approach, combining vintage details such as a steel frame and a massive 2-stroke engine, with additively manufactured parts in structural applications - such as a carbon fiber sub-frame, the world's first carbon fiber and 3D printed titanium rear swingarm, as well as a 3D printed aluminum front fork mounts, to mention a few.
REVOLUTIONIZING MILLING CUTTER IN TITANIUM AND 3D PRINTED PARTS IN SUPER DUPLEX
Another innovation on display from Sandvik is the 3D printed lightweight CoroMill® 390 titanium milling cutter, which is produced through additive manufacturing, reducing its weight by 80 per cent and increasing its productivity by up to 200 per cent. Sandvik has also produced 3D-printed parts in super duplex steel Osprey® 2507-AM, with hardness and corrosion resistance properties that make them ideal for the harsh conditions encountered in the offshore and marine industries.
The Formnext booth showcases the full spectrum of Sandvik's and BEAMIT's additive manufacturing capabilities, spotlighting different materials, different AM-processes, and tailor-made post-processing methods. Experts from both organizations are on hand to discuss customers' specific needs and challenges.
For further information about Sandvik's presence at Formnext, please visit: www.additive.sandvik/formnext
Press contact: Lena Berg, VP and Head of Marketing and Communication, Sandvik Additive Manufacturing.
+46 70 633 83 08 or lena.berg@sandvik.com
Frankfurt, Germany, November 2019
--------------------------------------------------------------------------------------------------------------------------------
SANDVIK ADDITIVE MANUFACTURING
Sandvik has a leading position within the AM metal powder market and has made sizeable investments into a wide range of AM printing process technologies for metal components since 2013. Adding 157 years of leading expertise in materials technology, 75 years in post processing methods like metal cutting, sintering and heat treatment, Sandvik has well-established and leading competence across the entire AM-value chain. In July 2019, Sandvik acquired a significant stake in BEAMIT, a leading European AM service provider, which further will strengthen the company's metal additive manufacturing offering.
Materials technology is included in Sandvik's DNA - and the company has experience from printing in a wide range of materials for additive manufacturing, such as tool steels, including maraging steels, stainless steels and duplex steels, super-duplex steels, high-temperature materials, nickel-based alloys, titanium alloys and cemented carbide - as well as diamond composite.
Sandvik AB is a high-tech and global engineering group with approximately 42,000 employees and sales of approximately 100 billion SEK in more than 160 countries (2018). The company was founded in Sweden in 1862.
For further information: www.additive.sandvik
Featured Product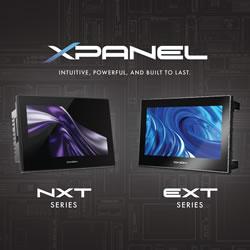 CIMON-XPANEL is a Windows CE based HMI unit. A combination of software and hardware, suitable for various monitoring needs within industrial sites.