One year until IMTS 2020 opens
McLean, Va., (September 17, 2019) - To meet the needs of changing audience demographics and reflect the advanced technology exhibited at the show, IMTS - The International Manufacturing Technology Show has announced that the theme for IMTS 2020 is "Digital Manufacturing. Implemented." IMTS 2020 runs from Sept. 14-19 and will occupy all four buildings of Chicago's McCormick Place.

"Instead of conceptually discussing digital transformation, IMTS 2020 visitors will find digital solutions that they can implement today," says Peter R. Eelman, Vice President & CXO at AMT - The Association For Manufacturing Technology, which owns and produces IMTS. "Manufacturing requires a broad spectrum of technologies, and IMTS brings together manufacturing expertise from a multitude of sectors. There's no 'one-size-fits-all' solution, but you will find it all at IMTS 2020."
In addition to breakthrough products — such as voice command for CNC milling centers — digital technologies are becoming ingrained as part of familiar solutions, such as cutting tools that communicate wear, temperature, positioning and vibration.
Notable digital growth areas of IMTS 2020 will include additive manufacturing (40% more exhibit space compared to last show), quality assurance (11% more exhibit space), CAD-CAM software solutions and HANNOVER MESSE USA, where a majority of the 500+ exhibitors focus on digital-driven manufacturing technologies.
More Emerging Technologies
Tim Shinbara, Vice President & CTO for AMT, says, "Trends to watch for at IMTS 2020 include more collaborations, consortiums and partnerships among exhibitors, especially those that focus on interoperability. Exhibitors will show visitors how to connect data streams within a production cell, between devices and at an enterprise level."
The easiest-to-spot collaborations involve the proliferation of robots and cobots that improve material flow efficiency. A similar example will be in situ quality assurance and metrology solutions that validate specifications before moving the part to the next manufacturing step, such as in situ touch probes and laser scanners. The proliferation of digital components will also correspond with exhibitors showcasing networking, control, communication protocols and cyber security solutions.
Shinbara adds that, "Instead of promoting faster spindle speeds or other physical metrics, exhibitors will emphasize how their equipment fits into a digital ecosystem. Also, look for technology based around creating a digital twin and how to integrate it into the physics of the manufacturing environment."
Economics and Preparation
Eelman, who has more than four decades of manufacturing industry experience, believes that the digital transformation of manufacturing will have an effect similar to that of the PC-based controller.
"We are on the cusp of a productivity breakthrough not seen in more than a generation," he says.
While the immediate growth is temporarily dampened due to the uncertainty generated by international trade issues, the skilled labor market remains incredibly tight and companies must constantly prove that they offer customers the best value.
"Digital manufacturing enables a nimbler response, whether that's to changing market dynamics or swings in customer preferences," says Eelman. "Successful manufacturers position themselves for any possible future by being prepared. They do that by attending IMTS and connecting with the companies that will help them remain competitive."
Featured Product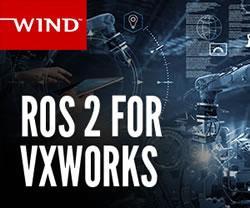 Develop new robotic capabilities with ROS 2 for VxWorks. ROS 2 for VxWorks® project provides custom modifications and build scripts to integrate the Robot Operating System 2 (ROS 2) framework with VxWorks 7. ROS 2 is a set of software libraries and tools that aid in building robot applications. Build ROS 2 for VxWorks using 1) with a VxWorks SDK that is available on the site under a free non-commercial use license; or via 2) with a commercially-licensed VxWorks product.