Guidance Automation (guidanceautomation.com), award-winning pioneer in Guidance, Navigation and Control technologies, enables Mobile Robotic System manufacturer, Yantra (yantrallp.com), to upgrade their vehicle navigation options to include industry-proven Natural Feature navigation.
Rohit Dashrathi, Yantra CEO, stated: "At Yantra we are focused on client process need and the provision of solutions that meet client goals. We manufacture high quality Automated Guided Vehicle (AGV) solutions and see a changing market demand with clients increasingly requesting adaptable vehicle navigation capability that does not rely on traditional line/wire/surface mark following.

We saw Guidance Automation's technology demonstrations at Automation Expo in Mumbai in August 2018 and partnered to accelerate our Autonomous Mobile Robot development.
Dashrathi continued: "With Guidance Automation's help and expertise, we have upgraded our vehicle navigation options to include industry proven Natural Feature navigation and are already supplying enhanced AGVs to our clients to meet the needs of their business operations".
Guidance Automation's 'SCENE' laser/vison-based Natural Feature navigation system for Autonomous Mobile Robots is capable of navigating by reference to existing features within the working environment. This means no wires, tapes or navigation marks. Advanced 2D/3D Laser contour scanning and mapping algorithms combine to generate a navigation map from the available features within the working environment. These mapped features are used to determine vehicle position during vehicle operation. Options for indoor and outdoor operation are available. Wide range of laser types supported, e.g. safety scanners, hi fidelity 360 scanners. Deployment in minutes, easy to adapt to changing demands, infrastructure and processes.
Peter Moore, Commercial Manager at Guidance Automation, added: "Our aim is simple, we develop advanced robotic vehicle Guidance, Navigation and Control technologies to help accelerate Autonomous Mobile Robot development. We enable our clients to keep pace with increasingly demanding market needs. The only way to do this is to start with a deep understanding of end user processes and working practice and use this knowledge to develop intelligent technologies that deliver on the need and facilitate adaptation for the future".
Featured Product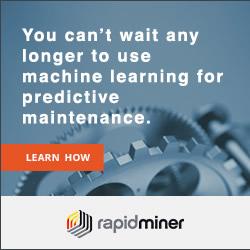 RapidMiner offers a data science platform that's built to enable people of all skill levels across the enterprise to quickly build and operate AI solutions to drive hard ROI for their organizations. Many data science tools are built to create accurate models, but cannot help manage the models into production, where they can have an impact. The platform covers the full lifecycle of the AI production process from data exploration and data prep to model building, model deployment and model operations. RapidMiner can help with a wealth of manufacturing use cases, like designing smart products, running smart factories, forecasting demand, ensuring quality, reducing production downtime, and managing supply chain risk.