This week, as one of the largest global events dedicated to additive manufacturing opens its doors, AMT will be participating to ensure the spotlight is firmly on the importance of post-processing and a connected digital manufacturing system within the production process chain.
(Detroit, USA & Sheffield, UK; May 20, 2019) The 2019 edition of the RAPID + TCT event gets underway today in Detroit, MI, USA. Day one of the event is dedicated to providing high quality content to delegates through a series of curated conference sessions, ahead of the exhibition opening its doors for three days tomorrow.

AMT's Executive VP Americas, Luis Folgar, will be presenting at the RAPID + TCT conference Wednesday 22nd May 14.15-14.40 in room 321. The major emphasis of his presentation will be on the importance of automated post-processing for industrial applications of 3D printing / additive manufacturing. Currently, the 3D printed production process chain consists of a series of unconnected digital manufacturing processes, which require significant manual intervention that slows down production rates significantly and add significant costs. This can erode many of the benefits of additive technology and sometimes negate them altogether, which in turn is slowing down the uptake of industrial 3D printing, particularly for serial production applications.
To this end Folgar will highlight how AMT's BLAST™ process intersects material science, hardware engineering and process automation as a solution to these challenges. The BLAST process is at the heart of the PostPro3D portfolio of hardware which offers performance and aesthetic enhancement for 3D printed parts for mass production applications ranging from aerospace to footwear.
Folgar will also deliver a key technology update from AMT, specifically the introduction of the PostPro3DColor and PostPro3DMini systems, which visitors to the exhibition will be able to investigate in person on the AMT booth (#656) over the subsequent three days, as well as learn more about the digital manufacturing system developed by AMT that is being implemented at global customer sites to realise the full benefits of AM through full automation.
The AMT team will be present on the RAPID + TCT show floor (Booth #656) from tomorrow to discuss with show visitors AMT's range of fully-automated post-processing solutions for 3D printed parts for a wide variety of serial production applications.
The value of the PostPro3D® hardware system for surface engineering can be harnessed in a number of ways. First, by offering a fast and automated solution to the current labor-intensive methods of post-processing, the PostPro3D® significantly reduces lead-times and overall cost of manufacture. A typical process run-time is 90-120 minutes with parts ready for end use application without any additional process steps. Second, the BLAST process that enables the PostPro3D® system is capable of achieving a finished surface quality equal to or better than injection molding on parts 3D printed using laser sintering, HP Multi Jet Fusion, high speed sintering, or fused deposition modeling processes. Parts processed in the PostPro3D® machine exhibit no more than 0.4% dimensional change irrespective of desired surface finish, which ensures retention of fine details and the achievement of tight tolerance requirements. Moreover, the BLAST process is highly controllable, allowing reproducible results with no degradation of a parts' mechanical properties, which can actually be improved through sealing the surface of the parts being processed removing porosity and thus sealing them against liquid or gas ingress.
At RAPID + TCT this week, AMT will be delighted to introduce visitors to the newly extended range of PostPro3D hardware range, which now includes the PostPro3DColor® system and the PostPro3DMini® system.
The PostPro3DColor is a major breakthrough for automated post-processing, as it incorporates all of the benefits of the original system, with the added capability of uniformly coloring polymer 3D printed parts in a single step without the use of water and disposable waste streams. The coloring process remains true to form in terms of safety and capability. The cartridge system of the PostPro3DColor permits the selected color pigment to be delivered into the processing chamber as an atomized mist, which bonds directly to the polymer substrate as it is being smoothed to add the colour to the part consistently. The results are permanent and the color will not fade or wash away over time.
The PostPro3DMini, as its name suggests, offers a smaller and more versatile version of the PostPro3D system and has been specifically designed to accommodate lower volume production runs, but with all of the advantages of the larger system. The sale price of thePostPro3DMini is $32,000, and it will be available from Q4 2019 with pre-orders being taken now. The Mini has a process chamber of 11.8" x 13.8" by 11.8" (W x D x H), and it is a true plug and play solution requiring only power and a 4" extraction connection.
Joseph Crabtree, AMT's CEO stated: "Visitors to the AMT booth at RAPID + TCT are welcome to discuss their automated post-processing needs, investigate the PostPro3D range, including full specifications, and discover the advantages of implementing a true Digital Manufacturing System in collaboration with AMT. We are looking forward to a busy week here at RAPID in Detroit, meeting with customers and sharing our vision with potential new partners."
About AMT
Founded in 2017, AMT is based in the UK, with global reach through facilities in the US and mainland Europe; as well as collaborative partnerships across the world. The company is currently emerging out of stealth mode and into full production. AMT's technology is developed at the intersection of material science, chemistry, hardware engineering, robotics and machine learning. The vision is to deliver safe, sustainable and economically favourable industrialised additive manufacturing solutions that offer a real and viable alternative to traditional manufacturing. www.amtechnologies.com
About BLASTTM
BLASTTM is a physio-chemical performance and aesthetics-enhancing process that can smooth a wide variety of thermoplastic polymers, and is non-line-of-sight process that can smooth complex internal cavities of polymer parts. The process is highly controllable, allowing reproducible results with no degradation of the mechanical properties of parts. Extensive testing has demonstrated no loss in Ultimate Tensile Strength (UTS) of parts with an increase in Elongation at Break (EAB). The increase in EAB is due to the reduction of crack initiation sites on the polymer surface due to the removal of surface porosity.
Featured Product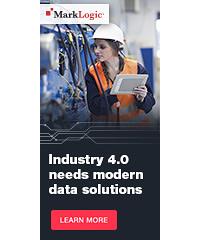 Use Data to Deliver Efficiency, Reduce Risk, and Create Better Products. Disruptive technologies and market changes are transforming the manufacturing industry, requiring a new focus on optimizing use of data and information. It all adds up to a new industrial revolution called Industry 4.0. Organizations who want to realize the potential of this revolution need to "Industrialize their data," making it a core asset to deliver better products and customer service, navigate complex business environments, and transform for the future. MarkLogic customers are delivering on this vision for data with a proven architectural pattern called the Operational Data Hub that simplifies the integration of data along the digital thread to power operational and analytic use cases across the enterprise.