ALIO Industries continues to provide the most accurate and repeatable motion control solutions available for industry through a complete focus on nanometer-precision and a vertically-integrated approach to innovation.
For the last 18 years, ALIO industries has been recognized as the only manufacturer of nano-precision motion control solutions. For its entire history, the company's focus has always been on nanometer precision and repeatability which is demanded more and more by exacting applications across numerous industry sectors today. ALIO's complete focus on nanometer-precision is unique in the motion control sector, which is well populated with alternative technologies that provide micron and on occasion sub-micron accuracy, but which struggle with nanometer-level precision and above all nanometer-level repeatability.

HYBRID HEXAPOD®
As a new addition to its range of nanomater-precision motion control solutions, ALIO recently introduced its Hybrid Hexapod®, which due to the combination of serial and parallel kinematic 6-D Nano Precision® stages renders traditional hexapod kinematics obsolete. The Hybrid Hexapod® exhibits orders-of-magnitude improvements in precision, path performance, speed, stiffness and a larger work envelope with virtually unlimited XY travel, and fully programmable tool-center point locations.
ALIO's Hybrid Hexapod® has less than 100 nm 3-Dimensional 6 axis Point Precision® repeatability, making it an essential technology for mission critical applications in the laser processing, optical inspection, photonics, semiconductor, metrology, and medical device sectors, and indeed all micro-machining projects. It, and the other nanometer-level motion control solutions produced by ALIO are a product of the unique attributes of the company as it focuses on best-in-class solutions.
VERTICAL INTEGRATION
The ability to be able to claim ownership of the nano-precision motion control space demands that ALIO approaches its manufacturing objectives in a unique way. An obsessive focus on nanometer-level accuracy and repeatability requires a dedicated team with an absolute focus and drive to deliver ground-breaking, high-quality motion control solutions for its customers.
ALIO can draw on 18 years complete focus on nano precision, and exhibits a complete focus on specific customer demands, the manufacture of customised solutions for specific client applications, the forging of a partnership relationship with its customers, and totally transparent collaboration from project inception to completion.
ALIO offers a high-end boutique-like service, with a strong emphasis on responsiveness to its customers, this responsiveness and the ability to produce best-in-class nanometer-precision motion control solutions being driven to a large extent by the fact that the company is totally vertically integrated, unlike many alternative motion control suppliers. To achieve the precision and quality that its customers demand, all ALIO's motion control products are manufactured in its facilities in Arvada, CO, USA, and all under one roof.
ALIO's designers are all experienced in the field of nanometer-precision and manufacturing, and while all other motion control suppliers are still working in microns, for 18 years ALIO has only designed and created motion control solutions with "nano" in mind. Success — in other words — is built on the fact that the company understands Design for Nano Manufacturing (DfNM), something unique in the motion control sector.
ALIO has one of the most advanced machine shops in the world, using state-of-the-art technologies in controlled environments to ensure optimised motion control products are manufactured.
The company's in-house metrology department uses best-in-class measurement tools to allow ALIO to prove complete adherence to design intent. In a world where nanometers are the focus, precise measurement and validation is key to successful motion control solutions, and so ALIO has 100% part verification which is unique in the motion control industry.
Motion control suppliers continually maintain that good motion control solutions can overcome issues with poor kinematics, structure, and bearings, but ALIO proves that this is not the case. Today, the company is working with NIST to develop new standards for motion control, pushing the concept of Point Precision® (referencing performance specifications to a point in space, not the planar methodology current standards use). Point Precision® is seen today as is the gold standard when customers need to assess the real precision of motion control solutions, and its use reinforces ALIO's claim to be the only motion control supplier that can provide repeatable nanometer levels of precision.
With design, machining, metrology, manufacturing, and assembly teams all working together in one facility, ALIO nurtures cross-company collaboration every day. This allows the company to be flexible and nimble as it works with customers to provide the ultimate in high quality ultra-precise solutions such as the game-changing Hybrid Hexapod®.
Featured Product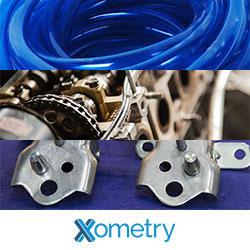 Xometry is your source for custom parts. Now, in addition to getting instant quotes on 3D Printing, CNC Machining, Sheet Metal, and Injection Molding, customers can create and send RFQs for die casting, stamping, and extrusion work to our nationwide network of pre-vetted manufacturers with just a 2D drawing. You will receive and be able to review responses from qualified shops within 7 days on an advanced web-based RFQ management platform. To learn more go directly to our site to issue and RFQ today. Stop wasting time managing RFQs through email and by phone, and start issuing RFQs at scale and in the cloud.