Maniks is a leading manufacturer of pulse jet valves for application on dust collector systems, to purify the bag filters. Maniks aims to provide wide range of industries like steel, chemicals, pharmaceuticals, bakery, oil and gas, railways, power etc. Mostly in any industry bag filters are used to clean, gas or air flows, emission fumes. The Maniks pulse jet valves are known to give a very good performance in all sorts of industries and under all circumstances.
What is Maniks Pulse Jet Valve?

Maniks has been in mainstream in manufacturing Pulse Jet Valve for reverse pulse jet bag filters which are diaphragm operated. These Dust Collector Valves has only one moving part called as Spare diaphragm. Maniks Pulse Jet Valve has exclusive spring less construction. Maniks pulse valves are specially designed to work in dust collector system hence it gives quick opening and closing which will enhance the life of the valve. It provides high speed operation which will save the compressed air and helps to provide shock air wave for removal of dust from filter bags. Pulse Jet valve is an economic product for manufactures as it gives high flow, long life and quick diaphragm activity all in one package.
http://www.maniks.com/pilot-operated-pulse-valve.html
Why Maniks Dust Collector Valve?
MANIKS is a leading manufacturer and exporter of pulse valve, sequential controller and spare diaphagrams, pulse jet valve with a market presence in more than 30 brand clients in various popular industries including Ambuja Cement, Finolex, Aditya Birla, Centurion Cement, HP and ACC etc.
Having an unmistakable quality administration system, we are viewed as the vital maker, exporter and provider of ideal review Pulse Jet Angle Type Dust Collector Valve. This valve is manufactured using high industry standard material and latest strategies in adherence to set industry measures. It is made accessible in various applications for our clients to choose from.
Featured Product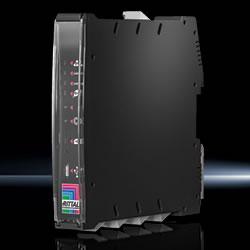 Rittal Blue e+ cooling units are currently the most efficient of their kind on the market. Besides being 75 percent more energy-efficient than previous cooling solutions on average, the units also excel in terms of connectivity, safety and handling.   What's more, their IoT interface enables Blue e+ units to link to customer-owned monitoring, energy management and/or superordinate systems via OPC-UA, Profinet, SNMP, Modbus TCP and CANopen, enabling predictive maintenance, data analytics and more.