High alumina ceramic powder now available for binder jetting additive manufacturing.
Global 3D printing materials company, Tethon 3D, announces the launch of a high alumina ceramic powder for use in binder jetting additive manufacturing. High alumina Tethonite® expands the broad menu of proprietary ceramic powders developed by the company.

Tethonite stoneware powder and its companion binder were the initial products manufactured when the company began commercial operations in 2014. Since then, the Tethon 3D team has added porcelain, earthenware and now high alumina ceramic powder materials. Tethon 3D also manufactures and sells several ceramic and polymer UV curable resins for SLA and DLP additive manufacturing.
"Ceramic powder material development continues to be an area of focus for us," said CEO Karen Linder. "We have over a decade of R&D experience and expertise with ceramic powders in binder jetting additive manufacturing applications."
Objects fabricated with high alumina materials are more resistant to corrosion, wear and thermal stresses. High alumina materials are used by large enterprise companies for unique technical applications, including oil and gas processing, high voltage bushings, specialty crucibles, laser shields and more.
The high alumina Tethonite powder is over 96 percent alumina by weight. Tethon 3D companion binder is necessary for the binder jetting printing process. Partial sintering at 1300C (2372F) results in a porous high alumina object. Higher sintering temperatures result in densities near 99 percent with heat tolerance up to 2000C (3632F).
With todays launch, the current Tethonite branded ceramic powder portfolio includes four Tethonite formulations:
1. High Alumina
2. Porcelain
3. Stoneware, and
4. Earthenware.
Following the 3D printing process, the printed objects must be sintered in a kiln to achieve vitrification. No other post processing or infusion steps are required. When appropriately sintered, the 3D printed objects are one hundred percent ceramic and exhibit expected physical properties of each of the respective ceramic materials. Additionally, Tethon 3D formulates custom powders for clients that wish to use innovative, unique materials for additive manufacturing.
Featured Product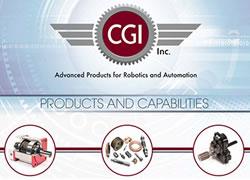 From Prototype to Production CGI Motion enables design excellence across a wide range of industrial applications. We thrive on customer driven innovation in precision gearbox, precision machined components and electro-mechanical assembly solutions ranging from aerospace systems to semiconductor applications. We are your design and manufacturing partner helping to differentiate your product, machine or innovation. Our team of problem solving engineers and product managers can bring your application to market on time and under budget. Whether it's an improvement on a current design or groundbreaking new designs, CGI has the know-how and team to enable design excellence. Connect with us today to explore what CGI Motion can do for you.