As more companies move to a predictive model of equipment maintenance, they are looking for ways to use connected devices to improve field service. Here, George Walker, managing director of field service management software provider Novotek UK and Ireland, explains how the Internet of Things (IoT) is changing field service.
Before internet-connected devices were the norm, it was common for facilities managers and in-house maintenance staff to spend time on the phone with suppliers booking in a suitable time for repairs to be carried out. It might have taken hours, if not days, for an engineer to come out to the site — leading to potential downtime in the interim.

When the technician came to the site, they may have found that they didn't have the right tools, the right parts, or even the specific knowledge to carry out the service needed. This would mean the same technician would have to go back, or a second technician would need to come out to complete the service.
Although this model has been the norm for many years, it is no longer feasible in a modern environment. Factors such as first-time fix rates, mean time to repair and overall efficiency are driving businesses to closely monitor resource allocation and the time spent on maintenance.
Field service management has traditionally been responsible for activities such as locating fleet vehicles, scheduling maintenance work-orders and dispatching personnel. However, the advent of the IoT means that much of this model is shifting to real-time, predictive maintenance and those companies that adapt their businesses will benefit the most from the resulting competitive advantage.
The number of connected IoT devices is set to surge in the next few years, going from 27 billion in 2017 to an estimated 125 billion in 2030, according to analysis firm IHS Markit. Sensors can not only help engineers to remotely diagnose problems in many instances, they can also help to remotely repair or prevent further damage to equipment.
However, hardware sensors are just the start. Better software will help businesses to truly realise the potential of IoT in field service management. Modern field servicing software needs to go beyond the basics and offer better wider integration with the company's inventory, billing and enterprise resource planning (ERP) systems.
This is why we've partnered with the leading vendor in the industry to help our customers achieve better results. Novotek is the sole distributor of GE's ServiceMax field servicing software in the UK and Ireland. ServiceMax creates solutions for the people who install, maintain and repair machines across dozens of industries, as the leading provider of complete end-to-end mobile and cloud-based technology.
The results speak for themselves. In a recent survey of ServiceMax customers in March 2018, technicians and engineers were 19 per cent more productive, service costs went down by 9 per cent and service revenue increased by 10 per cent. In addition to this, customers saw contract renewals increase by 11 per cent, mean time-to-repair decrease 13 per cent and equipment uptime improve by 9 per cent — leading to customers being 11 per cent more satisfied. Overall, compliance incidents dropped by 13 per cent.
By sending the right technician to the right job, at the right time, you avoid situations where some technicians are overloaded, while others have white space in their schedules. Using an app that works across devices, technicians can request jobs from anywhere. Each service level agreement (SLA) is easily managed and field service reports are easily produced.
What was science fiction a mere five years ago is now reality. A machine on a customer site can send an alert to the service team warning them of an imminent failure and potential downtime. Technicians can then be proactively dispatched to site with the right parts to carry out urgent repairs and mitigate costly downtime.
IoT has already drastically changed other sectors of the industrial landscape and is now making waves in the field service management sector. Whether you're a utility business, a healthcare provider or even a telecoms business, it's about time you looked at how IoT will change field servicing for you.
Featured Product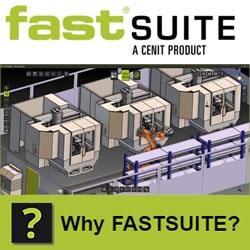 With two product lines, FASTSUITE for V5, which is seamlessly integrated with CATIA/DELMIA V5, and FASTSUITE Edition 2, a standalone platform, the areas of OLP (offline programming), manufacturing simulation and virtual commissioning are the core of our business activities. Our applications and solutions are not only focused on real customer needs, but they are also designed to improve efficiency and quality of our customers' manufacturing processes. No matter if the process is just about offline programming of a single robot at a small job-shop company or about the validation of a complete production line at an Automotive or Aerospace OEM. We strive to ensure a constant quality of our services and to provide the best possible support to our worldwide customers. Therefore we have established three digital manufacturing hubs around the world. All our teams have a proven expertise on manufacturing process integration and profound IT implementation skills.