Careful design benefits customers with ease of navigation and helpful technical content
Dover, OH - Allied Machine & Engineering, a leading manufacturer of holemaking and finishing tooling systems, announces a brand-new product catalog, which incorporates Allieds comprehensive range of holemaking products into one feature-packed book. With stunning new images and a design that pays careful attention to helping customers select the right tools, the new catalog showcases all the drilling, boring, reaming, burnishing and threading tools in one location. Catalog navigation has been carefully thought out to benefit customers. A wealth of technical details about product sizes, setup tips, and application guidelines make this catalog a valuable all-around educational resource.

The new catalog is extremely easy to navigate, ultimately saving customers time and money. Sections are organized in the order in which manufacturing processes would typically be performed. Drilling tools are highlighted first, followed by boring and reaming, burnishing, and then thread milling options. The final product section details Allieds vast special tooling capabilities. It includes detailed industry-specific case studies of customers who have benefitted from special tooling developed by Allied. These case studies include quantifiable data that demonstrates how each tool reduced scrap and/or increased tool life compared to the competition.
To further assist with tool selection, products in each section are arranged in ascending order by diameter. Section indicators next to page numbers help customers distinguish which section they are viewing. A comprehensive index helps customers quickly find items by product number. The catalog also includes a product selection guide to help customers quickly decide which tool to use per their specific application.
Product imagery has been completely revamped, with new high-resolution images of each product within a product line. New product renderings and line drawings show extremely clear and accurate product detail.
Also added is a wealth of technical information on each product, including features, advantages and assembly instructions. This section includes helpful explanations of each tools performance, application recommendations, set-up and adjustment instructions and tips, available options, and suggestions for which styles should be used in certain situations. Tool recommendation guides provide overviews of each product line including material recommendations so users can quickly and easily find the best solution for their applications.
While the new catalog includes information on the vast majority of Allieds offerings, a few standalone catalogs remain, including the Wohlhaupter boring system solutions and Eco-Cut lathe tools.
For more information, contact Allied Machine at info@alliedmachine.com.
###
About Allied Machine & Engineering:
Allied Machine & Engineering is a leading manufacturer of holemaking and finishing tooling systems. Allied devotes its advanced engineering and manufacturing capabilities to creating the widest selection of value-added tooling available to metal-cutting industries around the world. Our tooling solutions deliver the lowest cost-per-hole in a wide range of drilling, reaming, threading, boring, and burnishing applications.
Located in Dover, Ohio, Allieds precision holemaking technologies provide end users worldwide with the highest level of drill performance. Precision engineering and expert application support make Allied the first and best choice for solving complex metal-cutting challenges.
Featured Product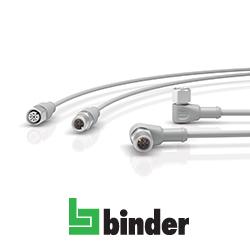 binder USA, LP, has expanded the M12 product family with the addition of the M12 A-Coded Connector, which is now certified for both Ecolab and FDA Code of Federal Regulations (CFR) Title 21 standards. The M12 A-Coded connectors are extraordinarily durable and IP69K-rated, ideal for harsh-duty and washdown applications in the food and beverage, pharmaceutical, and chemical industries. Available in 3, 4, 5, 8, and 12 contacts, the high quality stainless steel locking rings (V4A) and gold contact plating can also withstand UV exposure and shock and vibration.