Manufacturing

Marketing Partner
---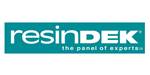 ResinDek / Cornerstone Specialty Wood Products
At Cornerstone Specialty Wood Products®, we know and understand the importance of having the right flooring product for the right application. That's why we offer a variety of ResinDek panels in different thicknesses, densities, and with different surface finishes. Since 1994, ResinDek flooring panels have been installed in distribution centers, warehouses, manufacturing plants, and cold storage facilities for major corporations worldwide. The intent of Cornerstone Specialty Wood Products then and now is "We don't just make better mezzanine floors…We make mezzanine floors better". We strive to provide solutions that improve the ergonomics in work environments, reduce environmental impacts, and bring significant value to the professionals in many different industries.
---
Mailing Address:
12020 Tramway Drive
Cincinnati, OH 45241
United States of America
Tel: (888)-755-3048
Fax:
Email: info@resindek.com
Website: https://www.resindek.com/
Company Category: Supply Chain
Geographic Region: USA - North East
Company Sector: Manufacturing
Keywords: agv, warehouse, logistics, material handling, processing
Partner Status: Marketing Partner
---
Products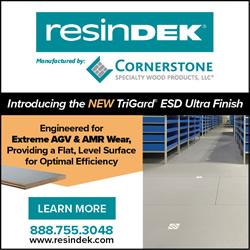 ResinDek flooring panels are designed for elevated platforms such as mezzanines, pick modules, and work platforms. They have the proven structural integrity to support dynamic and static rolling limits from 2,000 to 8,000 lbs. ResinDek flooring panels are available in a multitude of options that are customized for load capacities, required finish type, volume and type of traffic including heavy rolling pallet jack loads and robotic traffic with AGVs and AMRs.
---
Articles
One of the best ways today to improve business efficiency is through the use of warehouse robots. And while planning is underway to adopt warehouse robots, it's important to consider the most ideal flooring.
On the surface, anti-static sounds like the right choice. Anti-static means no static, right? Not quite. Read on to learn the key differences between anti-static flooring and electrostatic dissipative (ESD) flooring.
---
White Papers
This Company does not currently have any White Papers
---
---