Software

Marketing Partner
---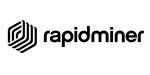 RapidMiner
RapidMiner brings artificial intelligence to the enterprise through an open and extensible data science platform. Built for analytics teams, RapidMiner unifies the entire data science lifecycle from data prep to machine learning to predictive model deployment. More than 500,000 analytics professionals use RapidMiner products to drive revenue, reduce costs, and avoid risks.
---
Mailing Address:
100 Summer Street, Suite 1503
Boston, MA 02110
United States of America
Tel: (855) 472-7434
Fax:
Website: https://rapidminer.com/
Company Category: Design & Development
Geographic Region: USA - North East
Company Sector: Software
Keywords: Data, analytics , predictive maintenance, risk management
Partner Status: Marketing Partner

---
Products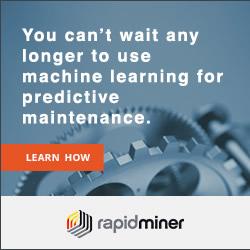 RapidMiner offers a data science platform that's built to enable people of all skill levels across the enterprise to quickly build and operate AI solutions to drive hard ROI for their organizations. Many data science tools are built to create accurate models, but cannot help manage the models into production, where they can have an impact. The platform covers the full lifecycle of the AI production process from data exploration and data prep to model building, model deployment and model operations. RapidMiner can help with a wealth of manufacturing use cases, like designing smart products, running smart factories, forecasting demand, ensuring quality, reducing production downtime, and managing supply chain risk.
---
Articles
Among the wealth of use cases for AI & ML in manufacturing, one rises above the rest in terms of feasibility and impact – predictive maintenance. Predictive maintenance addresses the age-old challenge of ensuring maximum availability of critical manufacturing systems.
The proven impact of machine learning models has pushed more investment toward their development. Still there are plenty more gains to be realized.
---
White Papers
This Company does not currently have any White Papers
---
Press Releases
This Company does not currently have any Press Releases
---