Consultant

Marketing Partner
---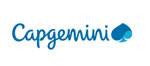 Capgemini
As a leading strategic partner to companies around the world, we have leveraged technology to enable business transformation for more than 50 years. We address the entire breadth of business needs, from strategy and design to managing operations. To do this, we draw on deep industry expertise and a command of the fast-evolving fields of cloud, data artificial intelligence, connectivity, software, digital engineering, and platforms.
---
Mailing Address:
2142 Boyce St #301
Columbia, SC 29201
United States of America
Tel: (212) 314-8055
Fax:
Email: satheesh.sebastian@capgemini.com
Website: https://www.capgemini.com/us-en/solutions/boost-revenue-and-operational-efficiency-with-data-driven-quality/
Company Category: Automation & IIoT
Geographic Region: USA - South East
Company Sector: Consultant
Keywords: iiot, cloud, data, artificial intelligence, enterprise manag
Partner Status: Marketing Partner
---
Products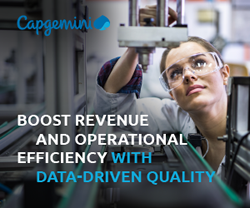 A reactive manufacturing cycle of building, inspecting, and correcting is no longer sufficient to meet rising customer wants and demands. To break this ineffective cycle, organizations must have a robust data-driven solution that combines a proactive focus on quality with integrated analytics and automation capabilities to turn quality control from a liability into an asset.
---
Articles
Engineering is ultimately what will make the metaverse a more useful tool for businesses, optimizing the quality of service they offer and streamlining operations. If the metaverse is a vehicle, engineering is the fuel that drives it.
AI-guided selling enables analytics to move from descriptive to predictive and prescriptive analytics. The process uses customer and sales data for a scientific, data-driven approach to understand buyer processes and behaviors.
---
White Papers
DATA-DRIVEN QUALITY - CAPGEMINI
Companies using Capgemini's DDQ enable their data scientists to tap into new value from data pools to engineer the products and experiences customers want, boosting satisfaction and loyalty. DDQ is also built on a repeatable and customizable architecture, reducing start-up costs, and allowing a custom-fit solution for the unique needs of the brand.
---
Press Releases
Through this collaboration, Capgemini aims to provide clients with enterprise-ready joint offerings that combine Cervest' s asset-level climate intelligence with its managed services. to explore how it can transform client risk and resilience capabilities, today and in the future.
"Data really enables our people," says Scott Kirchner, President of Panasonic Automotive. "If people can see how their piece of the business or another area they are related to is working, they can have more innovation and accountability as to how they can impact operations. It is empowering."
---