As additive manufacturing (AM) / 3D printing becomes an embedded production technology, the scrutiny on every aspect of the AM process chain intensifies. The emphasis is in general terms on automation and the reduction in manual processing.
Addressing Quality Issues in 3D Printing
Q&A with Rebecca Wilkes, Order Manager | 3DPRINTUK
In this article, Rebecca Wilkes, Order Manager at 3DPRINTUK discusses how in a fast moving and rapidly growing 3D printing environment, the issues of quality are a focus at every turn.
Can you explain how long you have been involved with 3D printing, and what your different roles have been?
Wilkes. I have been working in the 3D printing industry since the start of 2017. I initially started as a post processing technician here at 3DPRINTUK when we were based in Bow. This was back when we were still cleaning every single part by hand, so it was pretty hard work and very dusty. Later that year I moved to a different printing bureau where I was more administrative based, but also had a focus on running the SLA printers we had there.
In 2021 I moved back to 3DPRINTUK where I am now the Order Manager, and also a co-team leader of the post processing and dispatch teams we have here. My role mainly involves making sure that orders are delivered on time and are in line with the high standards we hold. I also help to sort the thousands of parts that come out of the machines every day making sure that they match what the customer has ordered.
What initially interested you about the technology?
Wilkes. I didn't have a direct route into 3D printing. I studied Jewellery and Silversmithing at the Birmingham School of Jewellery, and in my final year — after learning about new technologies such as 3D Printing in precious metals and plastics — I decided to explore how I could use these technologies for my final year project. The technology of selective laser sintering (SLS) did initially blow my mind a little considering I was used to making everything by hand at my jeweller's bench! I found it amazing that you could print interlocking parts without the need for supports so things like chains were suddenly so easy to make. I experimented with the dyeing of SLS printed nylon for my collection which ultimately went on to win jewellery awards in technological innovation, which was pretty exciting!
How would you say 3DPRINTUK is different from other 3D printing bureaux?
What continues to make me very proud of working here is that we are led by Nick Allen. Nick has created an atmosphere in which everyone is working towards the same goal and we all want this company to succeed and will go above and beyond to realise that success. We are producing a high quantity of parts every single day just like any other big bureau would, but I think what sets us apart is that we treat every order that comes through the door with the same care and attention to detail no matter the value or volume of parts. We are constantly looking for ways to improve our services and expand technologies so that we can offer the best service to our customers that we can.
What would you say "dispatch" means at 3DPUK?
Wilkes. Dispatch at 3DPRINTUK is the area I tend to spend most of my time, and it is covering all aspects of making sure that every order is shipped out on time and to the correct standards of quality we maintain here.
With your involvement with the post-processing part of the process chain, can you describe the importance of post-processing, and what is done at 3DPUK to streamline this aspect of part production?
Wilkes. Where we have the printers as our work horses, I would say our post processing and dispatch department is the beating heart of the company. Without this department we wouldn't be able to offer different finishes on parts and we also would have a pretty hard time getting any orders out. We offer dyeing, polishing and shot peening and will be expanding to other finishes when we open our new finishing hub later this year. 3DPRINTUK has a unique operating system which has been developed in house to allow for a streamlined sorting process of parts which tells the user which part has what finish. It is incredibly user friendly and intuitive, which allows the teams to sort through builds or dye batches, for example, as quickly as we do but without compromising on quality.
How intense would you say 3DPUK's focus is on quality control?
Wilkes. Our focus on quality control is shown by how much we have introduced and adapted our workflows to meet the high criteria needed to achieve ISO 9001 certification. 3DPRINTUK is constantly looking at ways to improve our quality and maintain these standards.
From your perspective, how are you driving the QC element of what 3DPUK does?
Wilkes. My team is responsible for reporting any parts we come across while sorting from any post processing that are not conforming to our quality policy. This could be anything from a part broken in the polisher or a print defect. All of these need to be reported so that our quality manager can report these parts and investigate any further should they need to. We see 1,000s of parts come through each day so if anyone is going to see an issue that is starting to crop up more than it should then we are the most likely.
What does it mean to have ISO 9001 certification, how was this audit process, and what does this from your perspective demonstrate about 3DPUK?
Wilkes. Achieving the ISO 9001 certification was a really great moment for us as a company because it really helped to solidify the feeling that all of our hard work was worth it in the lead up to our audit. Having this certification will really open up a lot of new opportunities for us which is exciting and will only help to grow the company, which is always the goal for us. 3DPRINTUK is never known for being content with where we are, we are always looking for ways to improve, diversify, and innovate with how we work and how we progress as a company. Being accredited to ISO 9001 is just another example of how we are doing this.
About 3DPRINTUK
3DPRINTUK are specialists in low volume production using state-of-the-art powder bed fusion (PBF) 3D printing systems with polymer materials. The company bridges the void that exists between prototyping and injection moulding, such that if tooling costs are prohibitively expensive for an application that does not require the volume demanded by injection moulding, 3DPRINTUK can provide a high quality, cost-effective and fast solution.
The content & opinions in this article are the author's and do not necessarily represent the views of ManufacturingTomorrow
---
Comments (0)
This post does not have any comments. Be the first to leave a comment below.
---
Post A Comment
You must be logged in before you can post a comment. Login now.
Featured Product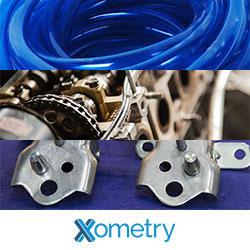 Xometry is your source for custom parts. Now, in addition to getting instant quotes on 3D Printing, CNC Machining, Sheet Metal, and Injection Molding, customers can create and send RFQs for die casting, stamping, and extrusion work to our nationwide network of pre-vetted manufacturers with just a 2D drawing. You will receive and be able to review responses from qualified shops within 7 days on an advanced web-based RFQ management platform. To learn more go directly to our site to issue and RFQ today. Stop wasting time managing RFQs through email and by phone, and start issuing RFQs at scale and in the cloud.