The implementation of warehouse automation requires an experienced electrical, mechanical, and industrial engineering team and advanced software capabilities on hand.
The Basics of Warehouse Automation
Jen Maloney | The Numina Group
The Goal of Warehouse Optimization
The goal of warehouse optimization is to increase efficiency and profitability by deploying lean processes. This is achieved with warehouse automation and warehouse control and execution software creating fast, continuous order flow across the entire pick, pack, and ship fulfillment operation.
The first step for a successful integration meeting all project milestones is to start with a design-first approach.
The best practice is to engage a warehouse system integrator to work closely with your internal team.
The process begins with the warehouse automation integrator and in-house team focusing on a business-first approach to align labor, technology, and operations with business strategy and corporate vision.
The implementation of warehouse automation requires an experienced electrical, mechanical, and industrial engineering team and advanced software capabilities on hand.
Benchmark Your Existing Warehouse Operations
To develop a warehouse optimization plan, your team and the integrator work together to benchmark existing operations, identify areas of process improvement, and recommend warehouse automation technologies to support the optimization goals.
The outcome of this process is a plan or roadmap that provides business managers with the vision and justifications for making operational changes. To ensure the project meets the company's order fulfillment requirements, three factors need to be evaluated and aligned – workforce, workplace, and the performance of the work.
A Data-Driven Roadmap for a Successful Optimization Project
The engineering plan and subsequent optimization plan are data-driven. At a minimum, it should be based on a year or more of past order data, including detailed data on order profiles, shipment sizes, and the current workflow of your picking, packing, and shipping processes.
Order and SKU movement data analysis is reviewed to understand and recommend improvements to product storage and to ensure that:
Items are stored in the optimal locations to streamline picking
Correct storage technology is used, and
Optimum travel paths are achieved for the most efficient order flow across the operation
Warehouse Engineering Study Results
The outcome of the engineering study is a benchmark of current performance, recommended process improvements, identification of the right technologies matched to the order profile, and the elimination of extra touches and bottlenecks.
It should project a future 3-to-5 year period for growth, factoring in order profiles, SKU movement velocity, peak periods, and how future growth will impact facility capacity.
Once the study is complete, the data essentially becomes a single version of the truth by which all processes and technologies can be evaluated, contrasted, and selected to improve an existing operation or design a new DC.
Warehouse Automation Technology Review
Once the engineering plan is complete and signed off on by both teams, you can begin reviewing warehouse automation technologies to identify those that will optimally increase the order flow across the pick, pack, and ship operation.
Voice-picking technology, mobile warehouse robots, order release planning software, cartonization logic, scan-weigh-dim, and print-and-apply technology are some of the warehouse technologies to consider, along with process improvements to increase picking rates.
The Role of Warehouse Automation Integrators
The systems integrator's role is to help you create the best possible optimization plan for your specific operations. Their role is also to ensure that you choose the ideal technology for your unique order fulfillment needs, as there is no "one-size-fits-all" solution.
Work with an independent warehouse automation integrator who is a true subject matter expert (SME) and can bring application expertise, knowledge, and operational experience to identify and implement improvements.
An independent systems integration expert can provide an unbiased evaluation of all your technology options for your warehouse operations and business goals.
If you have questions about optimizing your warehouse, the Numina Group offers expert warehouse design, implementation, integration, and consulting services.
The content & opinions in this article are the author's and do not necessarily represent the views of ManufacturingTomorrow
---
Comments (0)
This post does not have any comments. Be the first to leave a comment below.
---
Post A Comment
You must be logged in before you can post a comment. Login now.
Featured Product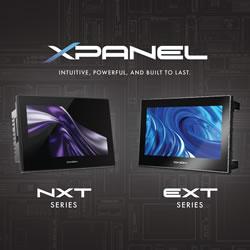 Introducing the Xpanel eXT and nXT series, advanced industrial HMI solutions that set a new standard for performance and usability. Utilizing our brand new Canvas HMI software for project creation, the Xpanel eXT and nXT series deliver a seamless and efficient user experience. They combine industrial-grade touch technology, powerful embedded OS hardware with a quad-core CPU, and an easy-to-use runtime platform. The Xpanel eXT and nXT series are specifically designed to optimize and streamline industrial operations, enhancing your HMI experience.