Implementing an ESG plan across a company starts with the physical facility. Measuring long-term commitment, outcomes, and consistency will make a critical difference in manufacturing's impact this year and beyond.
How Will Manufacturing Make Its ESG Mark in 2023? It Starts with Measuring What Matters Most
Tommy Linstroth, | Green Badger
Environmental, social, and governance impact metrics, commonly referred to as ESG, are nothing new – the term was coined in 2005 – but their popularity has multiplied in the past several years.
Ninety percent of S&P 500 companies and 70 percent of Russell 1000 companies published ESG reports in 2022, and 84 percent of business leaders say stakeholders have higher expectations for ESG reporting.
This is especially true for manufacturing companies because, as a whole, the industry is responsible for one-fifth of global emissions while consuming 54 percent of the world's energy. When coupled with the fact that the construction industry accounts for 40 percent of annual CO2 emissions, new manufacturing facility construction and existing facility renovations are obvious places to improve efficiency and elevate ESG outcomes.
Implementing an ESG plan across a company starts with the physical facility. Measuring long-term commitment, outcomes, and consistency will make a critical difference in manufacturing's impact this year and beyond. That's why the core long-term success of an ESG plan lies in the accountability of measuring what matters most and ensuring actions are committed over time.
Here are three ways manufacturers can begin collecting, aggregating, and reporting ESG metrics to enable real change in the year ahead.
#1 Focus on the Criteria for Measurement & What Has the Most Impact
ESG metrics across any industry are as multifaceted as the priorities they pursue. As a result, it's difficult for builders to identify, collect, and report the ones that matter most. For manufacturers, operational data might include the use of hazardous air or water pollutants, harmful emissions, factory energy consumption, and non-renewable energy reliance.
However, tracking and evaluating new manufacturing facility construction or existing facility renovation can be uniquely challenging. This is especially difficult without an industry standard, making the data collection processes more costly and time-consuming for builders without clearly identified ESG objectives.
In lieu of standardized metrics, consider measuring project impact, including resource consumption, personnel accommodations, and workplace safety. In addition, manufacturers can leverage proven ESG standards informing other industries to guide their data collection process. This includes:
Finally, the Carbon Leadership Forum's EC3 calculator can help builders more accurately compute a build project's climate impact.
By having access to the appropriate measurements, all parties involved can measure their progress over time and show their dedication to ESG, so it's more feasible to achieve progressive improvement.
#2 Hold Manufacturing Leadership Accountable by Giving Power to a Senior Leader Charged with Making ESG Success
The gap between ambition and action in implementing ESG initiatives is significant. To bridge this gap, effective change management is essential, and this requires a strong leader who can identify necessary changes and implement effective solutions.
Empowering a leader to hold manufacturers accountable for ESG progress is crucial because it helps ensure that the company's ESG goals are met responsibly and transparently.
The designated leader takes on the responsibility of ensuring that ESG considerations are integrated into the company's overall strategy and that all departments and employees are aligned with the company's ESG goals. This results in more focused efforts, increased resources, and improved ESG performance, as well as increased transparency, making it easier for stakeholders to hold the company accountable for its actions.
This leader should be able to navigate conflicting priorities and reconcile the tension between ESG goals and short-term financial considerations. For example, while ESG outcomes are a stated priority for most executives, 85 percent say that near-term economic uncertainty is "the top challenge to a strong ESG proposition," and 43 percent report that their boards "lack commitment" to ESG initiatives.
An appointed ESG leader has the advantage of being able to effectively pick the most relevant metrics, establish the best measurement methods, and overcome any resistance to implementing meaningful change.
When manufacturers put someone in charge of ESG initiatives, these efforts are more likely to succeed while providing a clear point of accountability and parity between brand ambitions and business goals.
#3 Elevate the ESG Success Alongside Other Essential Manufacturing Outcomes
Traditional manufacturing metrics, like output, quality, and efficiency, have helped the industry become more resilient and productive. Now is the time to consider ESG not as a new construct to aim for but rather as a ground-floor facility requirement that's as necessary as the equipment powering the manufacturing of goods.
On the facility design and construction level, that means creating a plan to execute critical construction-related objectives, requiring buy-in from all parties as manufacturers and their construction counterparts must pursue new priorities.
To help ensure progress, make predetermined ESG metrics a part of the employee, contractor, and executive performance evaluations while committing to iterative improvements at every organizational level. At the same time, manufacturers can recognize and reward employees who contribute significantly to the company's ESG efforts. This could include bonuses, promotions, or other incentives.
Lastly, manufacturers can publicize their ESG achievements to attract and retain customers, employees, and investors who value sustainability.
Making ESG Work for Manufacturers, Communities, and Customers
The manufacturing sector is the backbone of social and economic development creating far-reaching impacts felt by all of us. And the construction of manufacturing facilities is a crucial area where careful and methodical ESG plans will yield tremendous benefits. To effectively collect, aggregate, and report ESG metrics, manufacturers should focus on measuring what matters most, appoint a designated ESG leader to manage change, and recognize and reward progress.
By doing so, manufacturers can attract employees, customers, and investors who value sustainability and make progressive improvements in the year ahead.
About Tommy Linstroth
Tommy Linstroth is the Founder and CEO of Green Badger, a leading SaaS provider simplifying sustainability and ESG in the built industry.
The content & opinions in this article are the author's and do not necessarily represent the views of ManufacturingTomorrow
---
Comments (0)
This post does not have any comments. Be the first to leave a comment below.
---
Post A Comment
You must be logged in before you can post a comment. Login now.
Featured Product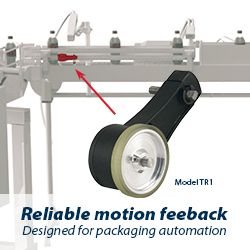 The Model TR1 Tru-Trac® linear measurement solution is a versatile option for tracking velocity, position, or distance over a wide variety of surfaces. An integrated encoder, measuring wheel, and spring-loaded torsion arm in one, compact unit, the Model TR1 is easy to install. The spring-loaded torsion arm offers adjustable torsion load, allowing the Model TR1 to be mounted in almost any orientation - even upside-down. The threaded shaft on the pivot axis is field reversible, providing mounting access from either side. With operating speeds up to 3000 feet per minute, a wide variety of configuration options - including multiple wheel material options - and a housing made from a durable, conductive composite material that minimizes static buildup, the Model TR1 Tru-Trac® is the ideal solution for countless applications.