Think of a liquid fuel/petrochemical storage facility as a living, breathing entity. And the P&ID is the roadmap for how its innards function and how these disparate physical parts work and fit together.
3D Laser Scanning for 2D Applications for the Liquid Storage Petrochemical Industry
Case Study from | Faro
Around the world today, the storage of liquid fuels and other petrochemicals in enormous volumes is no easy task. For starters, it's imperative that the storage facilities involved are operating within established specifications and that their as-built designs match original blueprints.
One of the ways to ensure this, is through a piping and instrumentation diagram, or P&ID – an essential compliance document that identifies all process equipment and how these physical assets work together as part of a mechanised process. Think of a liquid fuel/petrochemical storage facility as a living, breathing entity. And the P&ID is the roadmap for how its innards function and how these disparate physical parts work and fit together.
Traditionally such diagrams were generated via manual measurement necessitating a team of surveyors measuring a facility's static and non-static assets by hand. The work involved significant health and safety risks such as working at height, trips and slips, to hazardous substances ranging from general exposure to bird droppings (guano), with associated time and budget implications. To accomplish these tasks measuring tape, pens, pencils, clipboards and a significant amount of personnel hours were all required.
Recently that's begun to change.
Industrial interoperability begins with a piping and instrumentation diagram or P&ID.
Now this cumbersome process has evolved in the form of 3D laser scanning and its related software applications. Last summer, UK-based digital twin surveying specialist, Advanced 3D Laser Solutions Group (A3D), in concert with their US partner HTS Advanced Solutions, 3D laser scanned a large liquid storage terminal in Houston, Texas specifically with the goal to generate more accurate and more precise 2D P&IDs from 3D scan data. To successfully achieve this task, the companies relied on two FARO® Focus Laser Scanners and FARO SCENE Software.
"The Focus Laser Scanner was chosen because of its data capturing speed, portability, which was key for scanning in tight spaces, its ruggedness in different areas of site and consistent clear images which would be key for our CAD team in developing P&IDs," explained Lewis Boxer, A3D's Technical Director. "The scan data was processed in SCENE because of its obvious compatibility with the Focus scanners and its variety of built-in clean up filters such as edge, range and stray point. SCENE is also fully equipped with a range of registering tools including target-based, natural targeting and cloud-to-cloud, which, when working on a site with a range of variables, you need software that's adaptable to different challenges."
Digital Diagramming at its Best
The Houston facility, part of the Americas division of the Netherlands-based Royal Vopak, the world's leading independent tank storage company, boasts a storage capacity of 1.2 million cubic metres spread out across 243 tanks. Located at the head of the Buffalo Bayou with access to Galveston Bay and the Gulf of Mexico, the nearly 2km long storage complex stores biofuels, chemicals, petroleum products, base oils and lubricants. In addition to barge and vessel, the facility is also accessible via truck and rail - transit points that according to at least one oil industry consultant - have given the city its reputation as the "Grand Central Station of the South."
Vopak had already retained a company to perform manual surveying of its storage terminal, but had grown concerned the partially finished project would take 2-3 years to complete. Such a timeline was incompatible with concurrent business initiatives and so they sought out A3D, in partnership with its US subcontractor to complete the 3D laser survey.
After each shift the scans were uploaded via SFTP directly to the A3D server allowing for the UK-based team to complete scan file registration, including the filtering and processing of the data. This process ensured they could report on any missing data to the survey team ahead of the next scan shift. The survey was completed in 3 months during the Texas wet season with a total of 5,136 scans recorded. Instead of taking the 2-3 years to wrap up using traditional surveying techniques, A3D completed the entire project from start of site scanning to delivery of Smart P&IDs in just 10 months.
To work as efficiently as possible, A3D planned the individual aspects of the job to run concurrently wherever possible. For instance, once an individual area was scanned and registered, they were converted immediately, ready for the CAD team to start building the P&IDs before returning to HTS for field validation and client team for remote E&I updates. It was only then that they were handed over to Vopak in their as-built perfect form. The entire process was streamlined so that scanning was prioritised to align with the order in which P&IDs were to be delivered, starting within days of the first recorded data. Running a project that amounted to over 650 P&IDs required detailed tracking which A3D achieved internally using specialist project planning personnel and software. The results were shared with key client stakeholders during weekly progress meetings.
For each area, a drawing template was built which significantly sped up the process of building the subsequent P&IDs for that area and maintained a user-friendly, consistent standard throughout. The laser survey provided ample detail for A3D to create everything except remotely connected instrumentation, which would be added from Vopak's existing P&IDs, DCS panels or existing wiring diagrams.
Hardware and Software Go Hand-in-Hand
The ultra-portable and rugged Focus Laser Scanner was ideal for Vopak's needs specifically because it is designed to capture ultra-high accurate measurements of equipment and pipework in challenging outdoor environments – like a liquid petrochemical storage facility in the middle of the Texas hurricane season. The scanner features a sealed design and is certified with the industry standard Ingress Protection (IP) Rating, IP54, meaning that the Focus can be used in wet weather and at temperatures up to 131°F, comfortably below Houston's record high of 109F.
But for all the time and budget savings a project like this was able to achieve in the short term, thanks to the Focus Laser Scanner/SCENE duo in creating 2D P&IDs out of 3D laser scans, the greatest benefit might come in the years ahead.
That's because Vopak (and companies like them) are increasingly reliant on this form of imaging versus, say, photogrammetry to gather the surveying data they need to secure a complete 3D survey of their site. This is a highly accurate and precise dataset that can be used for many ancillary projects including: API570 inspection isos, tank verticality, bund volume analysis and as-built 3D process models. It could even be used for mapping plant design, or complete facility upgrades.
"It's not just the initial projects you're paying for," Lewis Boxer added. "It's the other continuous deliverables that are born out of it. Typically, when you think about point cloud data you think about 3D models. But with A3D's specialist techniques surrounding 2D P&IDs and related projects, it's really so much more. The possibilities are endless."
The content & opinions in this article are the author's and do not necessarily represent the views of ManufacturingTomorrow
---
Comments (0)
This post does not have any comments. Be the first to leave a comment below.
---
Post A Comment
You must be logged in before you can post a comment. Login now.
Featured Product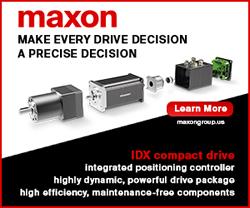 The compact brushless EC-i motor combined with an EPOS4 positioning controller delivers a highly dynamic, powerful drive package with field-oriented control (FOC), high efficiency, and maintenance-free components in a high-quality industrial housing. The maxon IDX drives are suitable for use across the entire speed range (from standstill to maximum speed) and have an extremely high overload capability. Together with a positioning controller, the integrated sensor (single turn) enables absolute positioning.