Attendees will acquire skills and methodologies to support their organization's change readiness, discover how to engage employees and learn practical communication skills which will empower them to deploy and maintain their safety system.
Performance Solutions by Milliken - Safety Bootcamp
Q&A with | PERFORMANCE SOLUTIONS BY MILLIKEN
Tell us about yourself and your role with Milliken.
I am an Industrial Engineer by Degree and have been working with Milliken for over 17 years. Over those 17 years I've held roles in our sites such as Process Improvement Engineer, Supply Chain Leader, Process Improvement Manager, Operations Manager, and Performance System Specialist. Since joining the Performance Solutions Business I have been a Practitioner, Client Lead and now the Business Leader for North America. As the Business Leader I work with companies that interested in Safety Excellence and help them develop an engagement strategy they best fits their organization.
Milliken is hosting a Safety Bootcamp in person at your home offices, share the details on that.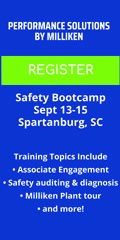 We invite individuals and teams from organizations across the country to join us at our headquarters in Spartanburg, SC to explore Milliken's Safety structure and learn how to help drive safety performance and continuous improvement by establishing associate leadership. At Milliken, we believe safety is fundamental to creating a high-performing, sustainable operating system. Safety and health are personal to every human being and can profoundly impact their motivation and morale. Utilizing safety to build a solid foundation, trust is established and becomes the key to unlocking the power of your most valuable asset – your workforce.
What can attendees expect over the 2.5 days?
Our safety bootcamp is an interactive workshop that will include group discussion, interactive sessions, self-reflection, and an in-person tour of a local Milliken manufacturing location. This allows our attendees to learn the methodologies, put them into practice, and see how they can be implemented first-hand.
What will attendees walk away with after the bootcamp?
Following the completion of our Safety Bootcamp, attendees will Understand Milliken's 5-Phase Journey to World-Class Safety. This approach has been practiced and proven by Milliken & Company teams for more than two decades. Attendees will acquire skills and methodologies to support their organization's change readiness, discover how to engage employees and learn practical communication skills which will empower them to deploy and maintain their safety system. The key takeaways of this course are:
Understand how to improve your organization's Total Injury and Illness Rate (TIIR) through Milliken's 5-Phase Journey to World-Class Safety behavior-based approach
Discover the impact of a behavior based safety methodology
Develop a process and system to capture leading and lagging indicators
Discover how to involve, engage, and empower employees to take ownership
Learn how to impact the cost associated with injuries and illnesses in the workplace
Understand and use continuous improvement methodology and tools
Acquire the hard and soft skills required for sustainability
Understand how to impact the motivation and morale of the employees in the workforce
Identify and practice the tools of continuous improvement analysis which include Job Safety Analysis (JSAs), Process Hazard, and Analysis (PHAs) and Risk Assessments
Who should attend the bootcamp?
Vice President of Safety and Health, Risk Managers and Safety Processionals (CSP, CIH), Plant Managers, Safety Managers, Human Resource Directors, Vice Presidents of Safety/Health/Security, Directors of Safety/Health/Environmental, Manufacturing Health, Environment & Safety Specialists, Safety Engineers, Technical Directors, Safety Team Leaders, Continuing Improvement Managers, Safety Champions, Manufacturing Supervisors, General Managers, Safety Committee Members, and anyone interested in achieving safe workplaces.
What kind of success do companies have after sending their associates to one of your bootcamps?
Many companies have seen transformations in their Safety processes after learning Milliken's 9-Principles of Safety and Health throughout the bootcamp. Employees leave with a new way to "see" safety and a plan for the organization on how to better engage their associates thus leading to less recordables via leading indicator tracking.
Why is it so important for manufacturers to engage and involve their employees in work safety?
Employees are our most valuable asset and as humans we "buy-in to what we help create". Having associates engaged in Safety allows them to feel a real sense of ownership thus having them open to change for a safer workplace. This ensures that they look out for each other and speak up when things are not ideal.
The content & opinions in this article are the author's and do not necessarily represent the views of ManufacturingTomorrow
---
Comments (0)
This post does not have any comments. Be the first to leave a comment below.
---
Post A Comment
You must be logged in before you can post a comment. Login now.
Featured Product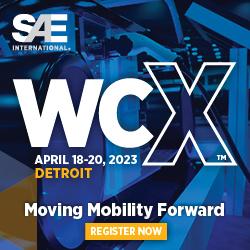 WCX™ World Congress Experience provides an unmatched opportunity to see all the moving parts in today's mobility industry - and the groundbreaking innovations that are shaping the next phase. Powered by SAE International®, the global leader in connecting and educating engineers, this event serves as the only place for the latest technology, consumer metrics, regulatory standards and technical sessions covering the entire vehicle, from hardware to software and beyond. Join your community at North America's largest technical mobility event, and be part of the collaborative problem-solving that drives the future of your industry.