One of the primary drivers of the increased use of automation is the lower cost of robotic solutions. While some manufacturers might still be spooked by cost, automation doesn't have to break the bank.
Getting a Grip on Automation - Demand for Robotics Gains Steam
Thomas Renner | Mercury Marketing Communications
All around the globe, the manufacturing landscape is changing dramatically. Automation continues to grow at an astonishing pace. In everything from the automotive industry to electronics to metal and machinery, manufacturers are incorporating robotic solutions into their business solutions.
"Robot installations around the world recovered strongly and make 2021 the most successful year ever for the robotics industry,'' Milton Guerry, President of the International Federation of Robotics, said in June. "Due to the ongoing trend towards automation and continued technological innovation, demand reached high levels across industries. In 2021, even the pre-pandemic record of 422,000 installations per year in 2018 was exceeded."
One of the primary drivers of the increased use of automation is the lower cost of robotic solutions. While some manufacturers might still be spooked by cost, automation doesn't have to break the bank. A German manufacturer of safety glass, for instance, purchased an automated solution from igus for slightly more than $5,000 to assist in making fire-resistant glass.
The manufacturer, Vetrotech Saint-Gobain Kinon GmbH, is one of many that is now embracing automation. The applications in which automation is being used are diverse. Cucumber harvesting, confectionary packaging, medicine dispensing, and even worm breeding are among the businesses that have turned to automation.
"Businesses today are under constant pressure to lower costs while improving operational efficiency,'' says Alexander Mühlens, head of low-cost automation at igus. "Labor shortages, reducing costs, improving workflows, and reducing workplace accidents are among the reasons organizations seek automated solutions."
Fire Protection Glass
Vetrotech Saint-Gobain dates back to 1665 when King Louis XIV of France granted a financier the exclusive privilege of making mirror glass. The King sought to end Venice's monopoly on Europe's mirror market, and his vision worked. The business now focuses on safety glass for public institutions and marine applications as well as fire-resistant glass.
Automation at the centuries-old business creates efficiency, reduces costs, and alleviates monotony.
Vetrotech Saint-Gobain manufactures structural glass that helps keep buildings and people safe in the event of a fire. The fire-protection glass prevents the spread of fire for a specified duration. Conventional glass shatters due to the heat. To produce fire protection glass, insulation must be added so that the glass will not heat to the shattering point as quickly. Vetrotech Saint-Gobain produces a multilayered glass that has liquid insulation in between the panes.
Previously, filling the cavities in the glass panes with the liquid required the hands of an employee. Plastic arrows to guide the liquid into the glass were manually placed in predefined molds, then picked up by a robot and positioned as placeholders. The company looked for an automated solution to relieve workers from repetitive tasks.
To reduce the manual labor involved, Vetrotech Saint-Gobain purchased a delta robot from igus, which cost around $5,300. The robots include self-lubricating sliding plastic liners, drylin® linear actuators, and other components. The lightweight system has a positioning accuracy of +/-0.5 mm and a maximum load of 11 pounds. The delta robot can perform 30 picks per minute in the 660 mm version that was used in this application. The delta 360mm version can perform up to 60 picks per minute.
The delta robot is a 3-axis unit connected by a common joint above and below the arms, and its main purpose is picking and placing objects. It can be used for standard applications with small parts, such as picking from a conveyor belt or buffer table to a stationary destination for painting, spraying, and repetitive work over a small area. Accessories such as stepper motors, inductive sensors, and motor flanges can be added to make the delta robot even more efficient.
The automated solution relieves employees of monotonous tasks and accelerates production. Employees can be transitioned to more demanding tasks in the production process.
Wide Range of Robotics
While manufacturing might have leaped into automation earlier than other industries, engineers and product experts are helping expand the reach of automation.
A low-cost solution for harvesting cucumbers has been developed by the Fraunhofer Institute for Production Systems and Design Technology IPK in Germany. "There is an urgent need for improved harvesting technologies to maintain the economic viability of cucumber farming in Germany,'' the Fraunhofer Institute said.
Engineers used an articulated arm robot from igus called robolink®, which can be used in pick and place, palletization, welding, and test applications. The unit also includes a special camera system that helps the robot detect and locate the cucumbers. The Fraunhofer Institute says the robot locates approximately 95 percent of the cucumbers.
Farming, with its grimy environment, is one of the industries in which automated solutions have been slow to gain traction. Developing components that resist corrosion and withstand the effects of wind, rain, snow, ultraviolet light, and pests make it hard to develop agricultural applications.
"It is a considerable challenge to design autonomous systems capable of optical and tactile sensing, assessing and evaluating,'' the Institute noted. "Cucumbers are randomly distributed through a field, and some are concealed by vegetation. Varying light conditions make the mission more difficult."
Another company in Germany uses low-cost automation products from igus to breed and grow worms. The machines lift, transport, release, stack, and spray water around the clock. The worms, called dendrobaena, are used as fishing bait, as a natural fertilizer for gardens and greenhouses, and as food for animals. The company uses a range of igus products and developed a fully automated feeding and watering process.
"With the new plant, feeding and watering can be carried out around the clock, even when there is a shortage of staff,'' owner Martin Langhoff said. "In addition, errors are reduced to a minimum."
Global Trend
A June report from the International Federation of Robotics illustrates the trend of increasing automation.
A record 486,000 units were shipped in 2021, an increase of 27 percent over 2021. Installations rose 33 percent in Asia/Australia and 27 percent in the United States. Businesses in the electronics industry installed 132,000 automated units, while the automotive industry saw 109,000 installations.
The pace doesn't appear to be slowing down. A report in May from the Association for Advancing Automation said North American companies purchased the most robots ever in a single quarter in the first three months of 2022. The value of robots sold reached $646 million, a 25 percent increase over the previous best quarter, which was the fourth quarter of 2021.
"Every industry, including agriculture, construction, retail, and hospital is now looking at how they can take advantage of robotics to make their companies more successful,'' said Alex Shikany, vice president of membership and business intelligence of the Association for Advancing Automation.
The first quarter of 2022 marked the seventh time in the last nine quarters where non-automotive customers ordered more robots than automotive customers. Unit sales to automotive OEMs were up 15 percent. Unit sales to metals (up 40 percent), semiconductors and electronics (23 percent), and food and consumer goods (21 percent) were among those that outpaced sales to automotive.
"As robots continually become easier to use and more affordable, we expect to see adoption continue to rise in every industry and at companies of all sizes,'' said Jeff Burnstein, president of A3. "There are hundreds of thousands of companies in North America who have yet to install even one robot."
Once a futuristic concept, automation is now an essential part of doing business. As prices continue to drop, even more companies will begin to strengthen their businesses and boost profits by adding automated solutions.
"Our goal is to make low-cost automation as accessible as possible,'' Mühlens said. "We have customers that are as diverse as their applications. Some are just looking for compatible hardware and do the rest of the integration journey by themselves. And some users need help with the design. It's exciting that affordable solutions allow anyone to start their automation journey."
Automation: Facts & Figures
Growing sales: Robot sales reached $646 million in the first quarter of 2022, a 25 percent increase over the previous best quarter. Source: Association for Advancing Automation
Jobs: By 2030, 20 million (8.5 percent) of the global manufacturing workforce will face job losses due to automation. Source: Oxford Economics
Where: The most vulnerable jobs are in office administration, production, transportation and food preparation. The jobs are deemed "high risk" with over 70 percent of their tasks potentially automable. Source: Brookings Institution
Costs: While some automated solutions can reach $150,000, more low-cost solutions are now available. igus, a Germany-based manufacturer, offers an automated solution for slightly more than $5,000.
Did you know? The automotive sector is perhaps the largest user of automated solutions. Manufacturing, welding, assembly and material handling are all tasks that can be performed by robots.
About Thomas Renner
Thomas Renner writes on engineering, building, architecture and other trade industry topics for publications throughout the United States.
The content & opinions in this article are the author's and do not necessarily represent the views of ManufacturingTomorrow
---
Comments (0)
This post does not have any comments. Be the first to leave a comment below.
---
Post A Comment
You must be logged in before you can post a comment. Login now.
Featured Product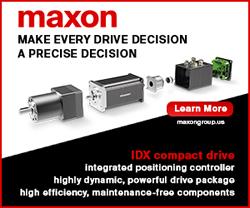 maxon motor launches new high-speed motors that are configurable online. The new ECX brushless motors are quiet and feature very high efficiency. The ECX motors are available with diameters of 8, 16 and 19 mm achieving speeds of up to 120,000 rpm. They run very smoothly and are highly efficient. With maxon motor's online configurator, it is easy to put together a customized DC motor to include gearhead, encoder and controller. The customized motors are ready to ship in 11 days!