Regardless of the industry, all manufacturing teams have one thing in common—mature software and equipment may support their core manufacturing processes, however, there is no such support for ancillary processes.
Best Project Management Practices for Hybrid R&D Teams in Manufacturing
Shawn Dickerson | Project Manager
There's no denying that research and development (R&D) teams across the world play a pivotal role in the global economy. From auto manufacturing companies that produce the world's most innovative vehicles to consumer electronics companies that produce the cell phones we use daily, manufacturing companies produce products that are staples in our lives.
Regardless of the industry, all manufacturing teams have one thing in common—mature software and equipment may support their core manufacturing processes, however, there is no such support for ancillary processes. The important work that manufacturing teams are doing such as new product development, product testing and regulatory compliance is often managed with long email chains, shared folders and lengthy spreadsheets that bog down the efficiency and quality of their processes.
Common Project Management Pain Points for R&D Teams
On top of inefficient work processes, many of these R&D teams are hybrid in nature. This means that team members are working from different locations, using various work styles and have different experience levels that result in inefficiencies and pain points that we have outlined below:
Lack of Agility Slows Time to Market
The need for hybrid manufacturing teams to innovate quickly is more essential than ever. As today's manufacturing teams feel pressure to design, test, build and ship products faster than their competitors, it's no longer enough to rely on manual, inefficient project management methods that progress on countless platforms. Delays in communication through phone tag, unread emails or missed messages significantly halt the efficiency of these processes.
Projects Scattered Across Tools with No Single Source of Truth
The cross-functionality of R&D products results in an array of communication methods between internal teams. For example, some details may be housed in an Excel spreadsheet while others are jotted down in unorganized messaging channels or solo documents. If all project information isn't accessible to hybrid team members at all times, details such as budget, resource allocation or project timelines are siloed.
Inefficient Collaboration
Effective collaboration is at the heart of all hybrid R&D teams in the manufacturing space as individuals may be spread across different time zones, gravitate toward certain working styles or have varying skill sets. In addition to internal team collaboration, manufacturing teams must also communicate with other departments within their organization. The fact that these collaboration methods are not directly tied to the work often results in miscommunication and delayed progress.
Hybrid Work Management Software Can Alleviate These Pain Points
Despite the widespread pain points, workers prefer a hybrid work model 83% of the time. As hybrid teams become increasingly common in today's manufacturing workforce, they require a new management approach known as hybrid work management to stay competitive, efficient and productive in their efforts. It provides R&D teams with an enhanced method to organize, collaborate on and accelerate their offerings.
Here's how hybrid work management can play a vital role in where, how and why hybrid teams are working, paving a better way for both R&D individuals and their organizations as a whole.
Increase Innovation Speed and Quality
As speed and innovation often go hand-in-hand, hybrid R&D teams in manufacturing feel pressure to push their products to market first to obtain the first-mover advantage. As 42% of global innovation executives note that development times are too long as is, accelerating this process is key to generating a strong return on investment in both the new product development space and setting the pace for your biggest competitors.
Hybrid work environments don't always lend themselves to fast-paced production; if a team member working in one time zone has a question that requires another team member's expertise, it could be hours or even a full business day before they hear from them. Floating email chains, unanswered chat messages and confusing spreadsheets can exacerbate the feelings of frustration in hybrid R&D teams and further stilt project progress.
Hybrid R&D teams can lean on hybrid work management processes to keep communication tied to the project which in turn elevates the speed and quality of work being accomplished. The more efficiently team members can work together and share new ideas via hybrid work management methods, the better the innovation will be in terms of both speed and quality. In the case that there is a project bottleneck or quality concern, it's significantly easier to pinpoint the problem and make adjustments before it snowballs into something more significant.
Establish a Single Source of Project Truth
Disparate emails chains, spreadsheets and lengthy chat conversations make it hard for manufacturing teams to accurately track the progression and details of each project. Without a singular, go-to method to track project completion dates, budget or resource utilization, it's nearly impossible to determine the status of each project.
Hybrid work management provides R&D teams with one platform that houses all project information—any pertinent conversations that will impact the project are in one easy-to-reference location for all team members to see.
Having a singular platform alleviates any confusion and keeps projects evolving at the pace necessary to remain competitive.
Improve Collaboration & Embrace Different Work Styles
In any R&D project, there are three general roles: the sponsor, the leader and the team member. Each role requires the mastery of different skill sets and brings a unique perspective on the work that needs to be done. If hybrid teams are using traditional project and work management methods such as spreadsheets or a one-size-fits-all reporting tool, projects quickly become messy and disorganized. Information that is relevant to one team member may not help another team member achieve their goals.
Hybrid R&D teams can combat this issue through hybrid work management as it provides an intuitive way for all team members to work together toward a common goal without coercing them into one view. Regardless of the team member's role in the manufacturing project, they'll be able to see an intuitive path to their assignments without being overwhelmed with irrelevant tasks and information.
With one goal and unlimited ways to work, hybrid work management simplifies the transition into this new way of working by giving R&D leaders the tools they need to improve their processes without forcing team members into using certain tools.
Hybrid Is Here to Stay
While it's impossible to predict the future of the manufacturing workspace, all data and trends point to the continuation of hybrid teams. Leaning on hybrid work management provides R&D teams in manufacturing with a single source of truth to speed time to market, sustain high quality standards and collaborate like they never have before.
About Shawn Dickerson
Shawn Dickerson is the Vice President of Marketing at ProjectManager, a leading project and work management solution for hybrid teams, and a passionate evangelist of the benefits of hybrid work management. With more than 20 years in high-tech marketing--and the last decade in the PPM and CWM spaces--Shawn brings a deep understanding of the challenges team members face in prioritizing, planning and delivering their best work. He can be reached at shawn@projectmanager.com.
The content & opinions in this article are the author's and do not necessarily represent the views of ManufacturingTomorrow
---
Comments (0)
This post does not have any comments. Be the first to leave a comment below.
---
Post A Comment
You must be logged in before you can post a comment. Login now.
Featured Product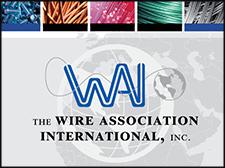 The Wire Association International (WAI), Inc., founded in 1930, is a worldwide technical society for wire and cable industry professionals. Based in Madison, Connecticut, USA, WAI collects and shares technical, manufacturing, and general business information to the ferrous, nonferrous, electrical, fiber optic, and fastener segments of the wire and cable industry. WAI hosts trade expositions, technical conferences, and educational programs.