From laboratories to meat processing plants, from hospitals to explosion-proof clean rooms: there are applications in which the highest operating safety meets maximum hygienic requirements.
Solutions for the Highest Hygiene Requirements
Case Study from | Schurter Electronic Components
Applications with increased hygiene requirements always demand special solutions. Let's take the housing of the operating unit as an example: the design must be without dirty edges, so that bacteria have no chance to adhere to edges or recesses. In addition, the entire application, i.e. including the housing and front, must be able to withstand cleaning under high pressure and exposure to steam or chemicals.
In the food industry, it is also imperative that no glass splinters can escape. To eliminate this risk, the control panels have an additional protective layer over the glass surface or, if glass is not an option, are made of shatterproof polycarbonate.
Rien Grotenhuis, CEO of SCHURTER Electronics B.V., explains: "We undertake the development of such a new design in consultation with the customer. We act as a development partner. Our entire manufacturing process is set up for quick response manufacturing: fast delivery of new products - even for relatively small quantities. We avoid a lot of overhead expenses, can deliver quickly and provide relief for our customer. These are often manufacturers of complex applications for whom the development of a control unit is not part of their core business. For us, however, it is. That is our absolute specialty."
Early involvement
Grotenhuis continues: "Of course, we offer suitable standard solutions for very many applications. But what makes SCHURTER unique is that we actively invest in the development of customer-specific solutions. We call this Early Involvement: we work together with the customer on the development process and invest time and resources in it."
Years of experience in this area help, explains the head of development at SCHURTER, André Borneman: "We have several solutions on offer that have already proven themselves. And when we develop new variants, we know that certain combinations have already proven themselves. So we start with a lot of knowledge which makes it easier for us to enter the market. Our customers want to be re-assured, and that's exactly what we're doing here."
Grotenhuis: "This is unique for our industry, that a customer can already exchange ideas with our specialists before placing an order, also having samples and concepts available. From the very beginning, we invest together with the customer in the product and the mutual relationship. Because you have to be aware that you are entering into a long-term mutual dependency. Availability and robustness of a product are crucial throughout the life of the project."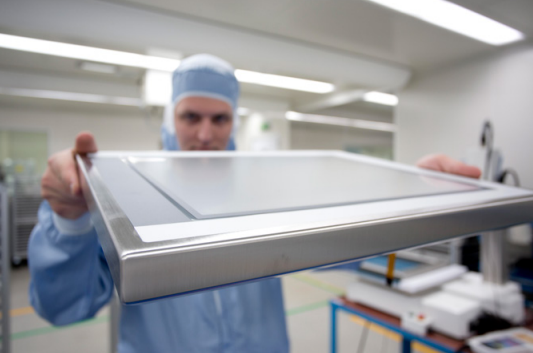 Rubuste customised solutions
Reliance on in-house expertise
Why does SCHURTER choose this approach? Grotenhuis: "Our strength is our know-how. This allows us to invest time and resources knowing that we can rely on our expertise. By co-developing upfront, we can offer customised solutions and deliver an optimal product to the customer."
"Based on the initial specifications, we can already present a concept"
Simon Steindl is an account manager at SCHURTER Electronics in Austria. On behalf of a leading machine manufacturer in the food industry, he and the engineers in the Netherlands developed a touch screen for ovens used for smoking fish.
Simon Steindl explains: "It had to be a PCAP touchscreen, seamlessly integrated into a stainless steel housing. The whole thing had to comply with the IP69K standard. Our customer was working on a design for this machine but had not yet received the actual order. They came to us with the idea and although the order was not yet concrete, I saw a great opportunity here. I suggested that we invest in it and work out a good concept with our engineers. I submitted this concept together with our offer. Because I was able to offer a good price in combination with our concept, showing examples of projects that had already been realised, we convinced the client of our experience and expertise in this market."
3D visualisation
"Steindl continues: "We brought our concept to life with a 3D visualisation, making it clear how we could best manufacture the product. This approach would make his life much easier, the customer's engineer responded. After all, that was exactly our intention." Steindl again emphasises the importance of early involvement: "At a very early stage, we collaborate. We can already show a concept or a first draft based on the initial specifications. For the customer, this is a very efficient way of development."
"We make our customers' products better"
Ian Smith is an account manager for SCHURTER Electronics in the UK. He too works with a number of major customers in the food industry.
Ian Smith elaborates, "I was approached by a customer to look at the possibility of universal touch control for their machines. Previously they had only used membrane keypads. These machines are sold in Europe, Asia and the United States. They were looking for a universal control unit that had to meet ATEX guidelines and IP69X standards."
Smith continues, "I made a sketch and sent it to our R&D department in the Netherlands with all the requirements. This allowed us to proactively come up with a concrete proposal. The customer had the case made by a supplier, so it was up to us to develop a touchscreen that would fit seamlessly into the case. This meant that the overlay had to be extremely accurate to size."
Printing in corporate identity colours
"These machines are used in demanding conditions and have to withstand a lot. That's why we laminate a protective, scratch-resistant layer onto the surface of the touchscreen. This makes the touchscreen more robust, much less susceptible and this layer extends the life. Another advantage of this additional lamination of an overlay is that we can print the edge of the same, in this case with the customer's logo and company colours. So there is no need for additional stickers or labels, these are already integrated into the control unit."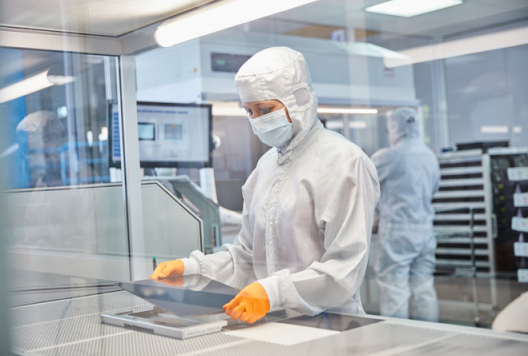 In-house production
Drop test with iron ball
Smith: "We produced a number of prototypes for the client to approve. This was very positively received and we were commissioned to further develop the touch panel. Among other things, this panel had to pass a drop test in which an iron ball is dropped onto the touch panel from a height of one metre. The glass of the touch screen must not break. In addition, the surface was qualified with various chemicals. Once all the certificates were in place, series production could begin. Our logistics department efficiently organised the transport directly with the enclosure supplier."
Advising and offering solutions
Andy Stevens, Commercial Manager for the UK and Ireland, adds, "I see it as our core mission to always look for ways to add value for our customers. Our expertise is a big advantage. We have a lot of experience with input systems working in harsh and unusual conditions that we can actively advise and offer solutions. This is how we make our customers' products better. In this case, our client was the first to market with this solution, which gave them a significant advantage."
Ian Smith concluded, "We are now producing almost 4000 units per year for this customer. We owe this result to the investment our engineers have made in pre-development."
About SCHURTER
The SCHURTER Group is a globally successful Swiss family business. With our components ensuring the clean and safe supply of power, input systems for ease of use and sophisticated overall solutions, we impress our customers with agility and excellent product and service quality.
The content & opinions in this article are the author's and do not necessarily represent the views of ManufacturingTomorrow
---
Comments (0)
This post does not have any comments. Be the first to leave a comment below.
---
Post A Comment
You must be logged in before you can post a comment. Login now.
Featured Product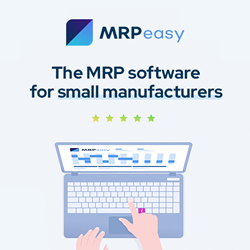 Always know what you have in stock and what you'll need to fulfill orders. Never forget to order parts on time or fail to notice a late delivery from your vendor. Easily create manufacturing orders and schedule them automatically according to resource availability or delivery deadline. Generate accurate cost and lead time estimates and provide customers with quick quotes. Receive notifications when orders are late or inventory levels reach a critical point. Ensure seamless communication between sales, production, warehousing, procurement, administration, and finance. Integrate with popular accounting, CRM, and e-commerce apps. MRPeasy is an ERP software for small manufacturers that gives you all that and more. Our users report a 54% average improvement in the overall performance of their business and a 42% increase in on-time deliveries. Try for free, no credit card needed.