You need to understand the basic design approach and really bottom out what you can and cannot do, as when micro molding, even the smallest design change can be catastrophic and completely derail a project.
Micro Molding — Material Selection and Design Concerns
Aaron Johnson, VP of Marketing and Customer Strategy | Accumold
As manufacturers begin to consider the development of parts and components that will need to be micro molded, it is important to bear in mind some key issues from project inception. The start of any micro molding project should begin with all stages required in product development considered from the earliest preliminary design. You need to understand the basic design approach and really bottom out what you can and cannot do, as when micro molding, even the smallest design change can be catastrophic and completely derail a project.
Design for Manufacturability (DfM) is a fundamental consideration when micro molding. In fact micro molders suggest that there should be a subset of DfM, basically DfMM (design for micro manufacturability), as the rules of the game are so different when designing miniature parts or parts with very precise elements and tight tolerances.
Design engineers can create the most incredible parts, but they can be impossible to make. Any design at the micro scale requires careful attention to what might otherwise not be a big deal for larger parts. Each micro molding project is unique in terms of geometric complexity, shape, and can be made in a wide range of materials, all of which will ultimately affect the ability to manufacture.
In this article we will focus heavily on issues concerning material choice, again a vital and early consideration when initiating a product design. A material change can have a profound effect on a part that has exacting levels of detail. Any design engineer will be used to considering stack tolerances and stack dimensions, but when parts get smaller and smaller, the amount of change becomes more of a limiting factor.
If a material is used in a macro molding application its behavior is likely to vary wildly from its use in a micro molding application. This plays to the fact that success when micro molding requires a close and collaborative relationship with a company expert in the vagaries of the micro molding process, and aware of the critical need to select the right material early in the design phase of product development.
Ultimately, material choice has a direct influence on end-use part functionality and it affects tolerance attainment, the achievement of dimensional objectives, and strength parameters. It also has a direct and obvious impact on the cost and timeliness of manufacturing.
MATERIALS FOR MICRO MOLDING
Many relatively standard materials are used in micro molding applications, including but by no means restricted to Polyethylene (PE), Polypropylene (PP), Nylon (Polyamide), Polycarbonate (PC), Delrin (Acetal / Polyoxymethylene / POM), Polysulfone (PSU), and Polybutylene terephthalate (PBT). Micro molding, however, often requires the use of more exotic materials like PEEK, PEI (Ultem®), carbon-filled LCP, or glass-filled nylons which are are commonplace. Soft durometer or elastomeric resins are also prominent. Direct experience with these materials in the context of micro molding is another part of valuable know-how needed to maximize the performance of the resin/part design combination.
Even in macro product design scenarios material selection can be complicated as it is a trade-off between what is best for the functionality of the part or component being designed, and if it is possible to mold it into the shape required. When looking at micro molding applications, however, where limits are often extreme, the issue becomes more complicated.
The typical route to material selection is to match the functional part requirements with material datasheets. However, most datasheets are based on the manufacture of much larger parts, and this will reflect on recommended gate size and flow properties etc…
So some manufacturers looking to micro mold follow datasheets, and then see sub-optimal results when the parts are molded. This can lead to premature design iterations, or in extreme cases the abandonment of projects all together.
The central issue is that datasheets, advice from resin suppliers, and part design criteria are all at odds at the micro scale. It is because of this that it is vital to engage with expert micro molders early in the conceptual design phase of product development, as they are best equipped to advise based on years of experience navigating material selection issues, and are best placed to indicate whether a chosen material could be an issue in part production.
Material choice is fundamentally affected by a number of important considerations. What environmental conditions will the part need to operate under? Does it need to withstand solder reflow temperatures or other high-heat situations? Does it touch the human body or other bio-materials? Are there lubricity or hydroscopic properties to include or exclude? How much should it cost?
With these questions in mind, the next step is to review some commonly used resins. It takes a huge amount of experience to select the ideal molding resin and thermoplastic for a specific application. Knowing how a given resin will perform with the desired micro-features on a part or component takes experience.
In addition to material properties, many other variables affect molded-part performance. For example, most thermoplastics come in a variety of grades that mold differently from each other, and additives such as glass, carbon, and other fibers change molded-resin properties and affect how the resin melts, flows, and fills a given geometry.
Choosing the correct micro mold material or plastics seems simple at project inception. Project leaders can simply pick the desired material that fits their project goal and inject liquid plastic into a mold. The assumption that a process for larger molds applies to micro molding, however, doesn't play out in real-life scenarios. Thermoplastics and resins behave in unusual ways when micron or sub-micron tolerances are required.
While some projects require micro mold materials that are rigid and strong, others require resins that can maintain an ultra-thin profile. Some resins can withstand heat, while others must follow strict guidelines due to extended contact with the human body. Obviously, there are many cases where the desired material simply can't be used due to some other design restrictions.
PEEK, for example — a popular choice in medical micro molding — is often 30% glass fiber reinforced and pelletized for injection molding, yet it cannot fill ultra-thin areas. Ultem, also an extremely popular option for micro-optics applications, also can't fill ultra-thin micro molding projects. Consequently, to achieve OEM's demanding project goals, balanced with various material limitations at micron sizes, the impact of material selection on DfMM should be at the forefront of everyone's minds. The focus should be on the precise matching of chosen material to the appropriate part geometry, robustness, and performance requirements.
SUMMARY
Micro molding projects are by their very nature complicated, and the fact that many require the repeatable attainment of extremely high tolerances demands that there is a collective focus on accuracy when looking at micro tool fabrication, molding, validation, and automation processes.
However, material selection and design for micro molding (DfMM) are also hugely important.
It is because of this that manufacturers work with micro molders as close to the beginning of the product development process as possible, as accessing expert micro molding design insight early is the key to cost-effective, timely, and right-first-time manufacturing.
Many OEMs micro molding practitioners as manufacturers. While this is in itself self-evident, they are in fact consultants. Those micro molding experts that are truly vertically integrated with all stages of the product development process under one roof have expertise in design, tooling, molding, validation, and automation. They also have the knowledge and experience to ensure that vital considerations such as material selection are given the attention that they deserve right at the beginning of the product development cycle.
About Aaron Johnson
Aaron Johnson is the VP of Marketing and Customer Strategy at Accumold. The company has grown to a 130,000 square foot fortified facility designed for assurance of supply, employs over 350 staff, and is a net exporter shipping all over the world every day from its Ankeny, IA, USA facility which runs 24 hours a day, 7 days a week.
The content & opinions in this article are the author's and do not necessarily represent the views of ManufacturingTomorrow
---
Comments (0)
This post does not have any comments. Be the first to leave a comment below.
---
Post A Comment
You must be logged in before you can post a comment. Login now.
Featured Product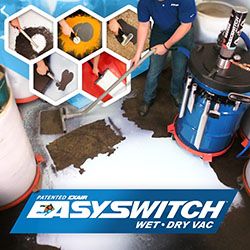 VariBlast Precision Safety Air Guns are small and lightweight air guns capable of handling tough jobs. Designed with a variable flow trigger they are able to produce different force values from the same nozzle simply by pulling the trigger. EXAIR is offering a special right now on all of their Safety Air Guns. Learn more at https://exair.co/184-saqgpromo https://exair.co/184_511