Automation helps companies achieve greater flexibility and planning reliability, even in the case of multi-variant production. One factor that deters many companies from switching to automated processes, however, is time.
One Hour Makes All the Difference: Automate Quickly and Effectively With AI
Maximillian Mutschler, VP of sales | Micropsi Industries
To remain competitive, manufacturers are increasingly turning to automation. Most companies are aware of the advantages of automated production processes, yet they often encounter difficulties during real projects. SMEs in particular often have reservations about deploying robots in their production, fearing the implementation could take too much time and make them dependent on the help of external integrators. A problematic scenario: production downtime and externally purchased services are expensive, every hour counts.
Easy-to-integrate robot solutions present a substantial advantage for manufacturers. Ideally, such systems can even be integrated into existing production lines so that the robot adapts effortlessly to the production environment. In addition to flexibility, operability is also a decisive criterion. The more knowledge manufacturers acquire internally, the more efficiently they can respond to new tasks. Control systems based on AI promise a new solution to current challenges, as they allow companies to train robots on their own and quickly prepare them for new applications.
Implement robotic solutions faster and more flexibly with AI
AI-controlled robotics enable a new level of flexibility for companies of all sizes. For example, robots equipped with advanced AI controllers such as MIRAI are able to handle variances autonomously and in real time. In this way, areas can be automated that previously could only be performed manually by human co-workers because the cost or complexity of automation was too high. Employees can train and adapt the AI for new requirements themselves in just a few hours.
The training process takes several hours to teach a precise skill, such as inserting a bendable or soft component like a cable, into differently arranged sockets. Nearly any employee, even those without AI knowledge, can generate the actual robot skills on his or her own. For this, the robot must be shown the target a few times in typically occurring variances by guiding the robot's arm. A machine learning process then independently derives a motion intuition for the robot from camera images and shown positions, which enables the robot to deal with unknown situations in real time. Preparing robots for new tasks even faster is possible with the latest version of MIRAI, which reduces training time to as little as a few minutes to a maximum of half an hour. The prerequisite is that the travel distance—for example, to the workpiece to be gripped—is insignificant. Employees only have to show the AI controller the surroundings with the camera and the robot then independently searches for the shortest path to the object.
AI as a multifunctional tool for industry
In addition to intuitive, rapid training, another advantage of AI controllers is the ability to teach the robot a variety of tasks through pure demonstration. A robot equipped with a control system kit, which should include a controller, a camera and the appropriate gripper, can learn new applications in just a few hours. This is an enormous advantage for manufacturers who primarily have variant-rich production as they save both engineering and hardware costs.
It is important to emphasize that AI controllers are mostly used for the first and last decisive centimeters of a manufacturing step, and the robot program takes care of the rest of the path. But again, with easy-to-use robots like cobots, applications can be automated intuitively in-house and at a low financial cost. With an ROI of less than 12 months, the AI controller-supported robots are also affordable for SMEs and are so quickly equipped for new applications that the automation of three-month production runs is already worthwhile - even for precise tasks.
AI ensures precision at automotive supplier ZF—even under time pressure
Regardless of the industry, precision, flexibility and quality are crucial for competitive production. However, suppliers in particular often have to produce precisely under great time pressure to meet their customers' demands. ZF, a global technology company, operates in a comparably dynamic environment: the automotive industry.
The world's fifth-largest automotive supplier was faced with the challenge of reconciling flexibility and precision and automating the workpiece feed of a large-volume milling station where gears are produced. In the work process, metal rings are removed from a crate and placed on a conveyor belt to later flow into the production of the gears. Unfortunately, the production step is highly variable because the rings in the delivered crate can shift, which means they are randomly and unpredictably arranged, and the placement and shape of the mesh box can vary. Changing lighting conditions presented an additional challenge. In addition, the surface of the rings is sometimes shiny metallic and sometimes oil-smeared or corroded, making classic automation impossible.
Today, ZF uses an AI-based control system in an automated workpiece fixture. The system includes the robotic control system kit, including controller and camera; a UR10e from Universal Robots; an OnRobot force-torque sensor and a Schunk gripper. Using its own controller, the UR robot positions itself over the rings in the crate. Now the AI control system takes control, moving the robot independently to the next ring and bringing the gripper into the correct three-dimensional gripping position. Once this position is reached, the UR10e system takes over again, picks up the ring and moves it to the conveyor belt for depositing. The complete setup of the robot took only a few days, with the AI control system solving a long-standing problem in a very short time. Today, MIRAI at ZF ensures permanently stable, fast production processes that react to variances in real time. The previously unsolvable task was automated quickly and cost-effectively, especially critical when every hour counts.
The AI potential for industry is inexhaustible
Examples like ZF's prove that the integration of AI software with industrial robotics gives companies a new level of flexibility. Shorter implementation times, ease of use and a wide range of applications allow both large enterprises and SMEs to produce competitively and be ahead of the international competition. To secure this lead, continuous new innovations in the field of AI are a must.
The content & opinions in this article are the author's and do not necessarily represent the views of ManufacturingTomorrow
---
Comments (0)
This post does not have any comments. Be the first to leave a comment below.
---
Post A Comment
You must be logged in before you can post a comment. Login now.
Featured Product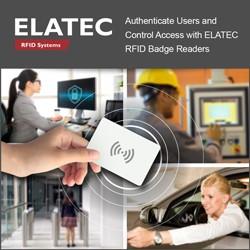 With a tap of the badge, RFID readers from ELATEC provide secure, reliable and easy-to-use user authentication, access control and usage tracking of hardware and software in industrial automation processes. Reader durability in harsh plant floor environments is another essential feature. Choose the right authentication and access control solution and extend RFID card-based capability for the access control of PLC, robot and HMI automation controller software and devices requiring special operator training.