As product ideas become more complex, customers are looking for partners with advanced capabilities to help turn concepts into tangible goods reliably, efficiently and quickly. Flex's Paul Baldassari shares how simulation plays a critical role in this process.
Why Simulation Is Critical for Driving the Next Era of Manufacturing
Paul Baldassari | Flex
In a recent Forbes interview discussing the future of manufacturing, Flex CEO Revathi Advaithi shared that "the industry is outdated in many ways." Even if we look back just a few years to 2018, the percent of manufacturing corporations successfully transforming was far less than the 28% average for companies in other industries.
This slow, resistant approach towards digital transformation, combined with increased product demands from consumers and a global pandemic that created significant travel restrictions and supply chain disruption, could have pushed manufacturing to a full standstill.
The future of digital transformation in manufacturing needs to be focused on building a portfolio of advanced technologies that provide greater efficiency, quality and sustainability for customers. Flex began its digital transformation several years ago. It proved instrumental in navigating the COVID-19 pandemic and provides the flexibility to adapt to future environmental, global and industry changes.
When people think of digital manufacturing technologies, automation and robotics are likely the first that comes to mind. While those are very important, the one technology that has largely gotten overlooked but plays an essential role in the new era of manufacturing is simulation.
The benefits of simulation
The power of simulation is that it drives the upfront conversations you need to have with customers, supply chain partners, equipment vendors and internal experts before producing a product. How will the factory be set up? How will the product flow through the line and are there any areas that can be optimized now? What does the ramp time look like and how can customer expectations be exceeded? What does the yield look like? How many employees do we need to support the project? Is there anything missing?
In the past, customers would fly to a factory to walk the floor and see how products would roll off the lines. If you needed to change a line or factory setup, it was a laborious manual process that could take months. And if it wasn't the right change? You're back to square one, reverting to the original setup, wasting time and money.
Here is why simulation can be so powerful:
Start virtually, then make realistically: With simulation, you can provide a virtual view of the factory for the customer and internal teams. This view can showcase what the lines look like and even highlight the machine view. If you need to make a change, it's a simple click and you're running a new simulated version.
Test it before you embrace it: You can also continue to build and add logic layers with simulation. Once the line view is set up, you can create a simulated view of the material flow, balance the line, and analyze equipment yields. You can make a yield prediction or simulate what would happen if a machine or process doesn't work to expectations. Once you have that information, you can address what a failure means for your full manufacturing process, areas you need to fix and gaps in throughput. You can even simulate the inventory view, ensuring you have the right throughput without creating a considerable stockpile in the factory.
Visualize the employee experience on the factory floor: Something else that has been incredibly helpful is simulating the employee view, especially during the pandemic. This process helps better understand the factory, how people utilize equipment and how many workers are needed for a job. This view can help ensure the factory is designed in an ergonomic way to promote safety and efficiency while preventing injuries and keeping employees socially distanced.
The first step towards digital twin: The outlook of manufacturing is connected, bi-directional and not just closed loop, but correct loop. Simulation lays the foundation for this intelligent system to operate and acts as the engine that powers the next generation of manufacturing technologies. A simulation model today is a representation of a physical process. At Flex, we are embarking on connecting the physical and digital, creating a paradigm that allows instant action to common questions on the factory floor. Combining simulation with other mission-critical systems like enterprise resource planning (ERP), manufacturing execution system (MES) and more, the digital twin will breed a more efficient environment. Benefits include better production planning, line changes, customer demand fluctuations, material shortage solutions and other variables that will determine how to best exceed our customer's expectations.
The growing demand for simulation
Initially, simulation was used to test new line setups or assess the cost benefits of using alternative process flows. However, new advancements are creating a change in perception. In fact, a recent survey showed that 75% of manufacturing executives believe simulation is critical for success. This shift is driving tremendous growth in the market, with simulation software expected to reach more than $15 billion by 2026.
However, only 43% of the manufacturing executives believe their current simulation capabilities are good or excellent.
That's because integrating simulation into every facet of your organization is not as easy as it sounds. Simulation requires close collaboration between multiple departments, disciplines and vendors. Most manufacturing organizations claim to rely on the technology, but in reality, they only deploy it for specific teams and projects. As a result, these companies do not see (or pass along) the full value simulation offers.
At Flex, we have a strong heritage of bringing different disciplines together to get projects done right. We've embraced simulation as a cornerstone of our advanced manufacturing initiative for quite some time now. By collaborating with the best of every department, we have completed more than 200 simulation projects in the past two years alone. By integrating this technology into the fabric of our processes, we have incubated the necessary expertise to deploy this technology into all of our factories and expand its use and adoption rapidly.
So what does that look like in practice?
Supporting customers with simulation: a real-world medical device example
Like most highly-regulated markets, the medical industry requires extremely high reliability throughout the entire product lifecycle. Any mistakes or issues in the manufacturing process can take years to fix and cost millions of dollars in the process. When Flex began working with a medical device vendor looking to bring a new product to market in 2020, we knew simulation would play a critical role.
With the power of simulation, we were able to reiterate the product model hundreds of thousands of times over the course of hours. This process enabled Flex to quickly run "what if" scenarios and test out variables and constraints. Using simulation, an approach that otherwise would have taken three months to complete manually was finished in only three weeks.
But that wasn't the only benefit. The customer was also working against tight demands and needed Flex to produce 8 million units per quarter. As anyone in the field knows, production scheduling is always challenging. Schedules, demand, people and materials are always in flux and can cause a significant impact on production plans. As a result, our team was manually predicting 5.5 million units per quarter, falling significantly short of the customer requirement. However, by using simulation to test various scenarios, we were able to optimize scheduling over a few days to produce 8.1 million units per quarter (100,000 more than the customer was expecting).
Beyond design and scheduling, simulation also helped test significant operational variables. This enabled us to increase output in some workstations by more than 70%, eliminate bottlenecks and optimize cart availability on the shop floor by more than 20%, and deliver other essential business, operational, and cost-saving benefits. Simulation helped quickly bring to life the medical device with the highest levels of quality, reliability, and efficiency.
Driving the next era of manufacturing
We've reached a tipping point in how we look at manufacturing and there's a massive opportunity for growth in the industry in a post-pandemic world. Over the past few years, we've proven that there's a better way of doing things thanks to simulation and other advanced manufacturing technologies.
The fourth industrial revolution is all about leveraging technology to build products better, and advanced manufacturing initiatives will continue to shine as a critical aspect driving this movement forward. In 2020, our management team extensively utilized simulation to stay connected to factories. Together with our employees and customers, we've been walking the shop floor virtually and making informed data-driven decisions based on simulation throughout the year.
Simulation has and will continue to play a critical role in driving the next era of manufacturing. In my next post, I'll dive deeper into the top items to consider when utilizing simulation.
For more blogs on manufacturing from Flex, you can visit: https://flex.com/company/leadership-insights.
The content & opinions in this article are the author's and do not necessarily represent the views of ManufacturingTomorrow
---
Comments (0)
This post does not have any comments. Be the first to leave a comment below.
---
Post A Comment
You must be logged in before you can post a comment. Login now.
Featured Product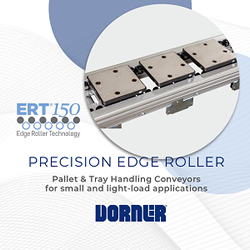 The next evolution in Dorner's Edge Roller Technology conveyor platform, the ERT®150, is ideal for small and light-load assembly automation, as well as medical and medical-device assembly application. The ERT platform is the only pallet conveyor of its kind available with an ISO Standard Class 4 rating for cleanroom applications. Earning the ISO Standard 14644-1 Class 4 rating means Dorner's ERT150 will conform and not contribute to the contamination of cleanrooms to those standards. As implied by its name, the ERT150 (Edge Roller Technology) uses rollers to move pallets through the conveyor smoothly with no friction (a byproduct often seen in belt-driven platforms). The conveyor's open design eliminates concerns of small parts or screws dropping into rollers and causing conveyor damage or jamming. The ERT150 is suited to operate in cleanroom environments requiring a pallet handling conveyor. It is capable of zoning for no or low-back pressure accumulation and is ideal for automation assembly applications within industries including medical devices, electronics, consumer goods among others.