An integrator will definitely get the job done, but beware of a few potential pitfalls. Not all integrators are familiar with cobots. Those who treat the project like an industrial robot can negate many of a cobot's benefits.
Successfully Implement a Cobot into your Operations: Step 2 - What Role Do Integrators Play In This Process?
Article from | Absolute Machine Tools
Article continued from PART ONE
What Role Do Integrators Play In This Process?
An integrator will definitely get the job done, but beware of a few potential pitfalls. Not all integrators are familiar with cobots. Those who treat the project like an industrial robot can negate many of a cobot's benefits. For example: most cobot applications, if designed correctly, do not require safety fencing, whereas most industrial robot applications do.
Integrating a Cobot to a CNC Machine Tool
Another area one should be aware of is the application itself. Remember, integrators do not know how to integrate everything.
One example is a CNC machine tool. Most integrators will say that they can integrate a cobot to any CNC machine tool. However, this is often not the case.
The technician integrating the cobot to the CNC needs to be able to read and understand the ladder logic within the CNC control. If they don't, then they will use your time and money to learn it. That's not what you're paying for.
Then there is the CNC control itself. It's different to integrate from a Haas to a FANUC to a Mitsubishi to a Siemens. Often there are M-codes needed and sometimes special cabling. That's not something an integrator would be aware of unless they themselves have had the experience.
Installing versus Integrating
There is a serious difference between installing and integrating. Installing refers to unpacking, assembling, commissioning (setting parameters and configurations) and possibly training.
Integrating is an entirely different process, especially when it comes to communicating between the CNC control and cobot. To integrate is to set the cobot up near a particular piece of machinery and programming it to load, unload, weld, sort, or possibly inspect parts.
This is all part of sequencing between the two pieces of equipment. Sequencing is comprised of starting the machine, readying the part for loading and unloading, and possibly placing the part in an unloading station or bin or box. This process may or may not include:
Wiring the I/O of the cobot to the machine
Programming the cobot
Developing and producing gripping devices, load stations, and unload stations
If the cobot's I/O is wired into the machine's I/O, the CNC control will be used to generate the signals that will need to be passed back and forth to the cobot. The cobot's control will be used to do the same.
Integration requires the use of M-codes in the CNC control. Some of the newer machines have enough M-codes already built into their ladder within the CNC control. But with older machines, we have found that often the customer needs additional M-codes. This then becomes your responsibility to call the distributor you bought the CNC machine tool from and have their service technicians come out and install more M-codes.
Integrators don't always know that. For instance, below is a sequence of signals that could be used between the CNC control and cobot during the machining cycle that will require an M-code:
The cobot picks up a part and moves it into position to load the machine;
The cobot waits for a signal from the machine's I/O, which is generated when the M-code is executed in the CNC program;
The signal tells the cobot it is okay to load the machine, i.e., the door has been opened and the machine is now sitting idle waiting on the cobot to load the part;
The machine will "hold" that M-code until it gets the finish signal back from the cobot, i.e., the signal indicates the part has been loaded and is now clear to begin the machining process.
This is just one simple example of when an M-code is needed. If there are multiple times where the two need to communicate — such as chuck open/close, door open/close, vise open/close — then there will need to be extra M-codes to signal back and forth for each step between the CNC control and cobot.
Cost of Integrating
Then there's the cost of integrating, which can sometimes be more than the cost of the cobot itself. Ask yourself these questions:
Am I confident or do I know for certain that my cobot supplier has the expertise?
Will the cobot supplier participate in the actual integration work or are they going to farm it out to a third party?
Or worse, will I be on my own after the cobot is installed?
If you or your operators need training, then the questions will be:
Will the supplier be able to train us properly to use the cobot?
Is training included in the price?
If training is not included in the price, how much will it cost and how many hours and/or days does the price quoted allow for?
And finally, will the training be sufficient or will they have to come back later for a refresher course?
Many applications don't require full-scale complicated integration. A little coaching, a few tips, and maybe a little help with the accessories might be all you need. At Absolute Machine Tools, we examine each project, taking into consideration the company's budget and expertise, then together create a "scope of the project" to ensure everything is accounted for. Absolute's A+ Automation Team understands that sometimes shop personnel possess the necessary expertise to install and integrate the cobot on their own, saving their company money. If not, then we will work together with you and your team to create a comprehensive plan so there are no surprises.
The content & opinions in this article are the author's and do not necessarily represent the views of ManufacturingTomorrow
---
Comments (0)
This post does not have any comments. Be the first to leave a comment below.
---
Post A Comment
You must be logged in before you can post a comment. Login now.
Featured Product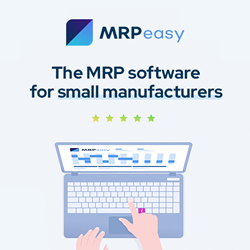 Always know what you have in stock and what you'll need to fulfill orders. Never forget to order parts on time or fail to notice a late delivery from your vendor. Easily create manufacturing orders and schedule them automatically according to resource availability or delivery deadline. Generate accurate cost and lead time estimates and provide customers with quick quotes. Receive notifications when orders are late or inventory levels reach a critical point. Ensure seamless communication between sales, production, warehousing, procurement, administration, and finance. Integrate with popular accounting, CRM, and e-commerce apps. MRPeasy is an ERP software for small manufacturers that gives you all that and more. Our users report a 54% average improvement in the overall performance of their business and a 42% increase in on-time deliveries. Try for free, no credit card needed.