Faced with tight quarters on a gearbox application, Texas-based machine builder turns to NORD DRIVESYSTEMS for help.

Case Study from | NORD DRIVESYSTEMS
Some have said the American steel industry is dead. Not Joseph Savariego, president of Delta Steel Technologies Inc. in Irving, Texas. For more than 55 years, what is now a second-generation manufacturing company has been building and repairing machinery for steel mills across the country, and that's not about to change. In fact, entirely new breeds of mini and micro mills have sprung up over the past decade or so, factories that Delta Steel is busy equipping as well.
During one recent project, however, Delta Steel ran into a snag. After delivering the winning bid on a machine known as a roller leveler, Savariego and his design team found that the gearboxes in a critical subassembly had to be placed closer together than they liked. They knew that this configuration would make it difficult for their customer to service the machine in the future, so they decided to reach out to electromechanical solution provider NORD DRIVESYSTEMS for ideas.

Premium processing
Delta Steel Technologies employs 120 people. Some have worked there for more than four decades, and all are proud to support the American steel industry. They design and manufacture a wide range of custom products in a 226,000 sq. ft. facility, including stretch levelers, rotary shears, temper mills, and cut-to-length lines. All serve to convert rough coils of steel into flat, precision-cut material suitable for use by automakers, appliance producers, and indeed any manufacturer of sheet metal components and assemblies.
The company also refurbishes, remanufactures, and retrofits legacy equipment, performs cylinder and gearbox repairs, does custom machining and fabrication, and offers turnkey installations of their systems. Further, many of these systems are highly automated, using state-of-the-art technology to achieve the greatest throughput possible. There's more, but put simply, Delta Steel's goal is delivering whatever the customer needs to efficiently and profitably process steel.
Achieving this requires strong supplier partnerships. Savariego said they've worked with NORD DRIVESYSTEMS for a number of years and have always found them to be very responsive, helpful, and creative in their solutions. "Most of the companies out there just throw you a catalog and say, 'Pick one of these. If it works for you, great, and if it doesn't, we're sorry.' NORD, on the other hand, has always tried to understand our needs and help us select a product that solves whatever problems we're facing."

Cramped quarters
As its name implies, a roller leveler uses a series of offset, rotating cylinders to make coil steel flat. The material is fed into one end of the machine, which alternately bends the sheet in gradually decreasing "waves" that serve to reduce metallurgical stress and flatten the steel as it passes. In Delta Steel's design, there are eleven rollers in all, five above the sheet and six below. Each roller is attached to a driveshaft, and each driveshaft connects to a gearbox driven by its own 150-hp motor.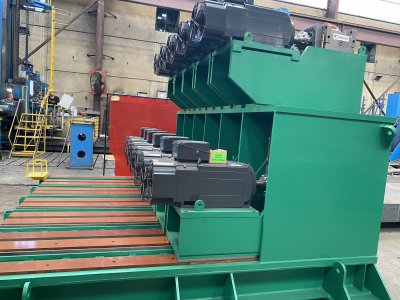 A 150-hp electric motor sits directly behind each SK5207-series MAXXDRIVE gear unit.
The problem with this particular project was twofold. As mentioned earlier, Delta Steel designers needed to stack the two rows of components one atop the other in order to fit everything into the limited space. This restricted access to the bottom row of drive components, though, so they developed a slide mechanism that would allow technicians to easily disconnect each gearbox and motor combination from the driveshaft and simply pull it back and out of the way for servicing.
Despite this space-saving arrangement, a compact but powerful gearbox would still be needed. For this, they reached out to their local NORD DRIVESYSTEMS representative, Steve Hunter, who put them in touch with application engineer Jeff Wittrock. He recommended an SK5207 series MAXXDRIVE Large Industrial Gear Unit in a parallel axis configuration and 14:1 drive ratio. With a UNICASE one-piece housing, symmetrical design, and extremely high power density for its size, the gearbox would provide plenty of torque along with the performance and service life needed for this demanding application.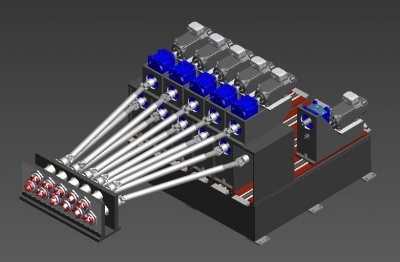 Shown here is a CAD representation of the completed roller leveler drive assembly. Rollers are attached to each of the red couplings at the lower left.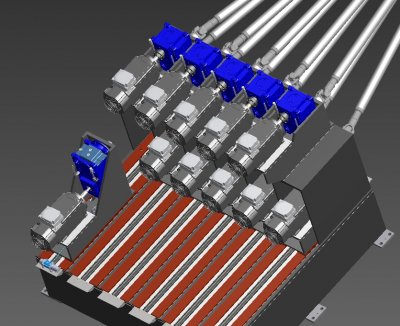 An ingenious solution: simply disconnect the driveshaft from the front of the gearbox and pull the entire unit back for servicing.

Meeting challenges
"There were definitely some challenges," Savariego said. "For example, if one of the bottom gearboxes were to be damaged, how would you access it without having to remove the ones above it? And even the best gearbox and motor needs routine maintenance, which would have been extremely difficult if we'd gone with a less flexible design. That's what led us to the sliding mechanism I mentioned earlier, but that meant we had to minimize the driveshaft angle, which in turn required that we keep everything close together. NORD was quite helpful, and willing to help us through the entire process until we reached the optimal design."
Every project is different, Savariego added, noting that details like these must often be worked out after the customer has accepted the preliminary proposal. It's only as designers delve into the complete requirements that they can understand all of the potential hurdles, making it especially important to partner with suppliers offering a wide range of component options, and backed by experienced support and applications people.
"NORD was able to help us transmit a lot of torque in a fairly small package," he said. "They were also quite helpful in determining the best way to arrange the gearboxes. That's not to say there aren't other good gearbox manufacturers out there, but in certain applications, NORD's service and support stands well above the rest. We've enjoyed working with them and will continue doing so."
All photos courtesy Delta Steel Technologies





About NORD DRIVESYSTEMS®
With more than 4,000 employees, NORD DRIVESYSTEMS has been developing, producing and selling drive technology for more than 50 years, and is one of the global leaders of full-service providers in the industry. In addition to standard drives, NORD delivers application-specific concepts and solutions for special requirements such as energy-saving drives or explosion-protected systems. In financial year 2017, annual sales amounted to $781 million. NORD now has subsidiaries and sales partners in 98 countries worldwide. The dense sales and service network guarantees optimal availability, enabling short delivery times and customer-oriented service. NORD produces a very diverse range of drives for torques from 88 to more than 2.2 million lb-in, provides electric motors in the power range of 0.16 to 1,341 HP, and manufactures frequency inverters with the required power electronics of up to 215 HP. Inverter solutions are available for conventional control cabinet installations as well as for decentralized, fully-integrated drive units.
The content & opinions in this article are the author's and do not necessarily represent the views of ManufacturingTomorrow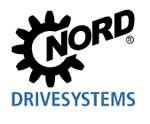 NORD DRIVESYSTEMS
With production facilities in the Midwest and on both coasts, NORD is prepared to serve you with some of the shortest lead times in the industry. We house extensive component inventory, allowing us to assemble and ship 25% of all orders same or next day!
Other Articles
Wastewater treatment is serious business. Gearboxes from NORD DRIVESYSTEMS help this small community process up to 15 million gallons of it daily, without fail, with no surprises.
From candy to coffee beans, AD Process Equipment's confectionery equipment applies coatings that make food taste better. NORD DRIVESYSTEMS helps them do so more efficiently.
Rugged, reliable, and thermally optimized, NORD's industrial gear units are ready to take on the most demanding industrial drive technology requirements.
---
Comments (0)
This post does not have any comments. Be the first to leave a comment below.
---
Post A Comment
You must be logged in before you can post a comment. Login now.
Featured Product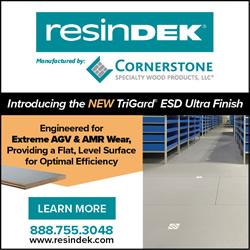 To maximize the productivity of an autonomous mobile robot (AMR) or automatic guided vehicle (AGV) deployment, it's critical to create the optimal environment that allows the vehicles to perform at their peak. For that reason, Cornerstone Specialty Wood Products, LLC® (www.resindek.com) created the TriGard® ESD Ultra finish for its ResinDek® engineered flooring panels. The TriGard ESD Ultra finish is ideal for high-traffic robotic applications characterized by highly repetitive movement patterns and defined travel paths.