To cope with increasing amount of data, edge computing hardware is being deployed to alleviate the burdens placed on the cloud and data centers. So, what are the computer hardware needs for edge computing? We will answer this question in much detail.
10 Fundamental Computer Hardware Needs For Edge Computing
Dustin Seetoo, Product Marketing Director | Premio Inc.
As the number of IoT (internet of things) and IIoT (industrial IoT) devices continues to increase, so does the volume and velocity of data that is being generated by them. To cope with increasing amount of data, edge computing hardware is being deployed to alleviate the burdens placed on the cloud and data centers. So, what are the computer hardware needs for edge computing? We will answer this question in much detail below.
What Are Rugged Edge Computers?
Rugged edge computers are industrial-grade ruggedized computers are specifically engineered and built to withstand deployment in volatile environments. They are built with a high level of durability through ruggedized features and design. Everything from the external housing to the internal components is tested and validated to run reliably in the most volatile environments. Premio offers a wide variety of rugged edge computers to choose from. Also, check out some of the most popular edge computers and what makes them different in a previous blog post about "Different Types of Edge Computers."
What Are the Top Computer Hardware Needs for Edge Computing?
Edge computing hardware must be rugged, compact, have sufficient storage, have rich connectivity options, have a wide power range, and meet the performance requirements for the tasks they will perform. Edge computers must meet these requirements because they are often deployed in harsh environments where they must operate reliably and optimally. For example, if an edge computer is deployed in an oil production field, it must be able to handle exposure to extreme heat, dust, and debris. We will now discuss the hardware requirements for edge computing in more detail below.
#1 Edge Computers Must be Rugged and Fanless
Edge computing hardware must be rugged enough to withstand deployment in volatile environments where they are exposed to frequent shocks, vibrations, dust, debris, and even extreme temperatures. The defining feature of rugged edge computers is their fanless design. The fanless design eliminates the need for vents and opening to cool down the system, allowing edge computing hardware manufacturers to create totally closed systems. Having a closed system eliminates the possibility of dust, dirt, and debris from making their way into the system to damage sensitive internal components.
Furthermore, the fanless design and wide temperature components that are used in edge computers allow them to withstand exposure to extremely cold and extremely hot temperatures. In fact, the systems are so rugged that they have a wide temperature range that ranges from -40⁰C to 85⁰C. This is very different from regular desktop computers that can only withstand exposure to temperatures ranging from 5⁰C to 40⁰C, significantly limiting the environments in which regular desktop PCs can be deployed.
In addition to handling extreme temperatures, rugged edge computers can handle frequent exposure to shocks and vibrations thanks to the use of a cableless design where all cables are eliminated from the system. The removal of cables eliminates the possibility of a cable coming loose, rendering the system inoperable. The less moving parts there are, the fewer the parts that can fail.
Furthermore, fans have been eliminated from edge computing hardware. The elimination of fans from edge computers makes them significantly more reliable than air-cooled PCs. This is so because fans are a common point of failure for many electronics and computers. Therefore, eliminating them makes systems much more reliable and durable, eliminating the downtime a business or organization may face as a result of a failed or failing fan.
Ultimately, edge computing hardware can now be deployed anywhere in the world while handling the most volatile environmental elements while providing optimal and reliable compute power. This is all possible thanks to the fanless design, wide operating temperature, shock and vibration resistance, and varied voltage input ranges.
#2 Edge Computers Must Meet Performance Requirements
The edge computing solution that you or your organization wants to deploy must be able to perform the tasks and workloads that they're being deployed to perform. At Premio, we offer low-powered efficient edge computing devices for entry-level workloads, as well as more powerful edge computing solutions for complex industrial workloads.
Premio offers both SoC industrial computers and socket-based industrial computers. Typically, an SoC (system on chip) refers to a circuit board that combines all of the components of a computer onto a single silicon substrate. For example, you will find SoCs with a CPU, GPU, and memory storage all on a single chip. SoC systems tend to be lightweight, low powered, and efficient for entry-level workloads, such as edge computing and serving as an IoT gateway.
However, socket PCs consist of a motherboard with a CPU that is mechanically installed into the socket. Also, other components, such as GPU and memory, must be manually inserted into the system. Such systems tend to have higher performance than SoCs because the chips tend to have more cores, higher clocked cores, and a higher TDP, making them the ideal solution for complex industrial workloads.
For example, low-powered processors, such as Intel® Celeron® and Intel® Atom® processors are great for entry-level edge computing workloads, such as HMIs, digital signage, and low-powered IoT gateways. However, Premio also offers high-performance edge computing hardware that is configured using powerful Socket Intel® Core® i3, i5, and i7 Processors. The Intel Core Series of powerful processors has more cores, more threads, and higher clock frequencies than the Intel Celeron and Atom Series of processors, making them powerful and able to tackle complex industrial workloads at the edge.
Learn more about socket vs SOC here.
You should carefully consider the processor you configure your system with because it will determine the number of workloads it can handle, as well as the speed at which it completes tasks. The more cores the processor has, the more powerful it is and the faster it can complete tasks. Choosing too slow of a CPU can cause the edge computing system to lag and/or cause the system to take too long to perform a given task. Typically, the faster your edge computer, the faster your production line will perform because faster edge computers can examine more products and perform tasks more quickly than a slow computing device.
Long gone are the days where edge computers only collected information from IoT devices. The advancements in edge computing hardware have enabled performance computing at the edge. Furthermore, GPUs can be added for hardware acceleration, allowing edge computers to store, process, and analyze large amounts of data without having to move data to the cloud, thus saving organizations deployment them a considerable amount of money an internet bandwidth, especially if they are on a metered data plan where they pay for the data they use.
#3 Edge Computers Must Be Compact and Have Versatile Mounting Options
Edge computing solutions are compact in size because oftentimes, they are deployed in space-constrained environments that are not large enough to house full-size desktop computers. The small footprint of edge PCs allows them to be deployed in small cabinets, small closets, underneath furniture and mounted on walls or ceilings.
Industrial Setting Mounting Options:
Wall Mounting

Ceiling Mounting

Bookshelf Mounting

DIN Rail Mount

VESA Mount
#4 Edge PCs Must Be Equipped with Sufficient Rugged Storage
Edge PCs are often deployed at the edge, collecting, processing, and analyzing large amounts of data collected from machinery, equipment, and industrial IoT devices, as such edge computers must be equipped with a sufficient amount of storage to store and access data quickly.
Edge computing solutions can be configured with either solid-state drives (SSDs) or hard drives (HDDs). A single enterprise-grade SSD can hold terabytes of data and transfer data at much faster speeds than hard drives.
In addition to providing high-speed data storage, SSDs make edge computing solutions more rugged because they store data on NAND chips, which is different from HDDs, which store data on spinning metal platters. Storing data on silicon chips makes edge computing devices more rugged because silicon chips can better handle exposure to shocks and vibrations than are spinning metal platters. That said, for organizations requiring large amounts of data storage, hard drives can be added for additional storage.
#5 Rugged Edge Computers Must Have Rich I/O
Rugged edge PCs are equipped with rich I/O ports because they must often connect to both new and legacy factory machinery, devices, and equipment. For example, edge computers are often equipped with the following I/O ports: USB ports, COM ports, Ethernet ports (RJ45/M12), and General Purpose I/O ports. General Purpose I/O (GPIO) ports are included on edge computers because they can accommodate a large number of peripherals, sensors, and devices that do not have a common interface, such as a USB port or legacy serial port. Devices that can be connected to GPIO ports include sensors, alarms, motion detectors, and production line controllers. Ultimately, GPIO ports allow edge computing hardware to connect to other devices no matter how old they are; as long as the device or sensors work, it can be connected to your edge computing solution.
#6 Edge Computers Must Have Rich Wired and Wireless Connectivity Options
Among the computer hardware needs for edge computers are both wired and wireless connectivity options. As such, edge computers come equipped with wired connectivity options as well as wireless and cellular connectivity options. Most edge PCs come equipped with two RJ45 LAN ports for blazing-fast wired data transfer, ranging from 1 GbE to even 10GbE. Moreover, if you require additional RJ45 LAN ports or M12 LAN ports capable of PoE+ (IEEE 802.3at) for data and power through a single cable, this can be done via easy to install expansion daughterboards.
In the event that wired connectivity is not available, edge computers can still connect to the internet as they come equipped with Wi-Fi 6 (IEEE 802.11ax) for high-speed wireless LAN connectivity. Furthermore, if Wi-Fi connectivity is not available, edge computing solutions can still connect to the internet to offload critical data via cellular 4G, LTE, and 5G connectivity. Edge computing hardware comes equipped with multiple SIM module sockets, allowing organizations to add up to two data carriers for redundancy. This makes edge computing hardware ideal for deployment in remote environments where reliable wired and wireless connectivity is not always available. Cellular connectivity can be used to remotely monitor and control devices.
Moreover, edge computing hardware comes equipped with Bluetooth connectivity, allowing edge computing devices to connect to low powered Bluetooth and IoT devices. Although Bluetooth connectivity does not offer the range and speed provided by Wi-Fi and cellular connectivity, it does provide reliable one-to-one or many-to-many connectivity.
#7 Edge Computing Hardware Must Have a Wide Power Range
Edge computing hardware is often deployed in environments that rely on different power inputs; as such, they come equipped with a wide power range, ranging from 9 to 50 VDC, making them compatible with a variety of different power input scenarios. Additionally, edge computers come with a variety of power protection features to safeguard the system from electrical damage. These power protection features include overvoltage protection, reverse polarity protection, and surge protection.
#8 Edge Computers Must Be Secure
Edge computing devices are often deployed in remote environments where they are unmonitored, so they must be secure. Fortunately, edge computing devices come equipped with the Trusted Platform Module (TPM) 2.0. TPM 2.0 is a technology that utilizes a cryptoprocessor that makes edge computers tamper-resistant by securing hardware through integrated cryptographic keys. TPM 2.0 protects systems from brute force attacks and hardware theft.
#9 Edge Computers Need to support Performance Accelerators for Real-time Processing
Edge computers are great for collecting, storing, processing, and analyzing data at the edge; however, for some complex industrial workloads, edge computers should be equipped with performance accelerators for real-time processing decision making. New computing and storage designs maximize performance as close to the data as possible. Here are some of the most popular performance accelerators used in edge computing solutions as more processing power shifts to the edge. These add-in hardware solutions through PCIe architecture provide added value for specific edge computing workloads that require performance for real-time processing.
Multi-Core CPUs: Multicore sequential processing allows the processor to utilize multiple cores to process data with each core functioning as an individual processing device, permitting multiple tasks to run simultaneously (running more tasks at the same time). The more cores you have in a CPU, the better the performance of the system as it will be able to handle multiple processes at the same time.

GPUs - GPUs are often added to edge computers to acceleration artificial intelligence (AI) and machine learning (ML) workloads. The role of accelerators will continue to grow in importance as workloads are increasingly being performed at the edge of networks vs. data centers and the cloud. Performance accelerators deployed at the edge are able to process mission-critical data in real-time with low latency since edge PCs are deployed close to the source of data generation.

VPUs – Vision Processing Units are performance accelerators that can accelerate machine vision algorithms. This is so because VPUs are specifically optimized for machine vision, machine learning, AI, facial recognition, and high end image processing while using less power than GPUs. This makes VPUs ideal for use in fanless systems that require components that produce little heat and use little power. Overall, the low power and thermal footprint of VPUs makes them ideal for use in rugged edge computing solutions.

FPGAs - A field-programmable gate array (FPGA) is a performance accelerator that used to optimize embedded systems for a particular workload. FPGAs are able to accelerate workloads such as inference analysis, AI, and performing analysis of large amounts of data for machine learning. In some instances, high-end FPGAs can outperform GPUs in performing some tasks, all while using less power and producing less heat than GPUs.

NVMe Computational Storage – NVMe Computational storage devices enable the deployment of computers at the edge by combining data storage and processing are performed locally on the data. This is done by processing the data locally on the drive. Traditionally, the computer processes the data and does so by requesting the data from the storage device. With computational storage, the system does not request data, instead it requests that an operation be performed by the drive itself. As such, data no longer needs to leave the drive for processing.
#10 Edge Computers Must be Certified to Pass Telemetry to the Cloud
The final hardware requirement for edge computers is that they must be certified to pass data telemetry to the cloud. Edge computing hardware provided by Premio Inc has been certified to pass data telemetry to the cloud by Amazon Web Services (AWS) IoT Greengrass and Microsoft Azure IoT. Deploying certified edge computers ensures that you can deploy edge computer hardware knowing that they will perform reliably with AWS IoT Greengrass and Microsoft Azure applications. AWS IoT Greengrass allows those deploying edge computers to act locally on the data generated and execute prediction based on machine learning models while only transmitting necessary data to the cloud. Storing, processing, and analyzing data locally significantly reduces the amount of internet bandwidth that's required to transmit data to the cloud since only post-processed data is sent to the cloud for remote monitoring. This is especially important for businesses and organizations on metered internet plans where they pay for the bandwidth that they use.
Bottom Line
At this point, it should be clear what the computer hardware needs for edge computing are. If you have any general questions or comments or want to inquire about buying edge computers, please contact us and speak to one of our edge computing hardware specialists. They will be more than happy to answer any questions you may have about edge computing hardware. Also you can subscribe to the Premio's blog to get updates on embedded and edge computing insights. If you already have an idea for your requirements you can also find and select your edge computer.
About Premio Inc.
Premio is a global solutions provider specializing in computing technology from the edge to the cloud. We design and manufacture highly reliable, world-class computing solutions for enterprises with complex, highly specialized requirements for over 30 years. Our engineering specialty and agile manufacturing pushes the technical boundaries in Embedded IoT Computers, Rugged Edge Computers, HMI Displays and HPC Storage Servers.
Dustin Seetoo, Product Marketing Director for Premio Inc.
Dustin is an avid technology advocate for enterprise businesses and specializes in crafting product marketing campaigns for industries focused in the hardware engineering, manufacturing, and deployment of industrial Internet of Things (IIoT) devices, and x86 embedded and edge computing solutions. He is currently the Director of Product Marketing at Premio Inc, a global solutions provider dedicated in the engineering and deployment of computing technology from the edge to the cloud. Learn more at www.premioinc.com.
The content & opinions in this article are the author's and do not necessarily represent the views of ManufacturingTomorrow
---
Comments (1)
Great article.
Edge computing
has turned around the concept of simple cloud computing. Although the former wouldn't exist without the latter, it created a much bigger impact on the ability to store data over the internet. Your article is very helpful in getting the hardware requirements right. Thanks for sharing.
Post A Comment
You must be logged in before you can post a comment. Login now.
Featured Product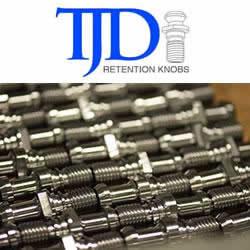 Our retention knobs are manufactured above international standards or to machine builder specifications. Retention knobs are manufactured utilizing AMS-6274/AISI-8620 alloy steel drawn in the United States. Threads are single-pointed on our lathes while manufacturing all other retention knob features to ensure high concentricity. Our process ensures that our threads are balanced (lead in/lead out at 180 degrees.) Each retention knob is carburized (hardened) to 58-62HRC, and case depth is .020-.030. Core hardness 40HRC. Each retention knob is coated utilizing a hot black oxide coating to military specifications. Our retention knobs are 100% covered in black oxide to prevent rust. All retention knob surfaces (not just mating surfaces) have a precision finish of 32 RMA micro or better: ISO grade 6N. Each retention knob is magnetic particle tested and tested at 2.5 times the pulling force of the drawbar. Certifications are maintained for each step in the manufacturing process for traceability.