As many strategize how to move forward in 2021, remote operations capacity is one area that is emerging as critical for manufacturers to achieve operational continuity during what could continue to be a uniquely disruptive time.
Making Industry Resilient
Q&A with Bill Moore | XONA
Manufacturers have been pushed to the extreme with the pandemic's impacts on everything from supply chain to maintaining safe work environments. As many strategize how to move forward in 2021, remote operations capacity is one area that is emerging as critical for manufacturers to achieve operational continuity during what could continue to be a uniquely disruptive time. In this piece, expert Bill Moore, CEO and founder of XONA, provides manufacturing insights on reducing remote operations costs and cyber risks. Bill brings more than 20 years' experience in security and the high-tech industry, including sales, marketing, engineering, and operations.
1. Explain remote operations capacity. What impact does it have on remote work?
When people plan for remote work, they tend to think about things like workspaces and communication protocols. These are important, even crucial, elements of a remote work scenario, but many sectors, including manufacturing, need off-site workers to do more than just collaborate with colleagues.
They need them to interact with complicated machinery in a dynamic, secure way. Among other things, remote operations capacity enables off-site workers to operate critical systems just as if they were sitting in the control room. In addition, there needs to be the ability to monitor and troubleshoot problems, so accessing forensics is also crucial, enabling operational efficiencies beyond nonessential travel time to a manufacturing site.
2. How is the transition to remote work impacting the manufacturing sector specifically?
Historically, manufacturing has been primarily an on-site profession. While the past decade's remote work trends have enabled employees to take advantage of enterprise IT tools to communicate using collaborative cloud-based applications, this sector needs something more. Manufacturing workers need to interface directly with operational technology (OT) systems on the factory floor, such as touchscreen interfaces, automated process controls, and traditional computer systems requiring keyboard and mouse inputs.
Therefore, leaders should look to implement an intuitive and easy-to-use remote operations platform that can be easily implemented for OT while also providing valuable information to the enterprise to help make better business decisions.
3. What are some of the long-term benefits for manufacturers who bolster their remote capabilities now?
Bill: In response to the recent pandemic, many manufacturers had no choice but to make drastic changes to their on-site work arrangements. This serves as a reminder that unexpected disruptions can occur anywhere and anytime. Whether responding to a health crisis, natural disaster, or other disruptive events, remote operations capacity allows manufacturers to be more agile and maintain operational continuity.
In addition, employees, including automation and controls engineers, increasingly desire workplace flexibility, so enabling remote operations for manufacturing sites can help attract and retain top talent from a global workforce.
What's more, it will enable producers to minimize downtime by maximizing accessibility, giving remote operations broad appeal for manufacturers now and in the months and years ahead. Ultimately, agility helps manufacturers reduce operational risks and recognize efficiencies, making them better equipped to address a litany of challenges that may come their way.
4. What risks should manufacturers consider as they begin embracing remote work?
Bill: Most importantly, manufacturers need to account for cyber threats, which can not only negatively impact the bottom line but also can impact employee and general public safety. In order to remotely operate industrial control systems (ICS), a robust security architecture must be implemented to address potential threats from adversaries that undermine manufacturing operations.
For instance, the use of VPNs and jump servers, two hallmarks of traditional IT remote access, are insufficient defenses for remotely accessing critical OT assets. A zero-trust architecture must be implemented that provides strong authentication and granular system authorization and isolates protocols to only trusted system connections. In addition, this system must utilize strong standards-based encryption and session logging, monitoring, and recording. A cybersecurity incident or data breach to manufacturing processes can result in a manufacturer losing millions of dollars a day while also negatively impacting public safety.
5. When considering remote work, where should leaders start?
Bill: As a leader, I know that I am most effective when I am thoughtful and intentional. That's the right strategy for transitioning to remote work. Leaders should consider:
How do I enable remote operations to critical systems while mitigating risks?

What technologies can meet compliance and cybersecurity requirements while also be simple to use for my employees?

How can I integrate new cost-effective technologies without interrupting critical operations?
Avoid the tech sector's ethos. Rather than moving fast and breaking things, plan strategically and implement solutions that meet today's challenges and tomorrow's goals.
The content & opinions in this article are the author's and do not necessarily represent the views of ManufacturingTomorrow
---
Comments (0)
This post does not have any comments. Be the first to leave a comment below.
---
Post A Comment
You must be logged in before you can post a comment. Login now.
Featured Product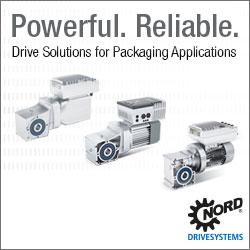 NORD gear units, motors, and electronic control products focus on durability, adaptability, and high efficiency for a wide range of manufacturing applications with over 20,000,000 standard configuration options. Featuring IE5+ PMS motors that can work effectively at partial loads and low speeds thanks to their constant torque and high overload capacity. Their smooth surface and ventilated designs provide ultimate versatility and variant reduction. Combined with surface protection options, such as IP69k or NORD's state-of-the-art nsd tupH Sealed Surface Conversion System, NORD drives are ready to take on the demands of extreme manufacturing environments.