Senior executives seek answers to questions like – Can I make my supply chain agile; Can I do online RFPs and supplier management. Can I run my factories remotely? Can I ensure social distancing on the factory floor by reducing the number of people on the factory floor?
How COVID is Expediting Digital Transformation in the Manufacturing Sector
Arun Natarajan | Aryaka
The COVID-19 pandemic has been raging since March this year. It has caused disruptions in several sectors, but none more so than the manufacturing industry. Supply chain disruptions, remote user upsurge, and fluctuations in the sales channels are just some of the problems faced by this sector. Senior executives seek answers to questions like – Can I make my supply chain agile; Can I do online RFPs and supplier management. Can I run my factories remotely? Can I ensure social distancing on the factory floor by reducing the number of people on the factory floor?
Fortunately, all these challenges are solvable by the adoption of digital. According to some analysts, the manufacturing sector will experience five years of innovation in the next 18 months.
Smart Factories during COVID
Smart factories are an integral part of the digital transformation story. Smart factories integrate several sensors and Industrial IoT devices to automate tasks. These sensors also feed information back to the MES and big data applications. Analysis of this data allows managers to make real-time adjustments to the manufacturing process. In these COVID times, it also enables remote monitoring and helps reduce the number of people on the shop floor.
Manufacturing Execution Systems on the Cloud
A manufacturing execution system (MES) is the core of the factory. It helps operations to schedule, manage, and track each step during production. As smart factories become a reality, more equipment and machines are connected to the MES to enable real-time monitoring. This ability to operate remotely is a boon during COVID.
SD-WAN for Manufacturing
Central to digital transformation in the manufacturing sector are technologies like the Industrial Internet of Things (IIoT), the cloud, and big-data analytics. The introduction of IoT in the manufacturing ecosystem has streamlined the production process by providing real-time feedback and alerts from the factory floor. Vast amounts of data thus collected have paved the way for the meaningful application of machine learning and artificial intelligence algorithms for fault prediction, quality assurance, etc. Cloud adoption in this sector is also on the rise, mainly due to the increased availability of cloud-based manufacturing systems alongside office productivity suites like Office365 and CRM systems like Salesforce. Together, IIoT, cloud, and big data are the technologies driving digital transformation in manufacturing. But for these technologies to be successful, the quality of connectivity is critical. The Enterprise WAN should have a robust architecture that is capable of transporting vast amounts of data generated from IIoT devices on the factory floor, prioritize mission-critical data from cloud-based manufacturing systems, support office productivity and CRM SaaS applications while ensuring that machines running AI and ML algorithms have access to data lakes.
Survey Findings
Aryaka has been conducting a short survey of manufacturing executives to gauge their motivation for migrating to SD-WAN. The findings were pretty consistent. A vast majority of them said enabling remote workers was a key consideration.

Figure 1 How have your networking priorities have changed this year due to COVID
The most widely used application was Office365, followed by Salesforce, Oracle, and SAP. Some respondents also mentioned engineering apps. These findings are not surprising, given that manufacturing firms have been adopting cloud applications for productivity and factory operations.

Figure 2 Top SaaS applications for remote workers
Delivering cost and operational efficiency was another key motivation for exploring SD-WAN solutions. Some respondents also mentioned the operations in a 'Lights-Out' environment. Again, these findings are consistent with our observation and the trend of moving to smart factories.

Figure 3 Primary drivers behind the move to an SD-WAN solution
Some respondents also mentioned MPLS augmentation or MPLS renewal as a triggering point to consider SD-WAN solutions. These findings are also consistent with our understanding that as this sector adopts cloud and SaaS applications, the bandwidth requirements will increase, and augmenting MPLS links to meet this demand will be expensive.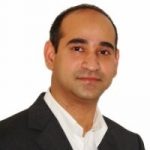 About Arun Natarajan
Arun is a Director of Product Marketing at Aryaka. He brings over 18 years of experience in marketing hi-tech products and services. He holds an MBA from London Business School and a technical degree from Bangalore University.
The content & opinions in this article are the author's and do not necessarily represent the views of ManufacturingTomorrow
---
Comments (0)
This post does not have any comments. Be the first to leave a comment below.
---
Post A Comment
You must be logged in before you can post a comment. Login now.
Featured Product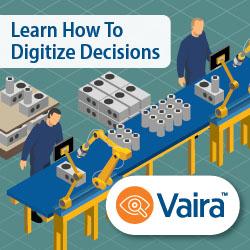 Vaira™ helps manufacturers digitize, automate, and upgrade error-prone manual processes and decisions to boost productivity and increase profits by helping humans make decisions consistent, reliable, and traceable. The camera-based solution is powered by a scalable suite of shop floor-ready apps built on proven machine vision and AI expertise for frontline manufacturing operations, with two-way integration to resource planning tools to help drive continuous analysis, insight, and improvements. Start digitizing immediately, streamlining processes customized to your unique requirements and reduce errors that lead to costs, delays, and quality concerns.