Cost-effective, easy to use, and quick to implement, web ERP software offer several functionalities and advantages to your process manufacturing businesses.
Advantages of Web-based ERP for the Process Manufacturing Industry
Sanjay Panjwani, Managing Director, | BatchMaster Software Pvt. Ltd.
Over the years, ERP software solutions have established themselves as tools that can help businesses manage all their critical processes and functions efficiently, by consolidating them into one integrated system. These systems not just deliver massive strategic and operational value to the businesses, but also complete control over their operations.
With their dedicated modules, features, and functionalities as such, the ERP software solutions can do a whole lot of things for your business. They can help accelerate your business cycles, improve output, and provide higher levels of service to customers, suppliers and partners, etc. to name a few. This way, ERP software can push your business towards the path of success.
And while the traditional on-premise solutions have remained the preferred choice for long, Cloud ERP solutions have left them behind in recent years. But Cloud ERP software too seem to be losing a bit of their shine, with web based ERP software — an agile and a hassle-free way to manage your business on-the-go — emerging as the new favorite.
Web ERP software - the in thing
Web ERP software brings in lot of convenience and flexibility, and no wonder it is finding many takers. It involves locating the system off-site and accessing it over a network through a web browser, allowing its users to perform virtually any function on the move, using just an internet-enabled device, the ERP URL, and a web browser.
Web ERP software makes use of your web browser as a front-end interface while all your important data is securely stored and made available through cloud servers, freeing you from the need of a single point workstation. This enables users to do multiple tasks efficiently and easily, and in the process, save a lot of time, money, and other valuable resources.
Cost-effective, easy to use, and quick to implement, web based ERP systems offer several functionalities and advantages over the traditional solutions. And quite rightly, today there is a huge demand for adopting web ERP models. Mentioned below are some advantages of web based ERP software:
No installation required: Possibly the best advantage a web based ERP software delivers is that it requires no installation, and can be used by anybody with the help of the link, a web browser, internet-enabled device, and login credentials. This is unlike the traditional systems, where the software has to be installed on every user machine.

Cost savings: With no implementation required, web ERP software can offer significant savings on cost, as well as other valuable resources, as the company doesn't have to invest in powerful servers, costly workstations, and other hardware equipment on the IT front, as well as on server maintenance, support, installing upgrades, service packs and security fixes.

Unlimited & uninterrupted access: The biggest advantages of using a web based ERP software is that it offers you location independence, which means you can access it from anywhere, and anytime, without any interruption; all that is required is a reliable internet connection and a compatible device such as tablet, phone, laptop, or desktop computer; irrespective of the platform- Windows, Android, iOS, or any otheroperating system.
With all your critical business data being stored on cloud, all the stakeholders can remain connected with each other irrespective of where they are located, access data remotely, share and exchange it with other remote users, and also maintain the overall smoothness of the workflow.
Scalability: Business growth comes with a number of challenges such as more customers, and more requirements in terms of processing data and managing resources. A web ERP system is highly scalable, and reduces the complexity associated with growth by allowing you to scale up your operations efficiently when demands are higher, and scale down when they aren't.

Quicker customization: With customers becoming more demanding than ever, businesses wish for the ability to customize at a faster rate. A web based ERP software can be set-up much faster as compared to other traditional ERP systems, and even allows customizations to the basic design at a relatively rapid pace.

Consistent user experience: With a web ERP system, every user experiences the same user interface with a single login and workflow no matter what device they are accessing it from. Consistency across a range of compatible devices plays a critical role in end-user training and adoption throughout the entire organization.
Advantages for the process manufacturing industry
Just like any other business, the process manufacturing businesses that include food & beverage manufacturing units, pharma manufacturing businesses, paint & coating industries, personal care and cosmetics businesses, and specialty chemical manufacturing businesses, among others, are also getting benefitted by using web ERP software.
By streamlining all business functions & departments through standardized processes, a web ERP system helps process manufacturing businesses meet quality & statutory compliances, turn out products faster, adjust their order capacity faster, get new sales order registered into the system straight from the customer's location in real time, etc.
Most importantly, with minimum human intervention required for processes, and with substantial savings of resources on all fronts, the process manufacturers can deploy their resources such as men, machine, and money for tasks of greater significance. All-in-all, aweb ERP software is a great package of convenience, flexibility, cost-efficiency, and utility for the process manufacturers.
Conclusion
In sum, a web ERP software can get to work right from day one, allowing your process manufacturing organization of any size and type to operate at maximum efficiency, accelerate business cycles, improve productivity & reliability, and provide matchless service to the customers. It indeed is the next step towards a smarter business management.
About Sanjay Panjwani, Managing Director, BatchMaster Software Pvt. Ltd.
I am MD at BatchMaster Software India Pvt. Ltd., a leading vendor of ERP solutions in all the 7 continents. With over 30 years of presence in the ERP market & 1500+ customers situated all over the globe, BatchMaster is a mature organization of 500 plus employees.
The content & opinions in this article are the author's and do not necessarily represent the views of ManufacturingTomorrow
---
Comments (0)
This post does not have any comments. Be the first to leave a comment below.
---
Post A Comment
You must be logged in before you can post a comment. Login now.
Featured Product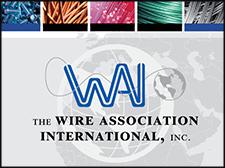 The Wire Association International (WAI), Inc., founded in 1930, is a worldwide technical society for wire and cable industry professionals. Based in Madison, Connecticut, USA, WAI collects and shares technical, manufacturing, and general business information to the ferrous, nonferrous, electrical, fiber optic, and fastener segments of the wire and cable industry. WAI hosts trade expositions, technical conferences, and educational programs.