Agile manufacturing is about creating flexibility to meet the market's expectations. By testing products in the market and making changes quickly, the product and its varying features, packages and options become more reflective of the voice of the customer, sooner.
Agile Manufacturing to Cope with Consumer Demands and COVID Challenges
Q&A with Maziar Adl, CTO | Gocious
Tell us about yourself and Gocious.
For the vast majority of my career, I have been dedicated to information management and finding ways to improve the long term performance of organizations and teams using better, accessible and timely information. I graduated from Sharif University of Technology, dubbed "the MIT of Iran," with a bachelor's in industrial engineering, and received a master's in information and operations management from University of Southern California, but I'm a big believer in continuous learning and have always been excited to learn new aspects of business and technology.
This desire to learn took me from working as a consultant for Fortune 500 companies to becoming the Co-founder and CTO of Gocious, a startup developing product planning software for manufacturers that empowers more efficient product innovation. I oversee end to end design, implementation, and development of products. It's been a great experience to learn in this capacity!
When most people think about the word "agile," software comes to mind. What does "agile" have to do with manufacturing?
It's applicable in both cases. Agile is a way of working, a set of practices that enables the efficient creation of software -- or a product in the manufacturing case. In an agile approach, the manufacturer would introduce the prototype to the market to elicit feedback, then implement that feedback and repeat. Through this iterative method, manufacturers can benefit from a slew of efficiencies, like speed to market and spend. In turn, it helps them react to the fast pace of change in today's landscape, from fulfilling consumer's shifting needs to successfully navigating extraneous market forces.

Why does being agile allow manufacturers to develop the best products and keep up with varying demand and customization requirements?
We recently executed a survey at Gocious that found that over 60% of manufacturers take six months or longer to develop a product. Just think about how much life has changed from six months ago to where we are now. Today's consumer expects products to be customized to their liking, and they expect to get them quickly. With the old way of doing things - taking a long time to develop the product, then bringing it to market only to realize that it's not a fit, leading to lost time and investment - aligning output with consumer expectation is nearly impossible.
Agile manufacturing is about creating flexibility to meet the market's expectations. By testing products in the market and making changes quickly upon introduction, the product and its varying features, packages and options become more reflective of the voice of the customer, sooner.
At a high level, what are some ways manufacturers can integrate agile manufacturing strategies? Will they have to upend their entire system?
Changing methods and processes in any organization can be a challenge, as it requires a change in technology, methods and mindset. That said, the biggest obstacle is often getting the process started.
Manufacturers do need the right tools to be agile. The most important component is ensuring efficient workflows, and having the right platforms at-hand to enable those workflows is vital. Seamless communication of plans and product definitions and quick receipt of approvals are critical for keeping the cycle in motion.
It's all about getting everyone on the same page about the product, even with numerous stakeholders in different roles across the organization. Ensuring everyone is aligned with the product definition, features and configurations keeps teams on schedule and on budget in today's hypercompetitive market.
How does agile manufacturing affect other aspects of product development, like pricing or supply chain?
Having the ability to quickly pivot a product before it goes to market is the driving factor in pricing. If manufacturers release a product that isn't functional, they are pushed back to the drawing board to figure out how to fix it, which will take some time and money but also extend the product lifecycle, which we know is something manufacturers want to reduce, all of which will require a cost increase for the end buyer.
As for the supply chain, an agile approach has the potential to act as a form of risk management. Recent effects of the COVID-19 pandemic on the supply chain provide a good example of how this can work. Many organizations' supply chains were disrupted due to the pandemic, particularly if they were sourcing materials from China, requiring materials to be obtained from other locations. But because the supply chain is interrupted, that doesn't mean consumer demand is, and the expectation is that manufacturers find a way to get the job done on time. To execute, manufacturers can use an agile method that enables materials to be sourced from a number of different providers, managing the supply chain through technology and ensuring that little time is lost.
Why will adopting these strategies be an expectation in the future growth and development of manufacturers?
For manufacturers, growth and development is reliant on how they can adapt to unforeseen challenges. At the same time, demand from consumers and the requirements for businesses to remain competitive are shifting faster than ever. Despite these factors, agile manufacturing can keep customers happy with lower costs and faster time-to-market, and even increase employee satisfaction by eliminating double-work and time spent on menial tasks. Getting an edge on the competition is crucial, and that's exactly what an agile approach provides.
About Maziar Adl
Maziar Adl is Co-founder and CTO of Gocious, a product planning software for manufacturers that empowers better product innovation for industries that include auto/mobility, industrial equipment, and high tech, where he oversees end to end design, implementation, and development of products. A strategic leader with a record for spearheading the successful design and rollout of medium to large scale technology roadmaps and transformation, Maziar has played a pivotal role in the creation of Gocious' cloud-based product decision analytics platform since he co-founded the company in 2018. Throughout his career, Maziar has become renowned as an expert in improving long terms performance strategies of organizations and teams using better, accessible, and timely information and analytics.
The content & opinions in this article are the author's and do not necessarily represent the views of ManufacturingTomorrow
---
Comments (0)
This post does not have any comments. Be the first to leave a comment below.
---
Post A Comment
You must be logged in before you can post a comment. Login now.
Featured Product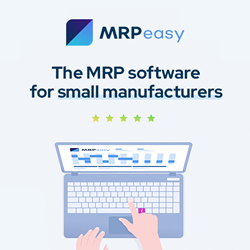 Always know what you have in stock and what you'll need to fulfill orders. Never forget to order parts on time or fail to notice a late delivery from your vendor. Easily create manufacturing orders and schedule them automatically according to resource availability or delivery deadline. Generate accurate cost and lead time estimates and provide customers with quick quotes. Receive notifications when orders are late or inventory levels reach a critical point. Ensure seamless communication between sales, production, warehousing, procurement, administration, and finance. Integrate with popular accounting, CRM, and e-commerce apps. MRPeasy is an ERP software for small manufacturers that gives you all that and more. Our users report a 54% average improvement in the overall performance of their business and a 42% increase in on-time deliveries. Try for free, no credit card needed.