Shortages of Ventilators and PPE has become a worldwide problem. Many of our manufacturing partners and other companies are stepping up to help with some innovative solutions. Here are just a few of the efforts being reported to us.
Manufacturers Step Up to Produce Personal Protection Equipment (PPE) and Respirators in a Hurry
Bob Hetherington for | ManufacturingTomorrow
Shortages of Ventilators and PPE has become a worldwide problem. Many of our manufacturing partners and other companies are stepping up to help with some innovative solutions.
Personal Protection Equipment (PPE) includes such things as masks, goggles and gowns which are necessary for our doctors, nurses and first responders to keep themselves safe from the coronavirus while they work.
Ventilators are used to keep seriously affected patients alive by essentially breathing for them by pumping air into and discharging air out of their lungs.
Here are just a few of the efforts being reported to us.
Face Masks and Shields
The Essentium reusable mask frame is made with material known as Essentium TPU74D (thermoplastic urethane) which allows for easy cleaning, and is used with a single-use, replaceable filtration media. The Essentium mask has been created for general non-medical use during COVID-19 epidemic, based on FDA Emergency Use Authorization. The company has made the design of the mask freely available through the National Institute of Health (NIH) open source model. As Essentium redirects resources to the production of this Personal Protective Equipment (PPE), it anticipates initial production capacity to be 5,000 units per week.
For information on the mask: https://resources.essentium3d.com/
The company launched a medical face shield e-commerce page, where anyone with a credit card or PayPal account can purchase the PPE for hospitals in need. In less than 24 hours, the landing page has facilitated over 1,100 purchases.
Shapeways prints the masks at its Long Island City factory, which has been granted an exemption by the New York City government to remain open.
Unlike cheaper face shields that cost $1 to $2 to manufacture, Shapeways' shields are medical-grade, can be sanitized and can be re-used multiple times.
More importantly, Shapeways is able to print its face shields and get them into hospitals in as little as 24 hours, and can supply thousands of shields a day.
Visit https://covid19.shapeways.com/ for further information
Maker Mask, a nonprofit initiative organized by leaders in technology, industry, and government, has announced significant and positive worldwide response to the group's designs for producing the Maker Mask, a medically reviewed and Open Source 3D printable protective mask for use during the COVID-19 pandemic. Small batch production sites in communities in 88 countries around the world have visited the makermask.com website and many are using the free designs and specifications for printing the 3D printer protective masks.
The Maker Mask, developed by inventor Rory Larson, can be manufactured using commonly available materials and hobbyist grade 3D printers for a cost of about $2 to $3 each for materials. The design allows CAD-based 3D mask printing to be combined with readily available, replaceable components such as weather stripping, elastic, and vacuum cleaner bags. The mask is re-usable, has replaceable filters, and heat-molds to each wearer's individual face for an airtight fit. Because it is reusable by just changing the filter, one Maker Mask is the equivalent of 300 disposable masks over a two month period. The Maker Masks are nearing NIH approval and a patent for the design is pending.
Visit http://makermask.com for further information
A 20-person digital manufacturing company has overhauled its business model to become one of the largest producers of reusable face shields in the U.S. ZVerse is currently producing 50,000 shields per day. By mid-April, capacity will grow to 100,000 shields per day. ZVerse Founder and CEO John Carrington projects the company will produce 20 million shields by July.
Visit http://BetheShield.info for further information
Ventilatiors - A complex bit of machinery?
We keep hearing about a shortage of ventilators needed to help people breath when under attack by the virus. These are complex machines that are much more than just air pumps. They need to precisely measure and deliver air to the patient without damaging the lungs by over or under pressurizing. As it turns out it is not just ventilators that are in short supply, but the supply chain of parts necessary to build them is a key issue when it comes to trying to scale up the production.
Here are some examples of the manufacturing industry making effort to help:
A team of researchers at Worcester Polytechnic Institute (WPI) is creating designs to turn inexpensive and readily available manual, hand-held, bag valve mask (BVM) resuscitators into automated ventilators that could be used to fill the deep gap between the number of life-saving ventilators available and the much larger number that will be needed when COVID-19 is expected to peak.
A commercial ventilator costs anywhere from $25,000 to $50,000. A complete ventilator converted from a manual resuscitator with the WPI designs is expected to cost less than $500 and be made with readily available components.
Visit http://www.wpi.edu for further information
Around the world, hospitals are looking for medical equipment capable of delivering air with added oxygen to treat critically ill coronavirus patients. Currently this treatment is carried out using mechanical ventilators, which are critically under-supplied. As a result, clinicians today are exploring different methods to apply positive end expiratory pressure (PEEP) to the lungs of COVID 19 patients without the use of a ventilator.
Materialise has developed a solution to deliver oxygen and create high positive pressure without the use of a ventilator. A 3D printed connector converts standard equipment already available in most hospitals into a non-invasive PEEP mask (NIP) that can be connected to the oxygen supply (to facilitate breathing for coronavirus patients). This solution gives patients an extended period of time before mechanical ventilators are required for treatment, and helps transition them off ventilators earlier, freeing up these devices for patients in critical need. By using standard medical equipment, including a non-invasive ventilation (NIV) mask, a filter and a PEEP valve, the solution is simple and familiar to use for medical professionals.
Ford, in cooperation with the UAW, will assemble more than 100,000 critically needed plastic face shields per week at a Ford manufacturing site to help medical professionals, factory workers and store clerks; Ford also will leverage its in-house 3D printing capability to produce disposable respirators for healthcare workers
For the manufacture of both type of components, the CRP Technology's Rapid Prototyping Department has used the 3D printing technology called HSS (High Speed Sintering) and the Windform® P1 isotropic material.
And here is just a sample of the other efforts we are seeing from companies and organizations to help with the crisis:
If your company has a story about their efforts in this important cause please be sure to let us at ManufacturingTomorrow know about it by posting your press release in our special news report.
Click here to Submit Your Free Show News Release
No Sign In necessary and it will also show up on our general news page
The content & opinions in this article are the authorā€™s and do not necessarily represent the views of ManufacturingTomorrow
---
Comments (0)
This post does not have any comments. Be the first to leave a comment below.
---
Post A Comment
You must be logged in before you can post a comment. Login now.
Featured Product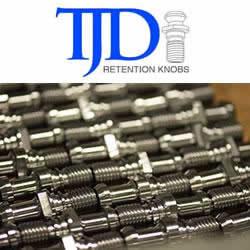 The retention knob or pull stud is a critical component to the tool holder's performance and cutting tool life. T.J. Davies' retention knobs are the highest quality retention knobs on the market. Our retention knobs, also called pull studs, are made in American from American drawn steel. For over 50 years, we have been second to none. We utilize 8620 and 9310 alloy steel for its high tensile strength to withstand strong centrifugal force, high load force, high feed rate, and difficult-to-machine material in the era of current CNC machining environment. As the forces exponentially increase, precision and strength in machining and tooling requires a higher quality of the retention knob or pull stud connecting the spindle to the tool holder.