The Polyamide material exhibits very good chemical resistance and is especially oil resistant. A reduced lead-time and cost over our standard metal threaded nut is always good for buyers and planners.
Binders M12A Male & Female Cable Connector with Plastic Threaded Ring
Q&A with Joe Amato, Director of Sales and Business Development | Binder-USA, LP
Tell us about Binder and your role with the company.
Binder is a Global manufacturer of circular connectors. We are a vertically integrated connector company that is headquartered in Neckarsulm Germany, with subsidiaries around the globe. We have been manufacturing connectors since 1968, with 1600 employees currently. Binder has been defined by traditional values and leads with the quality of its product and service.
I am the Director of Sales for North America; I have been working for Binder over 6 years, with over 23 years in the connector industry. It is easy to lead the NA team knowing the family owed business is true to their traditional values.
Binder has recently released a Male & Female cable connector, tell us about that product and what is unique.
These new threaded connectors are a good addition to our current product offering for the Automation and Sensors markets. These plastic M12 A-coded cordsets are light weight, reduced cost, IP68 in a mated condition, UV resistant material, temperature resistant, molded and ready to use. We will offer this product in 5 configurations, 3,4,5,8 and 12 contacts per cordset. These are industry standard cordsets with gold plated contacts. The cable jacket is made of a PUR material and cordsets are available in Male and Female versions.
What are some advantages of Plastic M12 sensor cordsets over metal M12 styles.
The advantages for these M12 A-coded cordsets is less weight, less cost and reduced lead-times. Not all applications or designs are concerned about less weight but, some applications that need to reduce every ounce, this is the prefect solution over metal. The Polyamide material exhibits very good chemical resistance and is especially oil resistant. A reduced lead-time and cost over our standard metal threaded nut is always good for buyers and planners.
Is a plastic M12 cable connector able to withstand high temperatures.
This Polyamide is considered a high performance plastic and can withstand high temperatures and electrical resistance. It is widely used in the automotive & transportation markets, consumer goods and electrical and electronics applications.
Where in the manufacturing sector are you seeing this product being integrated.
We have had many customer request binder to offer a plastic solution in the automation and sensors, measurement, medical, food and beverage segments. They wanted an alternative solution for the food and beverage market to stainless steel connectors. Stainless steel is expensive, heavy and long lead-times.
As manufacturing lines and factories become increasingly connected why is using the right quality cabling so important.
As we continue down the path of industry 4.0 and the IIOT, making a reliable connection is essential to productivity and knowledge. Smart devices are supplying important pieces of data and without that data being transmitted properly, the whole system will fail. Robots are programed to perform certain task, without a cordset connecting the robotic brain to the robotic labor, nothing will happen. These cordsets supply the transmission data to optimize the computerization of Industry 4.0.
The content & opinions in this article are the author's and do not necessarily represent the views of ManufacturingTomorrow
---
Comments (0)
This post does not have any comments. Be the first to leave a comment below.
---
Post A Comment
You must be logged in before you can post a comment. Login now.
Featured Product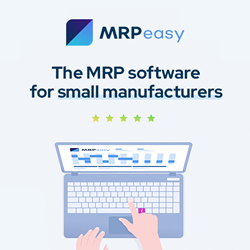 Always know what you have in stock and what you'll need to fulfill orders. Never forget to order parts on time or fail to notice a late delivery from your vendor. Easily create manufacturing orders and schedule them automatically according to resource availability or delivery deadline. Generate accurate cost and lead time estimates and provide customers with quick quotes. Receive notifications when orders are late or inventory levels reach a critical point. Ensure seamless communication between sales, production, warehousing, procurement, administration, and finance. Integrate with popular accounting, CRM, and e-commerce apps. MRPeasy is an ERP software for small manufacturers that gives you all that and more. Our users report a 54% average improvement in the overall performance of their business and a 42% increase in on-time deliveries. Try for free, no credit card needed.