Are you looking for new ways to produce metal parts? Do you repair or replace metal parts due to corrosion or wear? Are you responsible for maintaining high-value metal parts? Is it time you added metal additive manufacturing to your company's capabilities?
Quick Guide to Metal Additive Manufacturing for Industrial Components
Tom Cobbs, Product Manager | Optomec
Metal additive manufacturing has been around for decades now. What was once just an interest in scientific research centers and universities is now being found in use globally at state of the art manufacturing facilities. It is used across many industries, from medical and auto to aerospace and energy. And it continues to grow. As it advances in sophistication and to a more robust and stable processing means, it is rapidly moving from just something of interest by early adopters to full-blown qualification and use in the most demanding of industrial settings.
Metal additive manufacturing is increasingly being considered as a replacement, enhancement, or alternative means to traditional metal part production and repair, especially in applications where parts are vital, costly, and maximizing uptime is a top priority. It can provide huge cost savings and offer dramatic reductions in lead times. Some examples include:
Fast building of prototypes or full-scale production parts.
New designs not possible with previous manufacturing methods that can light-weight existing products, enhance material properties, and decrease overall material waste.
Printing of legacy parts (older parts that cannot be sourced anymore).
Decrease the number of manufacturing steps in the building of a product.
Repair of high-value parts (repair instead of replace).
Immediate printing or repairing of parts that have very long lead times.
These are just a few reasons it is growing in popularity, especially in repair where analysts estimate that nearly $300 billion is spent annually in the U.S. alone due to corrosion or wear.
With so much at stake, it's important to know more about metal additive manufacturing and the various processes in use today. If you're a newcomer to the additive world, not to worry, we have a "101" overview of metal additive manufacturing processes to get you started.
First, let's look more closely at the term additive manufacturing. It is not a new term. In fact, it has been around since the 1980s. Many believe it will be the next industrial revolution. Often additive manufacturing is used interchangeably with 3D Printing (since we are only considering metals here, note that "metal additive manufacturing" is also synonymous with "3D metal printing"). For our purposes, both terms reference the same thing – the process of building parts, repairing parts, or adding features onto existing parts, layer-by-layer from geometry described in a CAD model. Whether you call it additive manufacturing or 3D printing, the benefits are the same: complex parts can be built more easily, more quickly, and cost-effectively with less waste and significant functionality gains.
Taking things one step further, these terms bring up a whole other set of new vocabulary that can be confusing and intimidating to those unfamiliar with the vernacular.
What's the difference between laser cladding and directed energy deposition? How does powder bed fusion compare to binder jetting? What about Laser Metal Deposition, Laser Engineered Net Shape, (our own LENS™) and Direct Metal Deposition, DMD™, Automated Laser Welding – are these terms all referring to the same process?
We have answers for you. The new Optomec Quick Guide to Metal Additive Manufacturing for Industrial Components provides a succinct overview of the top technology lexicon approaches to metal additive manufacturing according to the ISO/ASTM 52900 Additive Manufacturing general principles and terminology. In addition to Powder Bed Fusion (PBF) and Directed Energy Deposition (DED), which we detailed in a previous blog post about the two most common methods used today for metal additive manufacturing, we describe wire-feed DED, electron beam (EBAM), binder jetting, and outline the advantages and disadvantages of each.
From titanium and copper to stainless steel and other alloys, the quick guide lists typical deposition rates as well as ideal applications for each approach.
If you are looking for a quick and easy way to navigate the various technologies associated with metal additive manufacturing – download this guide today.

About Tom Cobbs
An experienced welding engineer, mentor, leader, and specialist in onshore and offshore materials, Tom is the product manager for the Optomec LENS family of metal additive manufacturing solutions.
The content & opinions in this article are the author's and do not necessarily represent the views of ManufacturingTomorrow
---
Comments (0)
This post does not have any comments. Be the first to leave a comment below.
---
Post A Comment
You must be logged in before you can post a comment. Login now.
Featured Product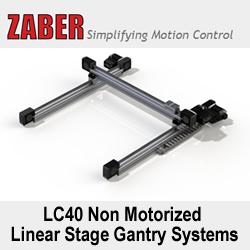 A Zaber gantry kit comes with everything you need to build a customized XY gantry system or XYZ gantry system. These gantry systems feature coordinated multi-axis motion, plug-and-play operation, easy integration with end-effector options, and built-in IO and E-Stop capabilities. An intuitive ASCII interface allows the user to easily communicate with the gantry systems using our free software, either Zaber Motion Library with APIs for several popular languages or Zaber Console. Third party terminal programs that can communicate over a serial port can also be used.