Xometry is excited to highlight our newest manufacturing capability, Carbon DLS. Carbon uses digital light projection, oxygen-permeable optics, and programmable liquid resins to produce products with end-use durability, resolution and surface finish. Visit us at Booth #A4343

FABTECH Q&A with | Xometry
Tell us about your company.
Xometry is the largest online marketplace for custom manufacturing, connecting companies with manufacturing solutions through proprietary AI algorithms. Xometry provides on-demand manufacturing and industrial supply materials to a diverse customer base, ranging from startups to Fortune 100 companies. Xometry offers CNC machining, 3D printing, sheet metal fabrication, injection molding, and urethane casting.
Your company will be exhibiting at FABTECH Expo, what is it that makes this an important event for your company?
FABTECH Expo is an important event for Xometry because it allows us to showcase our capabilities and learn about other innovations in the industry. Many customers know Xometry for instant quoting, CNC Machining, and 3D printing, but there's so much more! Xometry has quickly become the largest manufacturing marketplace for custom parts and industrial material and tooling. Xometry is able to showcase all these capabilities and learn more about our customer's needs so we can continue to grow our business.
What makes your booth a must-visit for FABTECH Expo Attendees?
This year Xometry is excited to highlight our newest manufacturing capability, Carbon DLS. Carbon uses digital light projection, oxygen-permeable optics, and programmable liquid resins to produce products with end-use durability, resolution and surface finish.
Xometry is also very excited to feature Xometry Supplies. Our new eCommerce platform houses over 115,000 SKUs of industrial tools and Aluminum 6061 and was designed to ensure manufacturing facilities are able to source the material and tools they need in a fast and efficient way.
FABTECH Expo has many educational sessions, forums & Demo's, is your company involved in any of them this year?
Stop by Booth A4343 and see a live demo of Xometry's Instant Quoting Engine. Xometry is able to instantly quote 11 different manufacturing capabilities, including Carbon DLS.
When you get a chance to walk the exhibit hall floor yourself, what is it you will be most interested to see? Any educational sessions, pavilions, etc. you plan on attending?
When walking the exhibit hall floor we are looking forward to seeing the innovation in the manufacturing industry. Xometry enjoys learning about other companies' innovations while meeting with customers and learning about their pain points so we can improve our services.
Advanced Manufacturing is undertaking rapid advancements, be it 3D Printing and the materials used in automation and robotics. Automation Technology is a huge part for many manufacturers, give us an idea on how your company and product is being utilized now in the smart factory.
Xometry is the largest manufacturing marketplace powered by artificial intelligence. Our customers are able to get instant pricing and lead times in 11 manufacturing capabilities and over 100 materials. While our over 3,000 Manufacturing Partners can accept jobs without the need to manually quote allowing them to focus on manufacturing. The Xometry Instant Quoting platform is streamlining the process which improves efficiency and expedites rapid prototyping through production.
Give us your thoughts on what the future holds for manufacturers and automation technology.
The future of manufacturing will be impacted by artificial intelligence, faster speed, and new technologies. Customers will need to speed up their innovation cycles and the availability of a variety of capabilities to improve the prototyping phase will be essential. Customers will also need parts in days instead of weeks or months to keep with the prototyping schedule. Additionally, manufacturers will need a way to streamline quoting to remain competitive in the fast manufacturing landscape. The manufacturers will also need to be able to get material and tooling quickly and efficiently to be able to manufacture parts rapidly.
The content & opinions in this article are the author's and do not necessarily represent the views of ManufacturingTomorrow

Xometry
Our instant quoting platform and nationwide network of machine shops is transforming American manufacturing. We make it easy for all customers - from startups to Fortune 500 companies - to access manufacturing on demand by providing the most efficient way to source high-quality parts.
Other Articles
Discover why this innovator in the micromobility powersport space chose Xometry to produce 50% of parts found in its flagship electric motorcycle, the Ryvid Anthem.
Machinist shortage is a tricky problem that shop owners constantly face. Here are some ways to solve it and help you attract and retain them.
A team of engineers and medical experts joined forces during the first wave of COVID-19 to rapidly prototype a medical device. Xometry manufactured 9 prototypes in under 3 weeks, providing advice and rapid production for critical decision making.
---
Comments (0)
This post does not have any comments. Be the first to leave a comment below.
---
Post A Comment
You must be logged in before you can post a comment. Login now.
Featured Product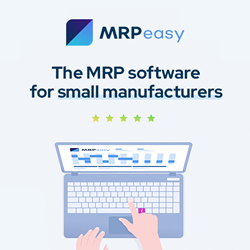 Always know what you have in stock and what you'll need to fulfill orders. Never forget to order parts on time or fail to notice a late delivery from your vendor. Easily create manufacturing orders and schedule them automatically according to resource availability or delivery deadline. Generate accurate cost and lead time estimates and provide customers with quick quotes. Receive notifications when orders are late or inventory levels reach a critical point. Ensure seamless communication between sales, production, warehousing, procurement, administration, and finance. Integrate with popular accounting, CRM, and e-commerce apps. MRPeasy is an ERP software for small manufacturers that gives you all that and more. Our users report a 54% average improvement in the overall performance of their business and a 42% increase in on-time deliveries. Try for free, no credit card needed.