Booth #B37012. All of our new products are developed with networking capabilities that allow us to save and record manufacturing information, broadcast it to key stakeholders and self-identify when connected to other equipment.

FABTECH Q&A with | AMADA MIYACHI AMERICA
Tell us about your company.
AMADA MIYACHI AMERICA is a leading manufacturer of equipment and systems for resistance welding, laser welding, laser marking, laser cutting, laser micromachining, hermetic sealing, projection welding, and hot bar bonding. The company provides products to a wide range of markets, including the medical device, battery, electric vehicle, and solar industries, as well as the global electronics, automotive, and general industrial markets.
Since 1948, AMADA MIYACHI AMERICA has worked to achieve one goal: to solve our customer's manufacturing challenges. Knowing there is no one solution that fits all, we strive to provide our customers with innovative and reliable manufacturing technology solutions so that we may be their single source provider.
Our headquarters is located in Monrovia, California with state-of-the-art facilities for developing, producing and servicing the solutions offered to our worldwide customer base. A global company, AMADA MIYACHI AMERICA also has sales offices and applications laboratories located in Detroit, Michigan; El Paso, Texas; and Sao Paulo, Brazil.
Your company will be exhibiting at FABTECH Expo, what is it that makes this an important event for your company?
FABTECH is North America's largest metal forming, fabricating, welding and finishing event. It is the best place for us to display our latest welding technologies and meet customers and prospects.
What makes your booth a must visit for FABTECH Expo Attendees?
We are highlighting our state-of-the-art weld monitoring capabilities for both resistance spot welding and laser welding. We firmly believe that weld monitoring is the key to reducing cost and maximizing throughput and revenue.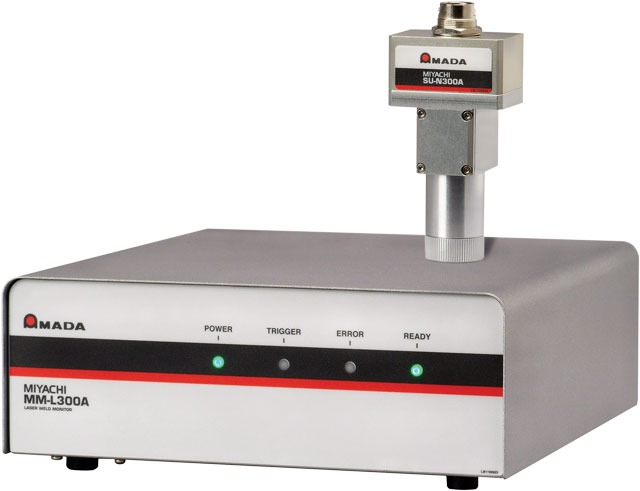 MM-L300A Laser Weld Monitor
The MM-L300A works by detecting and recording a thermal signal over time from the area of laser interaction during and immediately after the welding process. It features high temporal resolution (down to 1 μs) with a dedicated sensor to monitor a metal welding process created by either CW fiber lasers or pulsed lasers. MM-L300A can detect production defects such as:
Gap between parts
Missing part or out of focus
Over-penetration or spatter
Presence or absence of cover gas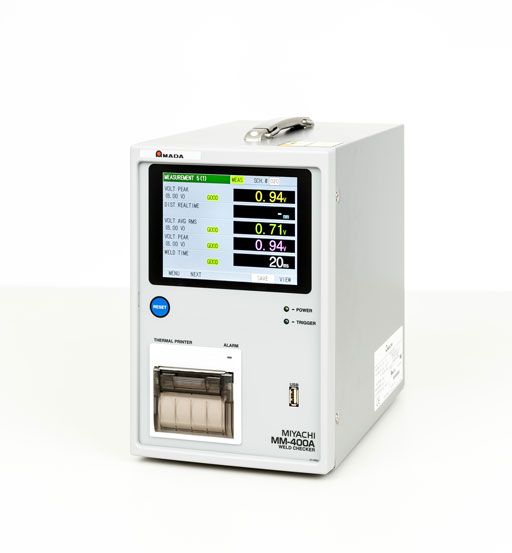 MM-400A Desktop Resistance Weld Monitor & MM-410A Handheld Resistance Weld Monitor
The MM-400A and MM-410A enable operators to monitor and manage key welding variables that result in changes in weld heat such as current, voltage, time, force and displacement. The compact units support a wide range of resistance welding technologies including AC, DC inverter, AC inverter, transistor and capacitive discharge. Both feature simple and intuitive user interfaces and color touch panel displays. Both monitors comply with ISO17657 for measurement of current. The MM-400A and MM-410A can detect production defects such as:
Missing part
Part alignment incorrect
Force problems
Electrode wear
FABTECH Expo has many educational sessions, forums & Demo's, is your company involved in any of them this year?
Dr. Mark Boyle speaking:
Monday, 11/11 – Lasers and Systems for Advanced Manufacturing – 2-3:30 SESSION LEADER
Tuesday, 11/12 - Knowledge Bar - Manufacturing considerations for Micro Welding processes – 2-3:30.
Thursday, 11/14 – Resistance Weld Monitoring for Improved Product Quality– 10-11:30
When you get a chance to walk the exhibit hall floor yourself, what is it you will be most interested to see? Any educational sessions, pavilions etc. you plan on attending?
We will be most interested to see the new trends in the market at vendors and competitors.
The Advanced Manufacturing is undertaking rapid advancements, be it 3D Printing and the materials used in automation and robotics. Automation Technology is a huge part for many manufacturers, give us an idea on how your company and product is being utilized now in the smart factory.
All of our new products are developed with networking capabilities that allow us to save and record manufacturing information, broadcast it to key stakeholders and self-identify when connected to other equipment. We are also outfitting our existing products with this capability.
Give us your thoughts on what the future holds for manufacturers and automation technology.
The future will see a greater push for automation (reduced operator interaction) and data recording and analysis. The driving factors are improved quality and throughput.
The content & opinions in this article are the author's and do not necessarily represent the views of ManufacturingTomorrow
---
Comments (0)
This post does not have any comments. Be the first to leave a comment below.
---
Post A Comment
You must be logged in before you can post a comment. Login now.
Featured Product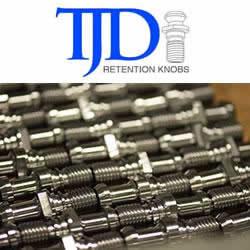 Our retention knobs are manufactured above international standards or to machine builder specifications. Retention knobs are manufactured utilizing AMS-6274/AISI-8620 alloy steel drawn in the United States. Threads are single-pointed on our lathes while manufacturing all other retention knob features to ensure high concentricity. Our process ensures that our threads are balanced (lead in/lead out at 180 degrees.) Each retention knob is carburized (hardened) to 58-62HRC, and case depth is .020-.030. Core hardness 40HRC. Each retention knob is coated utilizing a hot black oxide coating to military specifications. Our retention knobs are 100% covered in black oxide to prevent rust. All retention knob surfaces (not just mating surfaces) have a precision finish of 32 RMA micro or better: ISO grade 6N. Each retention knob is magnetic particle tested and tested at 2.5 times the pulling force of the drawbar. Certifications are maintained for each step in the manufacturing process for traceability.