Because dispense applications are so important in the manufacturing industry, companies are now looking for ways to improve the dispense accuracy and quality by investing in the latest in dispensing technology by way of semi-automated robot dispensing technologies.
The Impact of Robotics in Fluid Dispense Applications in Manufacturing
Contributed by | Sarah Saker
Many manufacturing companies rely heavily on the dispensing of fluids and adhesives but in doing the dispensing, it's done manually. Manually dispensing these fluids get the job done but there are several disadvantages of the method.
You've heard of "getting what you put in" when it comes to the quality of work, right? Well, that same theory applies to manual dispensing as well. And the saying for that would be "the quality of dispense is only as high a quality as the operator doing the dispensing." So what does that mean? It means that dispense accuracy is a must… To test it out, you can compare dispense accuracy by looking at different products that were manually dispensed by the same operator.
That might sound like overkill but it's the only way to determine the accuracy of the manual dispense… not doing so can result in poor accuracy, which can result in higher manufacturing costs all because of wasted time and work.
Role of Robotics
Because dispense applications are so important in the manufacturing industry, companies are now looking for ways to improve the dispense accuracy and quality by investing in the latest in dispensing technology by way of semi-automated robot dispensing technologies. Is this a sign that robots will take our jobs? Will the use of robotic technology put dispense operators out of a job? Not necessarily but investing in robotic dispensing technologies would be an extremely smart business move for companies. Why is that? Because of all the benefits it will give a manufacturing company. Some of the biggest benefits include:
Higher productivity

Less waste and rework

Overall higher product quality
Those are all major benefits of the investment but the biggest one that really beats out the manual dispensing is the fact that the product quality is always the same (as long as the specifications match the adhesive) but you just don't always get consistent results with manual dispensing. Robotworx states that dispensing robots is the epitome of product precision and the reduction of human error.
If a company does decide to take this route, the investment will, of course, be quite expensive and payment will be required upfront but even with its hefty price tag, lots of companies have seen a quick ROI which, in turn, reduces manufacturing costs in the long run.
Types of Robots
When looking at application technologies for robotic dispensing, you're going to need to look at two factors and those are the type of dispenser a manufacturer is going to use and the type of robot that will be controlling the dispenser. Lots of times, assemblers may think they know what type of dispenser will be used but they might be sadly mistaken. The thing to realize is that using robotics in this spectrum is an upgrade from manual dispensing so with that upgrade, that also sometimes means that an upgraded dispensing system will be needed as well.
The types of robots needed to take on such processes aren't your typical "Rosie the Robot" that you would see on The Jetsons… these robots are defined by how many axes they have. A robot with two axes move up/down and left/right. A robot with three axes move up/down, front/back, and side/side. Robots with four or more axes engage in rotations.
How They're Made to Improve the Industry
Now, one thing that people don't think about is everything that goes into creating these robot dispensing systems. The only way that these robotic dispensing systems are able to provide the proven results and benefits of product accuracy and quality, as well as lower manufacturing costs, is how well the industry experts designed the robot.
That's how it goes with anything really. The way clothes fit, feel, and look on a person is dependent upon how well the designer made the clothes, right? There are robotic experts who have been in the industry for years and have extensive amounts of experience on how to meet the needs of customers.
The way these robotic technologies have become so successful is by designers performing experiments on customer products to ensure they're providing and building an accurate robot dispensing technology that will give the best results possible. Because these robots provide such high-quality products, it's no wonder why they're ideal solutions for adhesives and bonding in various industries. Some industries that benefit greatly from robotic dispensing include:
Aerospace

Industrial assembly

Medical

Lighting

Automotive

Electronics
As you can see, robotics plays a major role in several industries. That's not to say that they will replace human engagement in the workforce but there are certain areas that robots are just more efficient and effective, and fluid dispensing is one of those industries benefiting from the technology.
The content & opinions in this article are the author's and do not necessarily represent the views of ManufacturingTomorrow
---
Comments (0)
This post does not have any comments. Be the first to leave a comment below.
---
Post A Comment
You must be logged in before you can post a comment. Login now.
Featured Product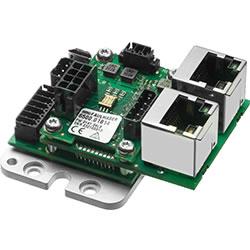 Optimal application design or maximum torque? With FAULHABER BXT flat motors, both are possible. Matched stainless-steel planetary gearheads, the integrated encoder and the speed controller provide exceptional torque and high positioning accuracy in the smallest of spaces.