New technology is poised to transform the way machines operate in the industrial environment. Costly consultants and confusing spreadsheets are out, and easy to understand dashboards are in.
Revolutionary Technology Addresses Industrial Downtime
Lloyd Clark | BlueRidge.ai
According to the research firm Aberdeen, the cost of industrial downtime is skyrocketing. The average cost of one hour of downtime has risen 60 percent since 2014, rising to an average cost of $260,000 today. New technology is being introduced that can solve the dull, dirty and dangerous industrial challenges that cause such damaging downtime.
Startup companies have begun integrating the Industrial Internet of Things (IIoT) and machine learning (ML) to predict and prevent costly unplanned downtimes – with minimal IT integration. Some of these founders have roots in government intelligence work, bringing the appropriate deployment of artificial intelligence (AI) and ML to software-defined networks. It's the combination of real-world experience and analytical expertise that is needed to make smart manufacturing simple.
This space is hot, with some startups securing significant funding to ramp up initial successes. These startups are focusing on the heavy industrial electric motors that are used by manufacturers and other large organizations, such as hospitals. Whenever these motors aren't running, for any reason, the result is costly downtime. Previously, the costs for preemptive maintenance would have been prohibitive for these organizations due to huge investments in legacy technology.
All that changes with the application of ML and predictive analytics. Sensors take readings from motors on a constant basis, creating baselines and looking for anomalies. This could mean the motor doing anything unexpected – from simply not running optimally all the way to something serious that could endanger workers. With this rich information, presented in a cohesive and understandable way, companies can make predictions that keep the machines up and running.
Sensors and AI are already in action with select Fortune 500 manufacturers and heavy industrial companies. This technology was a sensation at the July 2019 EASA trade show in Las Vegas, with demonstrations of proprietary IoT multisensors on operating industrial motors, feeding snappy dashboard GUIs and data collection for AI processing.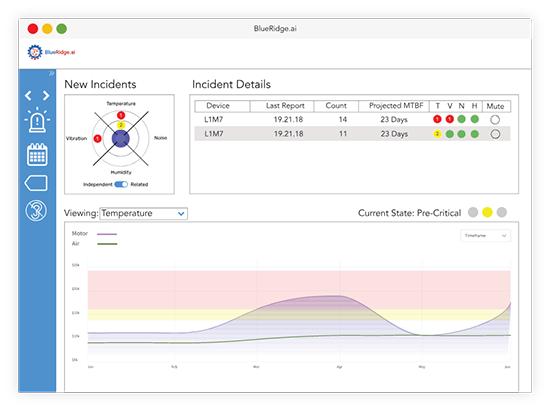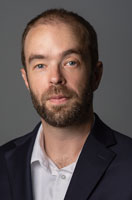 In this way, manufacturing is on the cutting edge of the move towards the IoT future. Increasingly the Internet will be made up not of people connecting but billions of devices in constant contact – printers, appliances, cameras – anything with an IP address. Without AI and ML, this tidal wave of data would be of little use. With such advanced technology however, historical performance data becomes a treasure trove of insight driving better performance at lower costs.
New technology is poised to transform the way machines operate in the industrial environment. Costly consultants and confusing spreadsheets are out, and easy to understand dashboards are in. With the possible exception of cybersecurity, no other market can get more benefit from predictive analytical modeling. The dull, dirty and dangerous challenges of manufacturing are suddenly sexy and easy to solve!
About Lloyd Clark
Lloyd Clark is the Founder of BlueRidge.ai, a platform that harnesses proprietary Industrial IoT multi-sensors and artificial intelligence to help manufacturers and heavy industrial companies to perform at their peak by maximizing uptime quality control, and safety.
The content & opinions in this article are the author's and do not necessarily represent the views of ManufacturingTomorrow
---
Comments (0)
This post does not have any comments. Be the first to leave a comment below.
---
Post A Comment
You must be logged in before you can post a comment. Login now.
Featured Product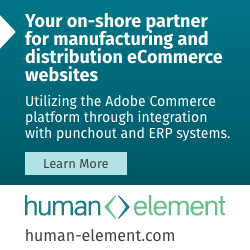 With Human Element, you will build a strategic partnership with experienced on-shore strategists and developers who understand the pain points unique to manufacturers and distributors. Using Agile methodologies and proven eCommerce website development strategies, our team positions clients for success.