UrsaLeo is an IoT platform company that aims to make it easy for companies to collect their sensor data in the cloud, store it, visualize it and integrate it with other IT systems. This is done in a highly secure and scalable fashion.

John Burton | UrsaLeo
Tell us a bit about UrsaLeo and its role in the manufacturing industry?
UrsaLeo is an IoT platform company that aims to make it easy for companies to collect their sensor data in the cloud, store it, visualize it and integrate it with other IT systems. This is done in a highly secure and scalable fashion. From a manufacturers point of view all the stuff we take care of is extremely hard and time consuming to implement. Even once it's implemented there's a necessity to have IT staff to maintain and manage it. We remove all of those headaches for them.
Why has IoT not been adopted in Industry 4.0 as fast as it's benefits would suggest it should be?
In our view, the main reason is because it is hard to do, much harder than it appears or you would get from reading about the subject online. First you have to deal with the sensors and the embedded side – that typically requires good embedded software skills. Then you have to deal with security – security of sending the data, storing it and also user login security. Then scalability – what works for 100 sensors might fail completely for 10,000. On the cloud side there's a multitude of required skills – not many manufacturing companies have the skills to implement virtual machines, docker containers, Kubernetes and on and on. Then making the data do useful things requires a mix of off-the-shelf and custom programming. You need DevOps staff to maintain and upgrade the system – without continuous patching it rapidly becomes unsecure and unstable. Then API's in and out require a good knowledge of crypto-security. So to do all this is a multi-million dollar investment – IF you can assemble the right people, make them work as a team and deliver.
What is set to change in IoT in manufacturing over the next 3-5 years?
Much more use of public cloud in addition to local cloud. It just makes sense to leverage Google, AWS, Microsoft and the data centers they have built instead of using your own. It also makes gathering data globally much more realistic and practical. Advanced visualization – dashboards are great but not for wading through 2,000 sensors. We are working on a pilot project to deliver scale accurate 3D models with sensor and asset data overlaid in the Oil and Gar industry, expect to see much more of that. Use of machine learning – this requires a lot of underlying structure to tag data and use data to train neural networks but it promises to deliver results such as effective predictive maintenance. Seamless edge to cloud computing – train an algorithm in the cloud and move it to the edge and back. Sounds easy, but it isn't.
How does the availability of low cost AI chips from Google, Intel and NVIDIA change manufacturing IoT applications?
Low cost AI chips open up a plethora of edge applications. Straight machine vision (use cameras instead of human inspectors), object recognition done on low cost hardware, object tracking are just three we are implementing. We now have the ability to bring all the technology that people are getting used to with Siri and "Hey Google" and deliver it to the edge.
Do you think 5G will play a big role in the factory environment?
5G – Hard to say. There's not really a communication / bandwidth problem inside a factory – much more so in an outdoor facility. It will open the capability to stream high definition video from remote locations – but there are other factors in play such as storing such volumes of data and the cost associated that may make that an unappealing thing to do.
What are the biggest challenges in IoT security today?
IoT security. Making hardware manufacturers implement the available security to prevent device hacking. Devices can now be made very secure – at a cost. Educating people on understand why they would pay more for what seems like the same thing is a problem – until their devices get hacked and they lose a bunch of data (or worse, a system is made to do something dangerous). On the cloud side you need to start with a good architecture – most people don't because it's harder to implement. Hackers love to get into cloud accounts – infinite compute resource to play with. In the end systems can be made very secure with time, money and effort, but getting that done requires education.
How will IoT data be visualized in coming 3-5 years?
We think it's a mix. The good old dashboard will still be there, advanced analytics tools being used on historical data. The most exciting piece of this for us is mapping data onto 3D models that can be panned, zoomed, rotated – and even viewed in VR. That's pretty much already here. And then in the future there will be AR. Walk around a factory wearing glasses that overlay sensor and other data of machinery you are looking at. Still a few years away to do this seamlessly and at reasonable cost.
About John Burton, CEO and co-founder, UrsaLeo
John is a technology veteran and has worked with original equipment manufacturers (OEMs) in Europe, US and Japan. Over his 30-year career, he has seen how motors, pumps, and irrigation equipment are designed, and has provided both commercial and technical advice to many companies. In the last five years, the rise of cloud computing, low cost sensors and local processing power has led to the rise of the Internet of Things (IoT) – connecting equipment and processing data from the equipment in the cloud. John founded UrsaLeo with CPO/COO Angie Sticher with the intention of making this technology easily available to these equipment makers.
The content & opinions in this article are the author's and do not necessarily represent the views of ManufacturingTomorrow
---
Comments (0)
This post does not have any comments. Be the first to leave a comment below.
---
Post A Comment
You must be logged in before you can post a comment. Login now.
Featured Product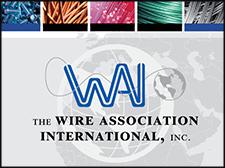 The Wire Association International (WAI), Inc., founded in 1930, is a worldwide technical society for wire and cable industry professionals. Based in Madison, Connecticut, USA, WAI collects and shares technical, manufacturing, and general business information to the ferrous, nonferrous, electrical, fiber optic, and fastener segments of the wire and cable industry. WAI hosts trade expositions, technical conferences, and educational programs.