The role of Robotic Process Automation (RPA) in Digital transformation as part of disruptive technology space is relentlessly becoming a sneak peek for FTE (Full time equivalent) benefit and ROI (Return on Investment) realization.
RPA: A Low-hanging Fruit in Digital Transformation?
Gaurav Dhooper, Program Manager (RPA Delivery) | Genpact Headstrong Capital Markets
The role of Robotic Process Automation (RPA) in Digital transformation as part of disruptive technology space is relentlessly becoming a sneak peek for FTE (Full time equivalent) benefit and ROI (Return on Investment) realization.
RPA is often considered as a low hanging fruit; since it is perceived to be achieved easily by automating mundane and repetitive type of processes before building a cognitive, artificially intelligent and self-learning system. In real business world, companies flout to build an optimal target operating model (TOM) due to which the expected benefit is not realized.
An optimized TOM is based on the following three levers:-
People
Process
Technology
If any of the above lever is misaligned as part of digital transformation initiative, the overall program is destabilized and misdirected.
In view of RPA as the stepping stone for digitization, the AS-IS processes need to be well understood and analyzed in terms of automation expectancy and resiliency. A system with low fault tolerance and environmental spike resistance will dilute its adoption and transition.
With the evolving digital workforce platforms enabling automation, human cognition and analytics, a proposed automated system requires incentivizing the operations for easy adoption and disaggregating the candidate process for identifying bottlenecks and areas of efficiency gains.
The major players of RPA solution providers in the market do recognize the inherent limitations and possible improvements in their products. Reengineering and improvements are always required both at process and product level.
A process efficiency gain or improved cycle time metrics provides the necessary inputs for implementing RPA and further exploring the areas of improvement in the automated processes.
The process feasibility, complexity and ROI data as part of RPA Process Maturity Model formulated by Automation Anywhere (one of the RPA vendors) is as follows:-
Automation Pipeline- Candidate processes for automation are identified and prioritized (along with top level benefit analysis) for which feasibility analysis can be done.
Feasibility Analysis- Involves Process Input, Technical feasibility and Volumetric data such as number of FTEs involved in the process, average daily volume of data flowing through the process and average handling rate.
Complexity Assessment- Process is evaluated on the basis of various complexity parameters, such as manual hours involved on monthly basis, quantity of personnel, number of departments, technology landscape, process steps, information silos, data size, business logic, deployment etc. for estimating development and standardization effort.
ROI Analysis- Yearly savings are estimated on the basis of manual hours saved, improved quality through error reduction, productivity gain, business agility, customer satisfaction and brand improvement, regulatory compliance and data governance.
Automation Design- Process specific high level design of the proposed automation is created before implementation.
Each of the above stages is sequential and necessary in nature. The expected result in each stage qualifies the candidate process for automation to move to the next assessment stage. If the candidate process for automation does not pass any of the above stages, the process is dropped from the automation pipeline list.
An RPA-centric digital transformation approach does not actually provide the actual value to the end customer unless the goal has been only focused on FTE reduction. A process-centric and a positive transformative approach with improved decision making and reasoning will help in building a better automation solution with self-learning capability.
Since the RPA solution is generally designed on rule-based stable processes with structured data as the pre-requisite, a holistic solution is not built. A redesign is often contemplated when an intelligent automation having cognitive capability is required. This leads to major rework and reinvestment as the existing design is not capable and scalable to make it artificially intelligent. A quick-win in the form of process improvement without RPA layer and next level of layering with RPA solution limits it to change requests and redesigning only. Common examples of such scenarios could be Invoice templates getting changed and data being fetched from disparate and unstructured sources such as pdfs or images. Another emerging area in RPA space is where application is dynamic in nature or it is deployed in virtual environment and standard object-based automation is not reliable.
With the evolution of machine learning and deep learning, the digital transformation is moving from informative to self-learning and decision-making capability, from historical to futuristic trends and from sequential to iterative and incremental delivery.
Summary
In conclusion, the digital transformation opens up new and unexplored areas of automation, converting raw data to information capable of driving the decision making process with improved efficiency and knowledge. Other disruptive technologies in the digital space such as Blockchain, Fintech, IoT, Cloud computing along with Artificial Intelligence and Machine Learning combined with RPA do provide a more robust solution. But at the same time, a careful examination is required in the Ideation and Assessment phase as to which all technologies may be required to provide a value delivery model instead of requirement-based model and a low hanging-fruit only.
About Gaurav Dhooper (PMI-ACP, SAFe 4 Agilist, LSS-GB, CSM, PM Diploma)
Author is a strategic thinker and thought leader with 16+ years of IT delivery experience. He is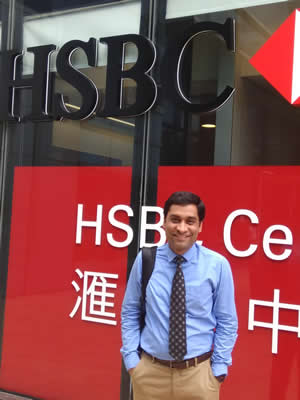 having vast exposure in software development, application decommissioning projects executed in Agile (Scrum, Kanban) and Waterfall. He also possesses strong project, program/ account delivery management and resource governance skills with experience in building strong self-organized motivated teams. Having good practical experience in Agile mentoring, implementing Lean/Agile Transformation and Six Sigma concepts and Robotics Process Automation. The author is also certified in Robotic Process Automation, Data Science, Artificial Intelligence, Machine Learning, Fintech, Operations & Customer Analytics, Blockchain, DevOps, BigData, Executive and Thought Leadership, Strategic Planning & Thinking, Design Thinking, Quantitative Modeling and Project Portfolio Management.
The content & opinions in this article are the author's and do not necessarily represent the views of ManufacturingTomorrow
---
Comments (0)
This post does not have any comments. Be the first to leave a comment below.
---
Post A Comment
You must be logged in before you can post a comment. Login now.
Featured Product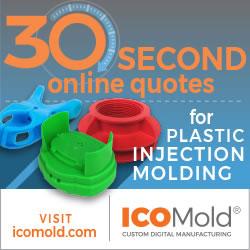 ICOMold provides plastic injection molding, CNC machining of plastic and metal, and urethane casting to customers worldwide in a variety of industries. We offer low-cost, high-quality custom plastic parts manufactured to your design, with a very fast turnaround. Any quantities from single prototypes to large, on-demand production runs. We are ISO 9001:2015 certified, and our production molds carry a lifetime warranty. Get an online quote in less than 30 seconds with our interactive quotation system.