"What makes the digital thread so important is that to leverage all the data, you need to also manage how the data connects to the rest of the operation and how it flows from one process to another."
Digital Thread: Where Will Your Added Value Come From?
Contributed by | MarkLogic
As we're sure you're well aware—Industry 4.0 is upon us. It's a significant change in the way products are produced, as a result of the digitization of manufacturing. This digital transformation is opening up untapped opportunities to greatly increase value through cost saving, effeciency and smarter decision making. In fact, according to McKinsey, Industry 4.0 has introduced "a paradigm shift from optimizing physical assets to optimizing how data and information are leveraged along the product lifecycle."
"There has been a lot of investment to create data around production and often the focus is on the digital twin—the digital version of the product," said Matt Turner, Chief Strategy Officer at MarkLogic. "What makes the digital thread so important is that to leverage all the data, you need to also manage how the data connects to the rest of the operation and how it flows from one process to another."
The digital thread:
Begins with the digital design of the product,

Goes through the digitally controlled manufacturing process,

Passes to the digital monitoring of the end product in operation, and

Ends in the product's recycling, where digitally stored information helps identify parts that can be reused.
Managing the Data Thread for Better Value
Taking full advantage of the digital thread is about making the best use of information and recognizing data as your key asset. McKinsey reports that Industry 4.0 technologies are similar in that they offer ways of leveraging data to unlock its value potential. For example:
Advanced analytics will turn information into outcomes that help decision makers.

3D printing converts the digital construction data into a tangible work piece.

Predictive maintenance uses captured information to schedule ideal maintenance times.
But what happens if the digital thread isn't utilized or managed efficiently? A case in point is from the oil and gas industry, where companies currently report losing up to 99 percent of their data through information leakages. After a mere one percent of the collected data was analyzed, essentially none of the results were used to drive decision making. Leakages in the digital thread are spots where potentially valuable stakeholder information gets lost somewhere in the value chain, causing inefficiency.
It's probably a safe bet that these information leakages are affecting other manufacturing industries, as well. So, in order to identify and capture new opportunities, information needs to be actively managed along the digital thread to prevent those information leakages.
Requirements for Creation of Value from Data
So how do we manage the digital thread to avoid such inefficiencies? According to McKinsey, the following are requirements for the creation of value from data:
Information capturing and recording. In order to use data to capture opportunities, relevant information has to be collected and recorded. "Inefficiencies can only be eliminated if they are detected and documented, thus the physical production process needs to be mapped along the digital thread – based on the collection of real-time data in an automated way and with historical data points. This requires moving from selected, sampling-based measurements mostly for quality control purposes to a full coverage of the production process, using inline sensors and measurement devices to collect information for every single work piece."

Information transfer. Efficient information transfer is a requirement for preventing information leakages and losses along the digital thread. "Data collected at a specific point in the value chain might be most useful at a different point (either earlier or later) in that same value chain. To make information available at a specific point, it is crucial to share it across the value chain, for most advanced applications even in real time. Therefore, companies need to integrate disparate sources of data from different applications to create a holistic view of the end-to-end process. Also, the integration of data should not stop at the company border."

Information processing and synthesis. Getting insights into data requires complete processing of captured information. "Arriving at the right conclusion depends on both relying on a relevant causal relation between factors (e.g., derived from historical data points) and employing this insight to optimize the status quo. Optimization opportunities exist where either inter-relations are not obvious or where insights are not yet used for optimization."

Turning information into outcomes. The final step closes the loop from the digital realm back to reality by translating the findings from data analysis into recommendations and actions to take. "Many decision making processes still require human involvement, while data analyses are often already automated and performed in real time. Therefore, opportunities are associated with speeding up and potentially (partially) automating these decisions, and triggering the required actions."
Need More 4.0?
You can LEARN ALL ABOUT the Industry 4.0 revolution and how MarkLogic is helping customers industrialize their data!
The content & opinions in this article are the author's and do not necessarily represent the views of ManufacturingTomorrow
---
Comments (0)
This post does not have any comments. Be the first to leave a comment below.
---
Post A Comment
You must be logged in before you can post a comment. Login now.
Featured Product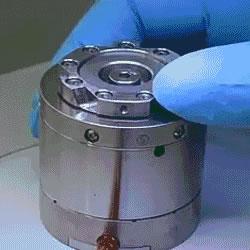 Hexapod micro-motion 6-axis platforms are based on a very flexible concept that can easily solve complex motion and alignment problems in fields including Optics, Photonics, Precision Automation, Automotive, and Medical Engineering.