Software

Marketing Partner
---

MarkLogic
Data integration is one of the most complex IT challenges, and our mission is to simplify it. The MarkLogic Data Hub is a highly differentiated data platform that eliminates friction at every step of the data integration process, enabling organizations to achieve a 360º view faster than ever. By simplifying data integration, MarkLogic helps organizations gain agility, lower IT costs, and safely share their data.
---
Mailing Address:
999 Skyway Road, Suite 200
San Carlos, CA 94070
United States of America
Tel: 6506552300
Fax:
Website: https://www.marklogic.com/solutions/industry/manufacturing/
Company Category: Design & Development
Geographic Region: USA - South West
Company Sector: Software
Keywords: software, hub, it, data, iiot
Partner Status: Marketing Partner
---
Products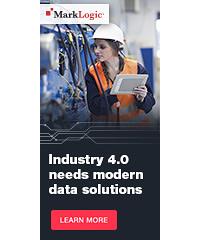 Use Data to Deliver Efficiency, Reduce Risk, and Create Better Products. Disruptive technologies and market changes are transforming the manufacturing industry, requiring a new focus on optimizing use of data and information. It all adds up to a new industrial revolution called Industry 4.0. Organizations who want to realize the potential of this revolution need to "Industrialize their data," making it a core asset to deliver better products and customer service, navigate complex business environments, and transform for the future. MarkLogic customers are delivering on this vision for data with a proven architectural pattern called the Operational Data Hub that simplifies the integration of data along the digital thread to power operational and analytic use cases across the enterprise.
---
Articles
By mirroring physical assets as digital systems, manufacturers create products better and cheaper than ever before and, by bridging the physical and digital worlds, solve physical issues faster.
Modern manufacturers face key challenges to reaching their Industry 4.0 potential. MarkLogic knows data is your greatest asset to better serve customers, improve products, and navigate those complex environments.
"What makes the digital thread so important is that to leverage all the data, you need to also manage how the data connects to the rest of the operation and how it flows from one process to another."
---
White Papers
This Company does not currently have any White Papers
---
Press Releases
This Company does not currently have any Press Releases
---